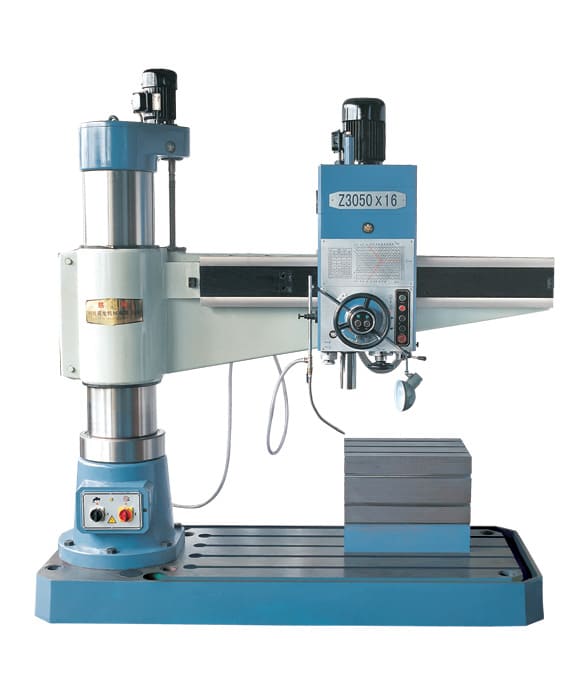 Main Application and Applicable Scope
Z3063X20 radial drilling machine is a universal machine tool with wide application, suitable for processing of medium and small parts in machinery manufacturing, such as drilling, flaring, reaming, reaming face and tapping. In the case of technological equipment, it can be used for boring. The operation time limit is not more than eight times each minute in tapping. And its universalization of radial drilling machine is higher.
It is provided with hydraulic presetting speed shift mechanism to save auxiliary time.
It only needs one handle to operate clockwise rotation, stop (brake), variable speed and neutral gear conveniently.
Spindle box, rocker arm, inner and outer posts are reliably clamped by hydraulic diamond clamping mechanism.
Perfect safety protector and outer post protection are available.
In design and production of structure, it further adopts a series of effective measures to prolong precision durability and lifespan of whole machine.
Its electrical equipment completely contributes to personal safety, reliability, long service life and convenient maintenance.
| | |
| --- | --- |
| Model | Z3063X20 |
| Max drilling capacity (cast iron/steel) | 63 (mm) |
| Distance spindle axis to column surface | max: 2000 (mm), min:370 (mm) |
| Distance spindle nose to base table | max:1580 (mm), min:400 (mm) |
| Spindle travel | 400 (mm) |
| Spindle Taper | MT.5 |
| Range of spindle speeds | 25-1700 (r/min) |
| Spindle speeds | 16 steps |
| Spindle feeds range | 0.04~3.2 (mm/r) |
| Spindle feeds | 16 |
| Horizontal travel of spindle box | 1630 (mm) |
| Distance of arm elevation | 780 (mm) |
| Rotating angle of radial arm | 360° |
| External diameter of column | 350 (mm) |
| Drilling depth of per round of dial | 122.5 (mm) |
| Max feed-resistance of spindle | 20 (Kn) |
| Max allowable torque of spindle | 600 (Nm) |
| Main Motor power | 5.5 (Kw) |
| Motor power of arm elevation | 2.2 (KW) |
| Motor power of hydraulic clamp | 0.75 (KW) |
| Motor power of coolant pump | 0.09KW |
| Outline dimension(L*W*H) | 3000 × 1250 × 3400 mm |
| Net/Gross weight | 5000/5200 kg |
| Package size (L*W*H) | 3130 × 1390 × 2920 (mm) |
| Warranty | 3 years (gear box) |
| Made in | TAIWAN |
Model

Z3063X20

Z3050X16

Z3040X13

Z3032X10

ZW3732X8

ZQ3032X7

Max. borehole diameter (mm)

63

50

40

32

32

31.5/25

Maximum stroke of spindle (mm)

400

315

275

250

145

140

Distance from center line of spindle
to surface of upright (mm)

2000/370

1600/350

1300/200

1000/200

870/330

720/300

Spindle nose to table the maximum distance (mm)

1080

720

900

664

/

380

Distance from end face of spindle to base (mm)

1580

1220

1250

1064

860

680

End taper of spindle

MT.5

MT.5

MT.4

MT.4

MT.4

MT.3

Speed rangeof spindle (rpm)

25-1700

25-2000

54-1360

71-1800

54-1200

100-1600

Spindle speed steps

16

16

8

8

6

8

Dimensions of worktable (mm)

800*630*500

630*500*500

600*400*350

450*400*400

/

250*250*250

Dimensions of base (mm)

1200*2800

1000*2400

840*1900

740*1500

550*1120

1050*550

Height (mm)

3050

2840

2540

2354

2050

1195

Electric motor (Kw)

5.5

4

3

2.2

2.2

0.75

Gross weight/Net weight (Kg)

5180/5000

3850/3500

2100/2000

1500/1400

1200/1050

400/380

Size (cm)

313*139*290

275*113*255

215*100*226

185*90*210

195*90*212

119*64*133

Best Price

Rp. 0,-

Rp. 0,-

Rp. 0,-

Call Sales

Call Sales

Rp. 0,-

NATIONAL & MULTINATIONAL COMPANY USING ORION DRILLING MACHINE :
PT. Komatsu Indonesia Tbk
Mitsubishi Motors
PT.BUKAKA TEKNIK UTAMA
INDOCEMENT
HOLCIM Indonesia
PT. Gearindo Prakarsa
PT. Cigading Habeam Center
PT. Wijaya Karya
PT. Tjokro Bersaudara
INDOMOBIL
PT TIMAH TBK
Krakatau Steel Group
PT. Murinda Iron Steel
PT. Tokyu Construction
PT. Krakatau Engineering
PT. Halliburton Indonesia
PT. Jagat Baja Prima Utama
PT. Sayap Mas Utama
ASTRA GROUP
PT. EBARA INDONESIA
PT. Bukit Asam Tbk (PTBA)
PT. Bharata Indonesia
PT. Semen Padang
PT. Tokyu Construction
PT. Jaya Teknik Indonesia
PT. Bakrie Construction
PT. Kaltim Prima Coal
ORION CLIENT IN INDONESIA