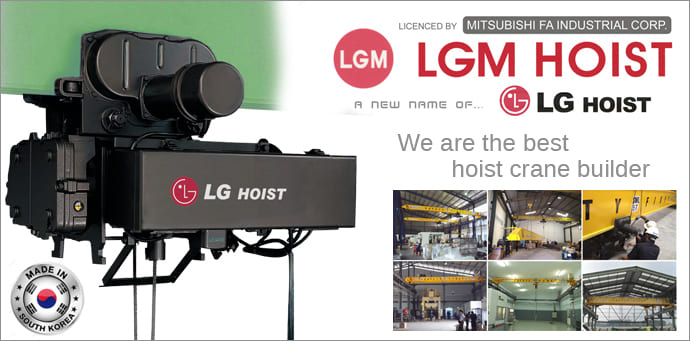 Jual Hoist Monorail Creep Speed - Hoist seri ini kuat dan aman digunakan, didasarkan pada teknologi dan pengalaman yang terakumulasi selama puluhan tahun dari berbagai perbaikan untuk memenuhi kebutuhan hoisting efektif untuk peralatan handling diperusahaan anda.
JUAL MONORAIL CREEP SPEED LGM HOIST - V-01-LN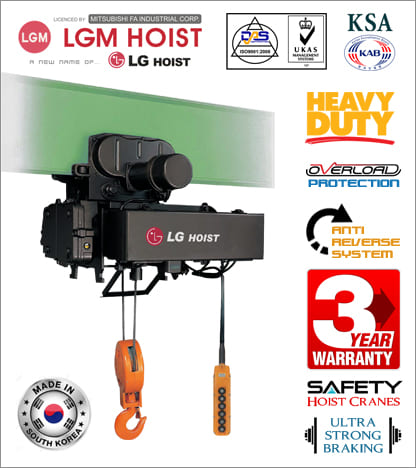 Harga
---
*Price Include Tax
*Price Include Delivery Jabodetabek, Surabaya, Medan & Bandung.
Specification
Model
: V-01-LN
Capacity
: 1 Ton
Lifting Height
: 6m~12m
High Hoisting Speed
: 11m/min (50Hz)
: 13m/min (60Hz)
Low Hoisting Speed
: 7m/min (50Hz)
: 8.5m/min (60Hz)
Creep Speed

: 1.1m/min (50Hz)



: 1.3m/min (60Hz)

High Speed Motor
: 0.26Kw x 4P
Low Speed Motor
: 0.13Kw x 8P
Creep Motor

: 0.6Kw x 4P

Wire Rope Construction

: 6 x 36

Dia (mm) no. of ropes

:Φ 8 x 2
Net. Weight
: 265 Kgs
Warranty
: 3 Years
Origin
: Made In Korea
---
Description
Monorail Creep Speed
Technical Dimension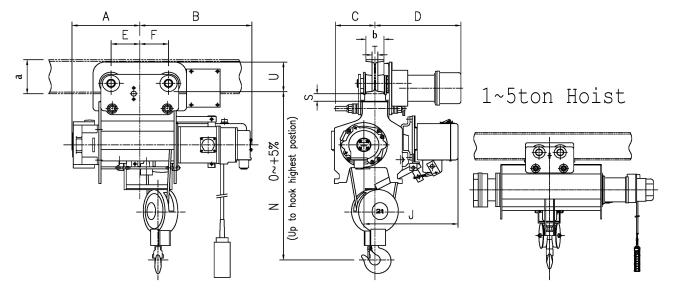 | | | | | | | | |
| --- | --- | --- | --- | --- | --- | --- | --- |
| Legend | A | B | C | E | F | J | N |
| Dimension (Approx.) (mm) | 411 | 627 | 390 | 140 | 140 | 345 | 735 |
I-beam (traverse rail) application guide :
I-Beam and Spacing (mm)
a x b x t
D
S
T
U
150 x 75 x 7.5
360
33
24
139
200 x 100 x 7
372
33
48
140
250 x 125 x 7.5
385
30
75
142
---

LGM Wire Ripe Hoist
Key Features
LG Hoist with warranty 3 years giving guarantees the best performance for you.

LG Hoist is the only hoist with overload protector to prevent the risk overloaded lift.

On the hoist brake system LG is able to perform adjusting by auto so that maximum brake.

LG hoist use high torque induction motors for power Strong and fast.

LG hoist using 2 For step safety limit switch improve security limit switch STOP to hook.

LG hoist use gearbox traversing closed to keep it lubricated and not polluted by sewage.

LG Hoist with gearbox simplified to maximize performance gearbox.

LG Hoist with full forged alloy steel hook so the hook absolutely rigid and reliable long-term.

LG Construction Hoist designed with Finite Element Method for maximum strength.

LG Hoist is hoist with Low operating costs because of the reliability and technological advantage.

LG hoist is a hoist that ultra reliable for all applications, working day night with maximum.

LG Hoist with electrical panel original, not assembled local. original components The factory LG Korea.

LG Hoist with pendant Anti-breaking special cable. Guaranteed lifetime the cable will not be broken.

LG Hoist with brake non asbestos highly durable and non-toxic safe for humans.

LG Hoist with design open and simple so it is very easy for maintenance.

LG Hoist is equipped with emergency stop push button for safety. Hoist safety button.
---
Applications on Crane Construction
LGM wire rope hoist for application crane type of suspension / Underhung.

LGM wire rope hoist for application type of top running overhead crane.

LGM wire rope hoist for application type of semi gantry cranes.

LGM wire rope hoist for application crane type of monorail / single rail.

LGM wire rope hoist for application Jib crane types / Pillar Crane.

LGM wire rope hoist for application single girder gantry crane.
---
Applications on Industries & Commercials
LGM Wire Rope Hoist widely used in various types of industrial, commercial, military, commercial etc. With a population base large customers in various fields of Samsung hoist is the first choice of users who understand hoist best quality and long-term thinking. Samsung Hoist commonly used in industry for example, factories, workshops, warehouses, etc. Samsung hoist normally used to support the construction of the monorail, overhead cranes, semi-gantry cranes, gantry cranes and jib / crane pillar.
Industrial

Warehouses/Logistics

Civil Works

Military & Defense

Mining

Public Services

Powerplant

Petrochemical

Trash Control

Agriculture

Oil & Gas

Workshop
INDOTARA HOIST CRANE CLIENT IN INDONESIA