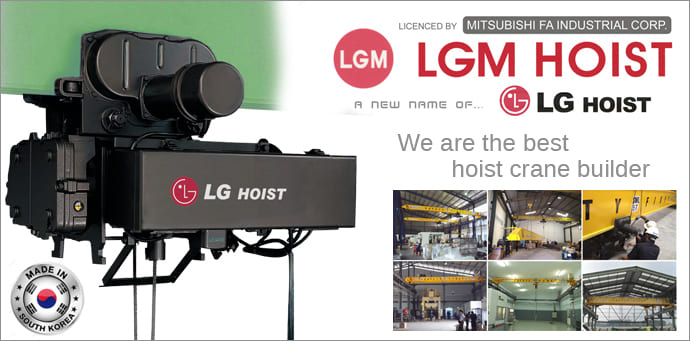 Jual Hoist Double Rail Single Speed - LG Hoist (Hoist LGM) is a class of heavy-duty hoist manufactured in Korea by LG Industrial System (LGM Hoist Co., Ltd.) under license from Mitsubishi Hoist Japan. With long experience in the field of hoist, LG Hoist (Hoist LGM) producing high quality hoist-hoist capable of meeting the needs of the industry worldwide.
JUAL DOUBLE RAIL SINGLE SPEED LGM HOIST - S-05-LW

Harga
---
Rp. 123.892.000,-
/ (8Meter)
Rp. 141.427.000,-
/ (12Meter)
*Price Include Tax
*Price Include Delivery Jabodetabek, Surabaya, Medan & Bandung.
Specification
Model
: S-05-HW
Capacity
: 5 Ton
Lifting Height
: 12m
High Hoisting speed
: 6.7m/min (50Hz)
: 8m/min (60Hz)
Low Hoisting Speed
: 4.4m/min (50Hz)
: 5.3m/min (50Hz)
High speed Motor
: 7.5Kw x 4P
Low Speed Motor
: 5.0Kw x 6P
High Traverse Speed
: 15m/min (50Hz)
: 18m/min (60Hz)
Low Traverse Speed
: 10m/min (50Hz)
: 12m/min (60Hz)
High Speed Motor
: 0.6Kw x 4P
Low Speed Motor
: 0.3Kw x 8P
Wire Const.
: 6xFi(36)
Wire Dia x nos.
: 11.2mm x 4 Rope
Brake System
: AC Magnet Disc Type

Rail Type
: 12Kg/m
Net. Weight
: 670Kg
Warranty
: 3 Years
Origin
: Made In Korea
---
Description
Double Rail Single Speed
Technical Dimension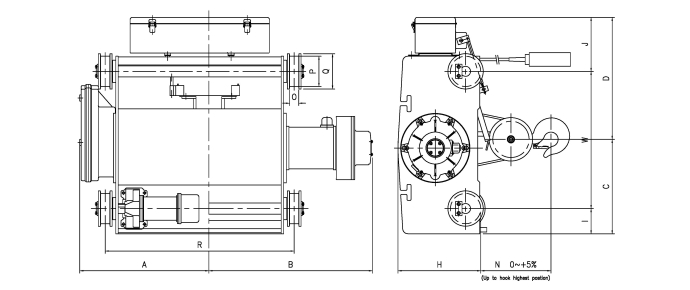 | | | | | | | | | | | | | | | |
| --- | --- | --- | --- | --- | --- | --- | --- | --- | --- | --- | --- | --- | --- | --- |
| Legend | A | B | C | D | H | I | J | N | O | P | Q | L | R | W |
| Dimension (Approx.) (mm) | 771 | 1045 | 517 | 418 | 540 | 167 | 88 | 346 | 50 | 150 | 175 | 840 | 1150 | 680 |
---

INDOTARA HOIST CRANE CLIENT IN INDONESIA