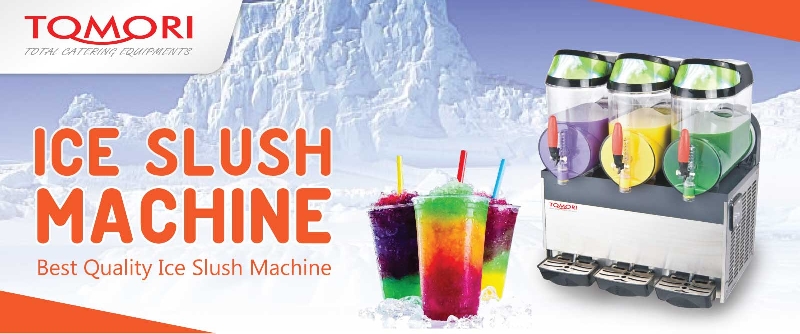 Jual Mesin Es Slush | Mesin Es Slush Tomori adalah mesin es Slush murah dengan kualitas terbaik, percayakan bisnis es slush anda dengan Mesin es slush Tomori dari Indotara, kami menjual Mesin Es Slush Murah dengan berbagai Tipe dan kapasitas.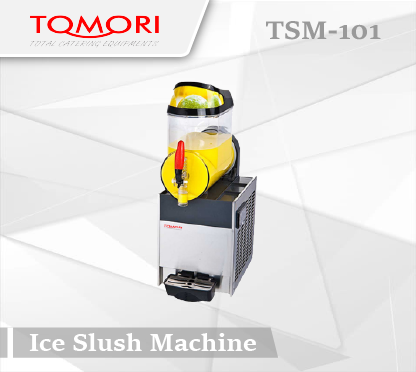 Best Price : Rp. 21.639.000,-
: Compressor 1 year & PCB
Control 3 year
Special Features:
1 Year compressor & 3 Years PCB Control warranty, leakproof, anti-mice, body rust, castor wheels, Tropicalized
(already adjusted with Indonesia climate).
*Price Include Tax

Tomori Slush Ice machine is "high output" machine with the ability to create slush in a short time with a very economical power consumption.

Tomori Slush Ice machines grade differ with Ice Slush machines in general on the market, because the Tomori Ice Slush machine with technical specifications that much better, the use of quality materials, as well as a good level of hygiene as well.

Manufactured with stringent standards, so that the most widely used by famous companies like Mc Donald, KFC, Sizzler, A & W, Wendy's, etc.



Low operating cost and low maintenance costs have to be considered you to operate the machine Ice Slush.

Slush ice machine must have high profitability, not just buy a cheap price into consideration you.

Tomori experienced for 30 years in the beverage refrigeration products, resulting in products Slush Ice machine in the world.

Slush manufacture of rapid and stable cooling slush ensure good quality until sold to the consumer you, Slush Ice is a guarantee of quality for your business.
FITUR SPESIAL MESIN ES SLUSH TOMORI :
Mesin Es Slush Tomori dengan proses pendingin yang cepat membuat es slush segar.

Mesin Es Slush Tomori sangat higienis (food grade) dengan full stainless steel 304.

Mesin Es Slush Tomori mempunyai sistem pendinginan yang cepat dan stabil.

Tomori heavy duty compressor bergaransi 1 tahun. Minim getaran dan tidak berisik.

Mesin Es Slush Tomori diproduksi dengan pipa tembaga berkualitas tinggi & extra tebal.

Mesin Es Slush Tomori didesain khusus dengan handle yang kuat dan mudah digunakan.

Desain Mesin Es Slush Tomori sangat mudah dibersihkan dan mudah dalam perawatan.


Mesin Es Slush Tomori menggunakan full stainless steel untuk body & rangka.

Mesin Es Slush Tomori adalah mesin es slush paling efisien, membantu anda berhemat listrik.

Mesin Es Slush tomori dengan CFC Free untuk perlindungan lingkungan dan Ozon.

Mesin Es Slush Tomori bekerja dengan suhu presisi untuk hasil output es slush bermutu.

Mesin Es Slush Tomori menerapkan Smart Micro Processor Controller untuk smart & efficient ice maker.