HEAVY DUTY MACHINING SYSTEM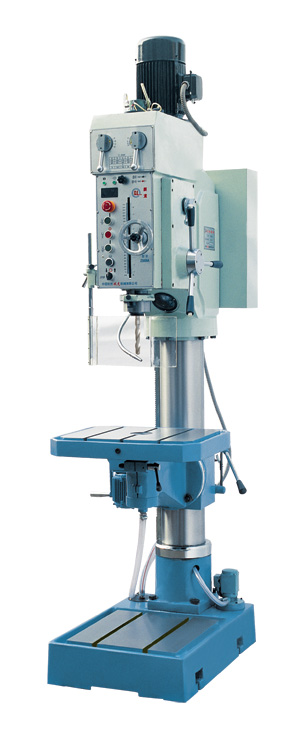 Main Application and Applicable Scope
Configuration of Machine Tool
It is composed of a gear box, a spindle box, a circular upright, a worktable, a bracket, a base, an electric box and the like, wherein the gearbox is combined on the spindle box, the spindle box is sleeved on the upper part of circular upright, and is able to be moved up and down, and is located above the machine tool. The worktable is sleeved on the bracket, the bracket is sleeved in the middle of circular upright, and the circular upright is installed on the base.
Application
It is able to drill, flare and ream holes, tap thread and ream planes, and is featured by large drilling capacity and large dimension range to hold processed parts. Therefore, it is not only suitable for part processing workshops, but also machine repair shop.
The spindle box and worktable bracket can lift up and down along the upright, as well as rotating 180° clockwise or anticlockwise along the upright, the worktable also can rotate 180° clockwise and anticlockwise in the bracket. The spindle box worktable can rotate 45° clockwise and anticlockwise in transverse plane on the spindle box worktable, therefore, the machine tool is light, flexible and reliable for use.
| | |
| --- | --- |
| Model | Z5050A |
| Max drilling capacity (Cast iron/steel) | 50/40mm |
| Rotation of worktable and bracket in transverse plane | ±45˚ |
| Distance spindle nose to base surface | 1190mm |
| Max travel of worktable and bracket (motor) | 530 (410)mm |
| Spindle taper | MT4 |
| Spindle speeds range | 54, 75, 100, 130, 185, 260,340, 450, 600, 830, 1100, 1450 r/min |
| Spindle feeds range | 0.1, 0.2, 0.3, 0.4mm/r |
| Worktable size (LXW) | 510×390mm |
| T-slot No. and width of worktable and base | 3-14, 2-18mm |
| Motor of coolant pump | 40W |
| Outline dimension (L*W*H) | 990×720×2400mm |
| Package size (L*W*H) | 1120×750×2250mm |
| Max tapping capacity | M36×3/M30×3 |
| Max milling cutter diameter | Φ80mm |
| Distance spindle nose to worktable surface (motor) | 590 (550)mm |
| Spindle travel | 225mm |
| Distance spindle axis to column | 360mm |
| Spindle speeds | 12 |
| Spindle feeds | 4 |
| Column diameter | Φ180mm |
| Base dimension (LXW) | 470×435mm |
| Main motor | 3kw |
| Magnetic clutch | 28W,24V |
| Net/Gross weight | 800/750kg |
| | | | | | | |
| --- | --- | --- | --- | --- | --- | --- |
| Model | Z5150A | Z5050A | Z5040A | Z5032A | Z5032 | Z4125L |
| Max. borehole diameter (mm) | 50 | Cast iron50 / Steel40 | Cast iron40 / Steel32 | 32 | 31.5 | 25 |
| Maximum stroke of spindle (mm) | 250 | 225 | 190 | 155 | 120 | 250 |
| Distance from center line of spindle to surface of upright (mm) | 335 | 360 | 330 | 330 | 270 | 230 |
| Spindle nose to table the maximum distance (mm) | 750 | 590 (motorized 550) | 630 | 685 | 750 | 710 |
| Distance from end face of spindle to base (mm) | 1150 | 1190 | 1200 | 1260 | 1200 | 1049 |
| End taper of spindle | MT.5 | MT.4 | MT.4 | MT.4 | MT.3 | MT.3 |
| Speed range of spindle (rpm) | 32-1450 | 54-1450 | 67-2500 | 125-3030 | 65-1380 | 160-1880 |
| Spindle speed steps | 12 | 12 | 12 | 12 | 6 | 9 |
| Dimensions of worktable (mm) | 480*560 | 510*390 | 450*390 | 450*390 | Φ380 | 380x330 |
| Dimensions of base (mm) | 480*550 | 470*435 | 410*395 | 420*370 | 370*420 | 320*300 |
| Height (mm) | 2530 | 2400 | 2300 | 2190 | 1910 | 1874 |
| Electric motor (Kw) | 4 | 3 | 1.5/2.2 | 1.1/1.5 | 1100 | 1500 |
| Gross weight/Net weight (kg) | 1350/1250 | 800/750 | 550/500 | 390/350 | 360/320 | 270/240 |
| Size (cm) | 121*84*252 | 110*75*225 | 105*65*215 | 103*65*219 | 90*60*205 | 90*60*207 |
| Best Price | Call Sales | Rp. 0,- | Call Sales | Rp. 0,- | Call Sales | Rp. 0,- |

NATIONAL & MULTINATIONAL COMPANY USING ORION DRILLING MACHINE :
PT. Komatsu Indonesia Tbk
Mitsubishi Motors
PT.BUKAKA TEKNIK UTAMA
INDOCEMENT
HOLCIM Indonesia
PT. Gearindo Prakarsa
PT. Cigading Habeam Center
PT. Wijaya Karya
PT. Tjokro Bersaudara
INDOMOBIL
PT TIMAH TBK
Krakatau Steel Group
PT. Murinda Iron Steel
PT. Tokyu Construction
PT. Krakatau Engineering
PT. Halliburton Indonesia
PT. Jagat Baja Prima Utama
PT. Sayap Mas Utama
ASTRA GROUP
PT. EBARA INDONESIA
PT. Bukit Asam Tbk (PTBA)
PT. Bharata Indonesia
PT. Semen Padang
PT. Tokyu Construction
PT. Jaya Teknik Indonesia
PT. Bakrie Construction
PT. Kaltim Prima Coal
ORION CLIENT IN INDONESIA