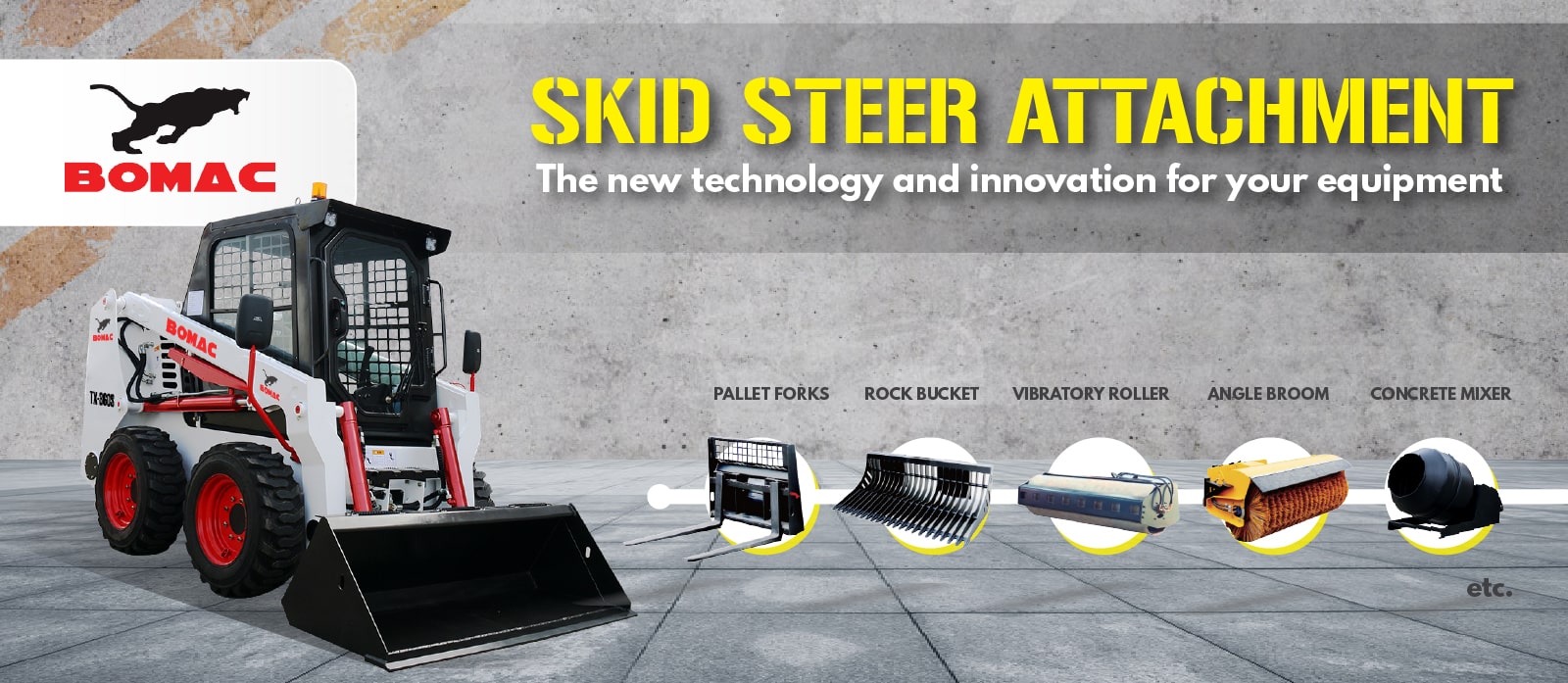 The rotary tiller is matched with the skid steer loader to complete the plow and rake. With the strong ability to cut the soils into pieces and let the ground surface flat, also can be cut down the tree trunks below the ground, ensure sow easily, It is a perfect machine for gardens and agriculture because saving time and effort .
Jual Bomac SSL Attachment - Rotary Tiller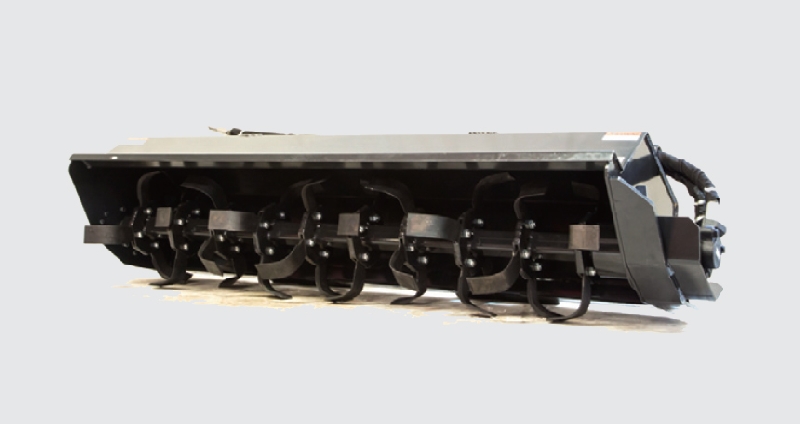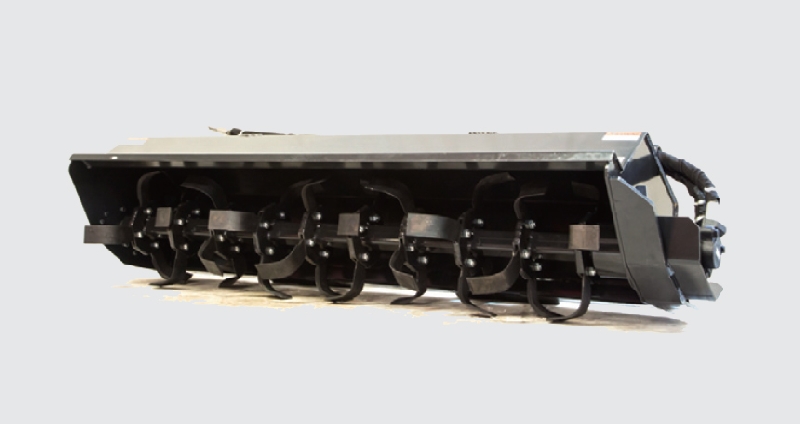 SPECIFICATION
MODEL
TX-050232M
TX-050275
TX-050275
Suitable for

TX323S-TX325T
TX350S-TX395V
Length (mm)
1320

2322

2620
Width (mm)
594

2060

2360
Height (mm)
475

600

600

Weight (kg)
98

480

630
Working width (mm)
1000

1828

2130
Number of bits (Pcs)
25
44
52
Working depth (mm)
60~150
100~150
100~150
Price

Call Sales

Call Sales

Call Sales

---
BOMAC SKID STEER ATTACHMENT SPECIAL FEATURES :
Sepatu Skid yang Dapat Disetel Memberikan kontrol kedalaman untuk operasi penggilingan yang lebih tepat dan hasil yang lebih optimal.

Rotasi Dua Arah atas dan bawah, memaksimalkan keserbagunaan attachment dan meningkatkan kemampuan pengoperasian.


Tine yang Dapat Diganti untuk penetrasi ke tanah. dua sisi tensi mampu menerobos dan merobek material yang keras.


Offset Mounting dapat beroperasi di tempat kerja yang sempit, samping trotoar, trotoar, dan bangunan, menggunakan tiller attachmet


Sistem Pemasangan Serbaguna Mudah dan efisien untuk memasang tillrt ke carrier. Beralih dengan cepat dan mudah ke beragam operator.

Memberikan fleksibilitas pemasangan saat bekerja di sebelah bangunan atau objek, mampu menggali mencapai produktivitas optimal di semua kondisi dan lokasi tanah.

Direct Drive Hydraulic Motor Menghadirkan daya pengoperasian yang diperlukan yang tentunya mengurangi biaya perawatan keseluruhan,

Mengubah semua loader menjadi mesin multiguna dengan pemasangan attachment terbaik dan menghasilkan hasil yang optimal.


Skid Steer Attachment mudah beradaptasi dengan skid steer loader, Desain yang compact wheel loader, backhoe loader, telehandler, sehingga mampu menjadi alat yang multiguna.

Bomac Skid Steer Attachment alat multiguna yang ekstra kuat dan cocok untuk penanganan material dalam konstruksi, pekerjaan umum, lansekap, dll.

Bomac Skid Steer Attachment terbuat dari material baja yang sangat kuat, sehingga memungkinkan untuk digunakan dalam pengerjaan konstruksi berat.

Bomac Skid Steer Loader memberikan jaminan garansi Engine & Hydraulic selama 3 tahun atau 2000 jam masa penggunaan.

HATI-HATI BELI SKID STEER LOADER JANGAN YANG ASAL MURAH
Carilah yang : Handal, Kuat, Hydraulic berkualitas tinggi, bergaransi lama, suku cadang terjamin, ada teknisinya.
Sebuah Skid Steer Loader harus bisa dipakai terus menerus karena didukung oleh dealer yang bertanggung jawab.
BOMAC CLIENT IN INDONESIA