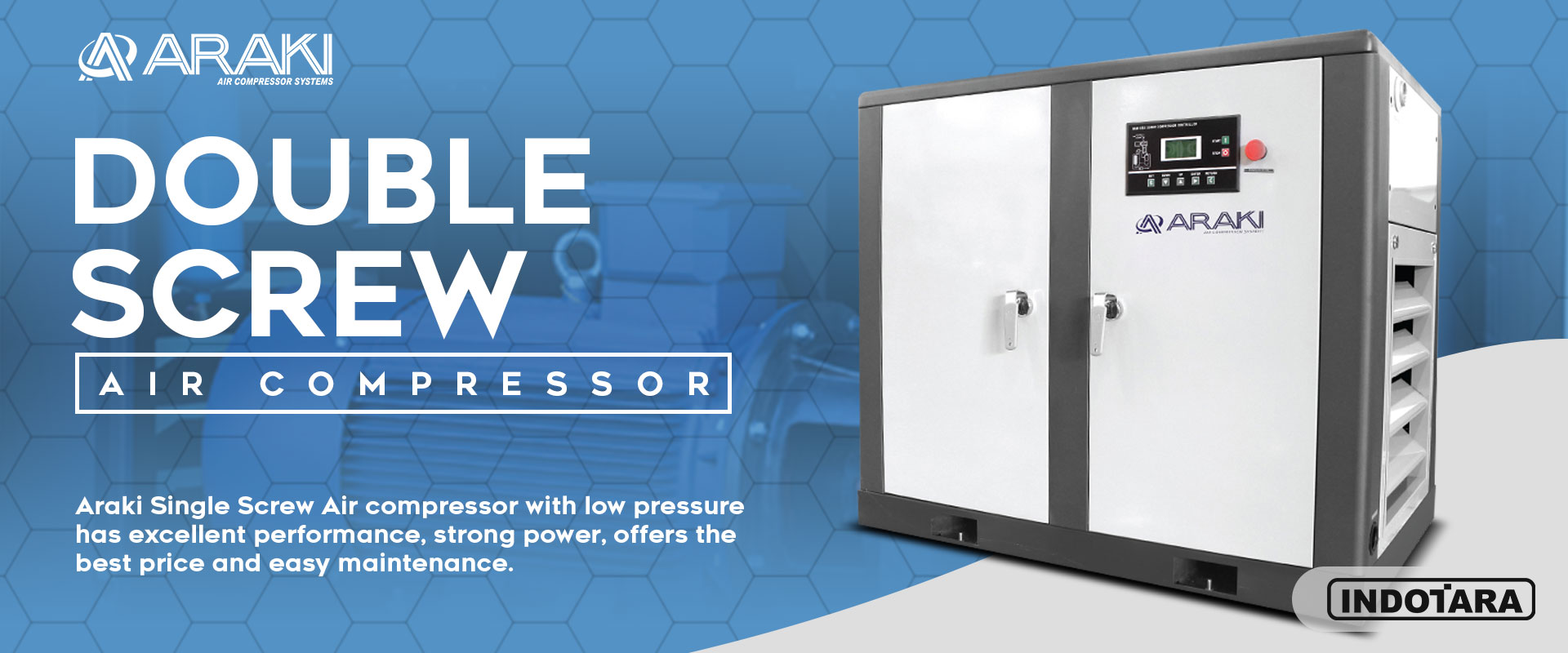 DIRECT AIR COOLING TYPE SCREW COMPRESSOR
Araki is one of best company in air compressor equipment. Since decades it's develop special technology on heavy duty product to fulfill customer's need on durable products. Araki is the name of premium line of air compressors . Araki air compressor will allow you to enjoy real "strong" performance.
Araki 7.5-260 kW (10-350 hp) rotary screw air compressors offer the very best of time-proven designs and technologies with new, advanced features to ensure the highest levels of reliability, efficiency and productivity. You can count on Araki rotary screw compressor for years of dependable operation.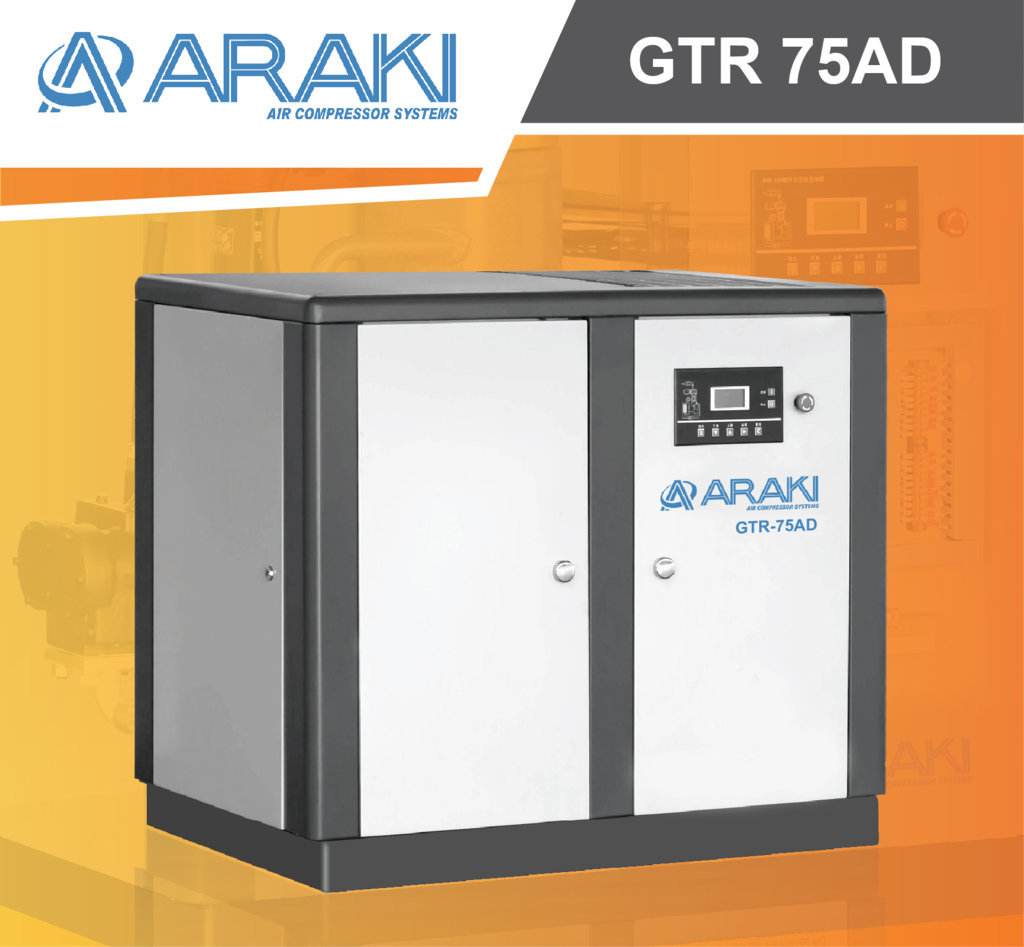 Type

: GTR-75AD


Power

: 75KW/100HP

Air Supply Temperature

:

≤ Ambient Temperature +15℃

Star

:

Y-△

Voltage



: 380V


Transmission

:

Coupling drive

Oil Content

:

≤ 3 PMM

Pipe Size

: DN50


Dimension

: 2000 x 1250 x 1600 mm

Weight

: 1640 Kg

Noise

: 68

[dB(A)]±2

Warranty

: -

| | | | | |
| --- | --- | --- | --- | --- |
| Pressure | 13.5 Bar | 13.0 Bar | 11.0 Bar | 9.5 Bar |
| Air Delivery | 0.7 m3/min | 0.8 m3/min | 1.0 m3/min | 1.2 m3/min |
| Price | Call Sales | Call Sales | Call Sales | Call Sales |
Harga diatas sudah termasuk PPn
Gratis Ongkir untuk Jabodetabek, Surabaya, Medan & Bandung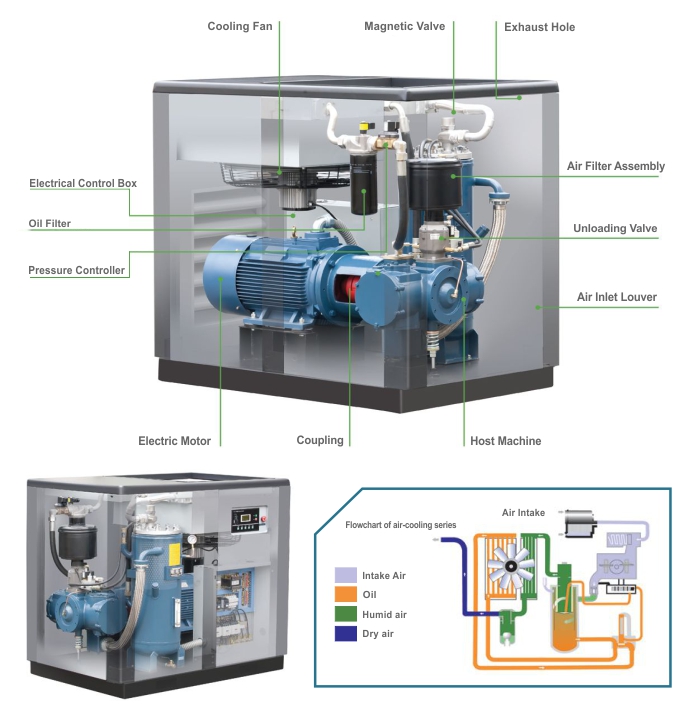 STRUKTUR UMUM DAN PARTS UTAMA BELT AIR COOLING SERIES
Shigemitsu Kompresor didesign untuk menjadi produk kompresor yang memiliki tingka efisiensi yang sangat maksimal.

Shigemitsu Kompresor hanya membutuhkan perawatan minimal dengan fiture Trouble-free single-stage and two-stage airends.

Shigemitsu Kompresor dengan fitur Standard low-sound menjaga tingkat kebisingan kompresor tetap dalam level minimum.

Shigemitsu merupakan kompresor dengan tingkat konsumsi listrik yang paling irit jika dibandingkan dengan kompresor merek lain.

Shigemitsu dirancang dapat menyimpan energi sebesar lebih dari 60% dari konsumsi lebih rendah saat berjalan tanpa beban.

Shigemitsu dengan tekhnologi yang ada didalamnya membuat kompresor yang satu ini awet dan dapat diandalkan saat beroperasi.

HATI-HATI BELI KOMPRESOR JANGAN ASAL MURAH
Carilah yang : Handal, Mesin berkualitas tinggi, bergaransi lama, suku cadang terjamin, ada teknisinya.
Sebuah Kompresor harus bisa dipakai terus menerus karena didukung oleh dealer yang bertanggung jawab.
ARAKI

COMPRESSOR CLIENT IN INDONESIA