Jual Electric Threading Machine, Harga Electric Threading Machine, Electric Threading Machine Murah - ORION brand industrial bench drill, drilling and milling machine, tapping machine, drilling attack dual-use machine, vertical drilling machine, mesin bor radial |dengan kapasitas produksi 50.000 unit pertahun, dengan 8 seri dan lebih dari 70 jenis. teknologi canggih, peralatan produksi dan peralatan pengujian lengkap, kualitas produk yang stabil dan dapat diandalkan, layanan purna jual yang kuat, produk dan layanan telah mendapatkan pujian dari pengguna. Semangat budaya perusahaan untuk tetap berpacu dengan waktu, tahun demi tahun berjanji untuk mempertahankan dan memenangkan penghargaan, "kepercayaan pengguna", "peradaban yang canggih", AAA menjadi nilai leibih perusahaan yang menghargai Gelar produk tersebut secara ketat sesuai dengan standar nasional dan standar produksi dan pemeriksaan perusahaan, perusahaan telah lulus ISO9001: 2008 sertifikasi sistem mutu internasional.

SRA-M12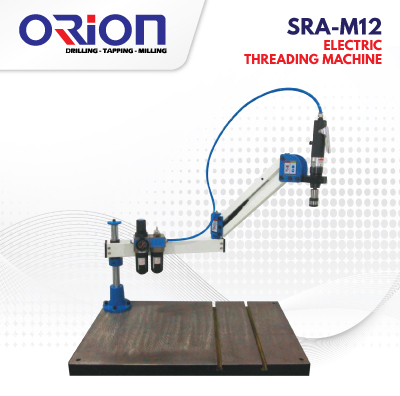 Best Price : Call Sales
| | | |
| --- | --- | --- |
| Model | : | SRA-M12 |
| Spindle speed | : | 0~400 r/min |
| Air pressure | : | 8~10 |
| Radius | : | 900 mm |
| Standard accessories | : | Tapping chuck M3-M12 (Optional) |
| Work direction | : | DOWN |
| Weight | : | 18 kg |
| Warranty | : | 3 Years (Mechanical) & 1 Years (Electrical) |
*Price Include Tax
*Price Include Delivery Jabodetabek, Surabaya, Medan & Bandung
• Move table case iron

ORION MACHINING SYSTEM :
HIGH QUALITY, HEAVY DUTY, HIGHER OUTPUT POWER, EFFICIENCY,
PROVIDE THE BEST WARRANTY IN THE INDUSTRY.
ELECTRIC THREADING MACHINE SPECIAL FEATURES :
Equipped with automatic Cutter gauge, Cutter central cooling system and spray gun which produce more.

Electric threading machine center Equipped with auto timing lubrication system to maintain unit productivity in operation.


Equipped with two steps speed gearbox that is used to rotate the engine spindle and make feeding movements.

Equipped with a cooling system to maintain engine temperature in ideal conditions with the mechanism of the engine being converted into motion power
Electric threading machine is equipped with high positioning accuracy and ground speed, which can be used in multi-threaded components.


Electric threading machine is equipped with high positioning accuracy and ground speed, which can be applied in component processing with multiple threads.

Electric threading machine has an electromechanical integration design ensuring a compact structure and appearance that provides aesthetic value.


With international quality standards prove the existence as the best drilling machine of all time. There is no doubt Orion is the best choice.

Used in the conversion industry, i.e. the conversion of large numbers of lathes capable in various service shops, factories, etc.

Electric threading machine Does not use too much electricity, which certainly will save your expenses.

Electric threading machine is very easy to apply so it is suitable for your business needs.

Electric threading machine machining system provides a one-year guarantee.

ELECTRIC PNEUMATIC MACHINE FEATURE
HATI-HATI GUNAKAN SELALU MACHINING SYSTEM BERKUALITAS TERBAIK
ORION machining system memiliki pengalaman meningkat selama bertahun-tahun dengan kualitas terbaik.
meningkatkan teknologi seperti spindle berkecepatan tinggi dan kemampuan CNC canggih.

PT. Komatsu Indonesia Tbk
Mitsubishi Motors
PT.BUKAKA TEKNIK UTAMA
INDOCEMENT
HOLCIM Indonesia
PT. Gearindo Prakarsa
PT. Cigading Habeam Center
PT. Wijaya Karya
PT. Tjokro Bersaudara
INDOMOBIL
PT TIMAH TBK
Krakatau Steel Group
PT. Murinda Iron Steel
PT. Tokyu Construction
PT. Krakatau Engineering
PT. Halliburton Indonesia
PT. Jagat Baja Prima Utama
PT. Sayap Mas Utama
ASTRA GROUP
PT. EBARA INDONESIA
PT. Bukit Asam Tbk (PTBA)
PT. Bharata Indonesia
PT. Semen Padang
PT. Tokyu Construction
PT. Jaya Teknik Indonesia
PT. Bakrie Construction
PT. Kaltim Prima Coal
ORION CLIENT IN INDONESIA