Jual Orion Shape Cutter, Harga Orion Shape Cutter, Orion Shape Cutter Murah - ORION brand industrial bench drill, drilling and milling machine, tapping machine, drilling attack dual-use machine, vertical drilling machine, mesin bor radial |dengan kapasitas produksi 50.000 unit pertahun, dengan 8 seri dan lebih dari 70 jenis. teknologi canggih, peralatan produksi dan peralatan pengujian lengkap, kualitas produk yang stabil dan dapat diandalkan, layanan purna jual yang kuat, produk dan layanan telah mendapatkan pujian dari pengguna. Semangat budaya perusahaan untuk tetap berpacu dengan waktu, tahun demi tahun berjanji untuk mempertahankan dan memenangkan penghargaan, "kepercayaan pengguna", "peradaban yang canggih", AAA menjadi nilai leibih perusahaan yang menghargai Gelar produk tersebut secara ketat sesuai dengan standar nasional dan standar produksi dan pemeriksaan perusahaan, perusahaan telah lulus ISO9001: 2008 sertifikasi sistem mutu internasional.

J3GG-400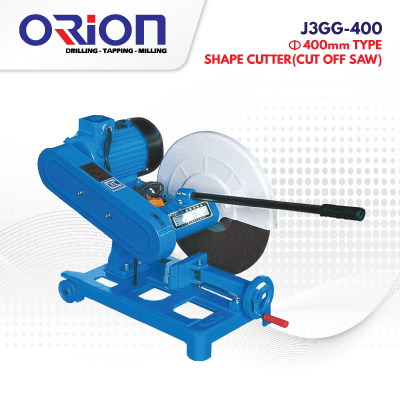 Best Price : Call Sales
Model
:
J3GG-400
Motor
:
2.2(3HP) kW

Spindle no-load speed

:
2280 r/min

Emery wheel no-load line speed

:
48 m/s

Emery wheel safety line speed

:
60 m/s

Fiber strengthen grinding flat

:
Φ400xΦ32x3.2 or
Φ400xΦ25.4x3.2 mm

Cutting abillity Steel tube

:
Φ135x6

Cutting ability Angle iron

100x10

Cutting abillity Channel steel

:
126x53

Cutting abillity Round-bar steel

:
Φ50
Tongs rotary angle

:
0~45o

Dimension of base

:
540 x 320 mm

G.W/N.W

:
60/52 kg

Packing dimension

:
70x44x57 cm

Warranty
:
3 Years (Mechanical) & 1 Years (Electrical)
Both the body and base use high quality cast iron, strong and everlasting.

The handle can match for special switch, safety and reliable.

There are wheels on base which can moving easily and using both fasten the base enable working working more reliable.

Using high quality fiber strengthen grinding flat, safety and reliable.
*Price Include Tax
*Price Include Delivery Jabodetabek, Surabaya, Medan & Bandung
ORION MACHINING SYSTEM :
HIGH QUALITY, HEAVY DUTY, HIGHER OUTPUT POWER, EFFICIENCY,
PROVIDE THE BEST WARRANTY IN THE INDUSTRY.
SHAPE CUTTER (CUT OFF SAW) SPECIAL FEATURE:
Orion shape cutter (cut off saw) sangat efisien dan mampu mencapai produktivitas maksimum dengan modal atau biaya yang terbilang minimum.


Orion shape cutter (cut off saw) dilengkapi dengan high quality fiber untuk memperkuat grinding flat agar lebih aman, kuat dan handal.


Orion shape cutter dilengkapi dengan body dan alas menggunakan bahan bermaterial besi cor yang berkualitas, kuat dan tahan lama.

Dilengkapi dengan special switch yang berdekatan dengan pegangan, untuk memberikan keamanan dan kenyamanan saat bekerja.
Orion shape cutter (cut off saw) dilengkapi dengan dua roda yang dapat bergerak dan mengunci untuk memudahkan proses pengerjaan.


Orion dengan standar kualitas internasional membuktikan sebagai mesin bor terbaik sepanjang masa. Orion adalah pilihan terbaik.

Struktur yang sederhana dan mudah saat dioperasikan, sehingga pekerjaan lebih ringan hemat waktu, hemat biaya dan hemat energi.


Bagian poros dibuat oleh material permukaan baja berkualitas tinggi khusus dibuat oleh peralatan kelas satu, kekuatan tinggi dan daya tahan lebih lama.

Digunakan dalam industri konversi, yaitu konversi mesin bubut dalam jumlah besar mampu diberbagai layanan bengkel, pabrik, dll.

Orion shape cutter (cut off saw) tidak menggunakan terlalu banyak daya listrik, yang tentunya akan menghemat biaya pengeluaran anda.

Orion shape cutter (cut off saw) sangat mudah diaplikasikan sehingga sangat cocok untuk keperluan bisnis anda.

Orion shape cutter (cut off saw) mampu memberikan garansi produk selama satu tahun.


HATI-HATI GUNAKAN SELALU MACHINING SYSTEM BERKUALITAS TERBAIK
ORION machining system memiliki pengalaman meningkat selama bertahun-tahun dengan kualitas terbaik.
meningkatkan teknologi seperti spindle berkecepatan tinggi dan kemampuan CNC canggih.

NATIONAL & MULTINATIONAL COMPANY USING ORION DRILLING MACHINE :
PT. Komatsu Indonesia Tbk
Mitsubishi Motors
PT.BUKAKA TEKNIK UTAMA
INDOCEMENT
HOLCIM Indonesia
PT. Gearindo Prakarsa
PT. Cigading Habeam Center
PT. Wijaya Karya
PT. Tjokro Bersaudara
INDOMOBIL
PT TIMAH TBK
Krakatau Steel Group
PT. Murinda Iron Steel
PT. Tokyu Construction
PT. Krakatau Engineering
PT. Halliburton Indonesia
PT. Jagat Baja Prima Utama
PT. Sayap Mas Utama
ASTRA GROUP
PT. EBARA INDONESIA
PT. Bukit Asam Tbk (PTBA)
PT. Bharata Indonesia
PT. Semen Padang
PT. Tokyu Construction
PT. Jaya Teknik Indonesia
PT. Bakrie Construction
PT. Kaltim Prima Coal
ORION CLIENT IN INDONESIA