Jual Furnace Tending Vehicle, Jual Furnace Charging Vehicle - BCV-120FT adalah kendaraan pengisian tungku yang dapat disesuaikan, dengan struktur pengangkat hopper penuh yang tidak menambah ketinggian kendaraan untuk memenuhi kondisi aktual dari kapasitas , tinggi dan beban angkat maksimum dirancang khusus sesuai dengan kebutuhan pelanggan. Semua tindakan pengoperasian melalui controll operasi pilot hidrolik untuk mengoperasikannya..
BTV-8512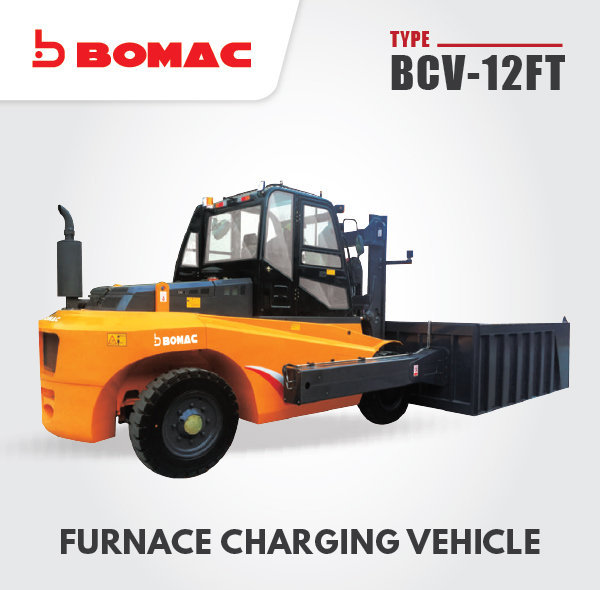 Best Price : Call Sales
Features

Rated Load

:
7 (Can be customized) Q(t)

Wheelbase

:
3000 y(mm)

Wheight

:
-

Chassis

Tyre Specs : Front

:
10.00x20/16PR

Tyre Specs : Rear

:
10.00x20/16PR
Tyres Qty,Front/rear (X-drive wheels)

:
4X/2

Wheel tread:Front

:
1677 b10 (mm)

Wheel tread:Rear
:
2013 b11 (mm)
Dimension

Mast/carriage tilt angle (front/rear)

:
4.5°/9° Degree
Mast height (Fork lowering)

:
3000 h1 (mm)

Mast lifting height (full free lift)

:
1400 h3(mm)

Overall height (with bucket)

:
8100 11(mm)

Overall width

:
4000 b1/b2 (mm)

Bucket dimension

:
4000x3000x1200 s/e/1(mm)

Performance

Travel speed (with load / without load)

:
23/26 km/h

Gradeability (with load / whitout load)
:
25%
Driving brake
:
dise brake
Engine

Engine brand / model

:
Cummins QSB4.5-C130

ISO 1585 Engine power

:
97 kW

Rated rotor speed

:
2200 min

No. of Cylinder

:
4 cm

Control type for driving

:
Hydraulic torque

Warranty
:
3 Years
Adopt cummins turbocharged diesel engine.
Adopt Fixed - shaft type hydraulic transmission
Adopt dual-pump confluence working hydraulic system.
Adopt full hydraulic coaxial flow amplification steering system.
Adopt front wheel drive.
Adopt unitary frame.
The working device is full free lift mast.
Adopt block deeping solid forklift truck solid tires.
Matched with adjustable drection.
Matched with maintenance-free batteries.
The truck shape is high-grade, beautiful, mellifluence.
*Price Include Tax
*Price Include Delivery Jabodetabek, Surabaya, Medan & Bandung
BOMAC FURNACE CHARGING VEHICLE:
HIGH QUALITY, HEAVY DUTY, HIGH-QUALITY HYDRAULIC, RELIABLE MACHINERY
PROVIDE THE BEST WARRANTY IN THE INDUSTRY.
BOMAC FURNACE CHARGING VEHICLE SPECIAL FEATURES:
Cummins engine bermuatan turbo dengan sistem bahan bakar common rail, mesin yang kuat, hemat energi dan ramah lingkungan. dan dapat memenuhi efisien tinggi sesuai persyaratan operasi.

Double turbo hydraulic torque converter, dengan 2 perubahan kecepatan. Sistem transmisi kontrol tuas tunggal, dengan 2 kecepatan untuk mempermudah transmisi gigi.

Dilengkapi dengan sistem hidraulik interflow pompa ganda yang mampu bekerja extra, sehingga dapat menurunkan konsumsi oli dan menaikan kinerja.

Dilengkapi dengan full hydraulic coaxial flow amplication steering system, radius putar untuk poros kemudi belakang lebih ringan dan lebih fleksibel.

Bomac Furnace Charging Vehicle Front wheel drive, rigid suspension, rear axle steering structure, can achieve for-wheel drive untuk meningkatkan torsi, memiliki kapasitas beban yang sangat baik.

Dilengkapi dengn air seat, kontrol joystick, katup distribusi kontrol, dan work device oil, pengoperasian yang ringan dan fleksibel agar lebih nyaman dan mudah dioperasikan.

Dilengkapi dengan maintenance free battery cab, untuk diaplikasikan dengan dengan kipas, radio, AC, sehingga lebih nyaman dan dapat diandalkan.

Operasi lebih konvergen dan ringkas, kinerja juga sangat ditingkatkan, sehingga dapat lebih beradaptasi dengan kondisi kerja yang berbeda dan mengurangi tingkat keausan,


Dengan model standard electronic hand-brake, dibandingkan dengan soft-axis handbrake, memiliki peningkatan substansial dalam operabilitas, estetika, dan sensitivitas.

Bomac Furnace Charging Vehicle dilengkapi dengan Safety Bracket yang berfungsi menahan operator saat di atas kabin. sehingga sangat aman saat dioperaikan.

Bomac Furnace Charging Vehicle mampu beradaptasi dan mampu beroperasi dengan baik di medan yang tidak rata sehingga menghemat waktu pekerjaan.

Bomac Furnace Charging Vehicle memberikan jaminan garansi Engine & Hydraulic selama 3 tahun atau 2000 jam masa penggunaan.

BOMAC TELESCOPIC FORKLIFT PRODUCT :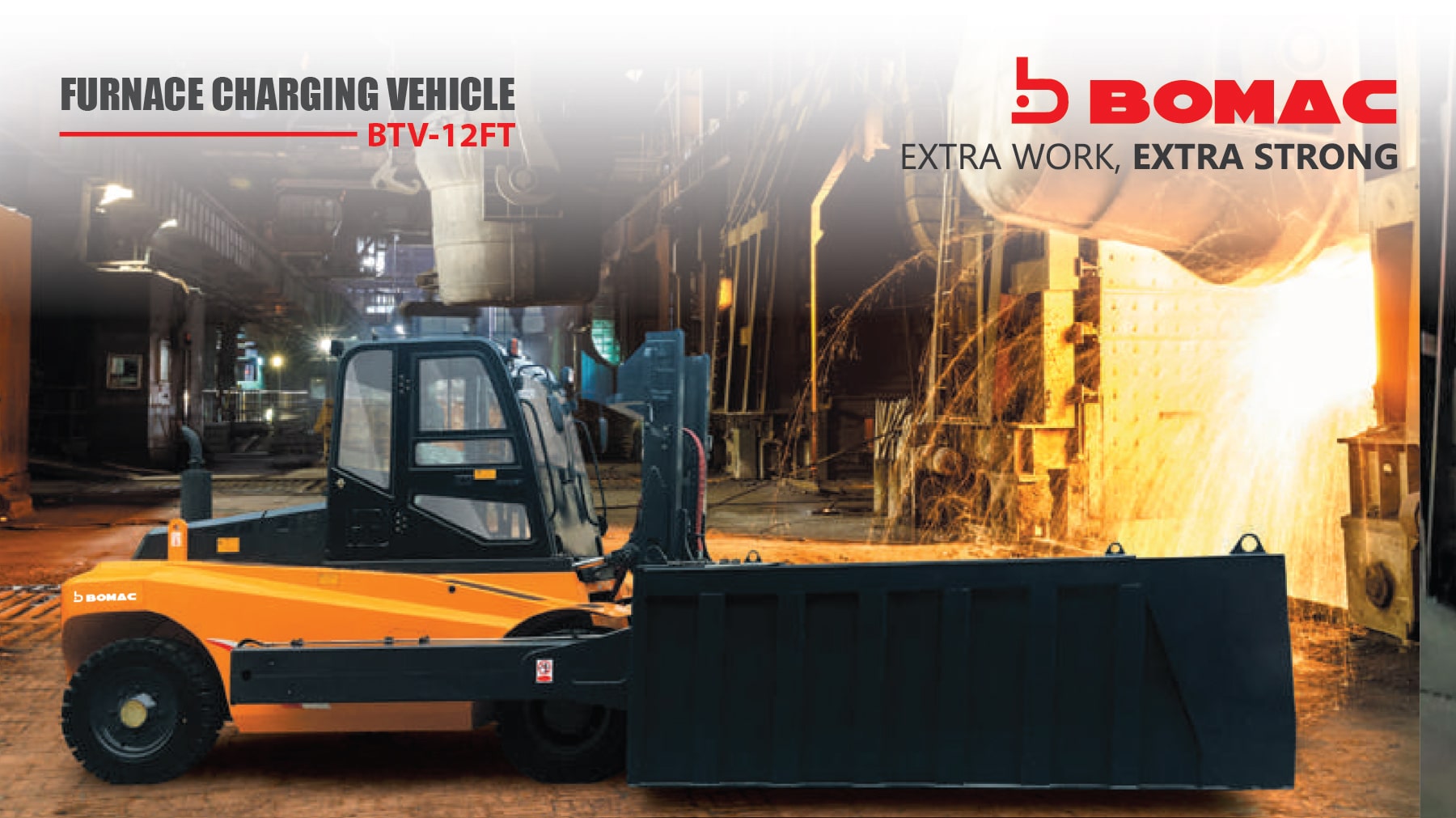 BOMAC CLIENT IN INDONESIA