Jual Bomac Forklift Big Capacity, Harga Bomac Forklift Big Capacity - BOMAC kini tengah gencar untuk meningkatkan layanan dan produk dengan kualitas tinggi, memungkinkan dealer untuk memenuhi semua kebutuhan pelanggan. Berdasarkan pengalaman, stabilitas dan tanggung jawab, BOMAC Forklift yang berusia lebih dari 30 tahun dengan konotasi yang mendalam, pengalaman yang kaya dan banyak prestasi.
RDS - 360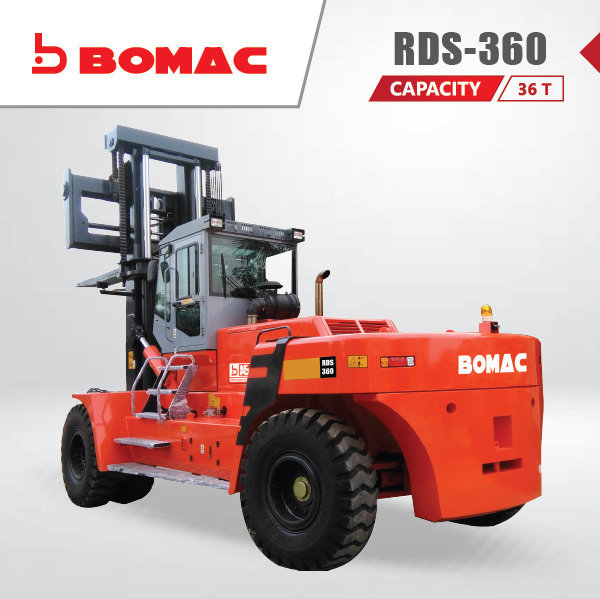 Best Price : Rp.6.310.130.000,-
Features

Rated Load

:
36 Q(ton)

Load Center

:
1250 c(mm)

Wheelbase
:
4800 y(mm)

Weight
:
43500 kg
Chassis

Tire Specs: Front

:
16.00-25-32PR
Tire Specs: Rear

:
16.00-25-32PR
Tires Qty, Front/Rear (X-dreve weels)

:

4/2

Wheel tread : Front
:
2400 b3(mm)
Wheel Tread : Rear
:
2450 b4(mm)
Dimensions

Mast/carriage tilt angle (front/rear)

:
6/12 Dedgree (º)

Mast heigh (fork lowering)

:

4010 h1 (mm)

Mast Lifting height

:
3500 h2(mm)

Max. lifting height

:
5760 h3(mm)
Height to head guard (height to cab)

:
3860 h4(mm)

Overall height (with Forks)

:
9700 L3 (mm)

Fork front vertical sueface to the rear end of the vehicle

:
7150 L2(mm)

Overall Width

:
3320 b1(mm)

Fork Dimension

:
2440*340*125 mm

Fork Carriage Width
:
3100 b2(mm)
Mast min ground (with load)
:
400 m1(mm)
Wheelbase center min ground (with load)
:
460 m2(mm)
Min. turning radius
:
7260 Wa(mm)
Travel speed (with load/without load)
:
25/28 km/h
Performance

Max. lifting sped (with load/without load)

:
260/280 mm/s

Max. lowring speed (wih load/without load)

:
250/180 mm/s

Traction
:
220 KN

Gradeability (with load/without load)

:
20/20 %

Driving brake
:
Hydraulic clamp disc
Engine

Engine Brand/Model

:
CUMMINS



:
QSC8.3~C260 8.3L 194kW 2200 r/min



:
Cylinder No. 6

Transmission gears (Front/Rear)

:
2/1

Attachments working pressure
:
18 MPa
Attachments using oil amount
:
80 L/min
Warranty
:
3 Years

Breakthrough
Innovation
Growth
*Price Include Tax
*Price Include Delivery Jabodetabek, Surabaya, Medan & Bandung
• Technical Dimension

BOMAC FORKLIFT :
HIGH QUALITY, HEAVY DUTY, HIGH-QUALITY HYDRAULIC, RELIABLE MACHINERY
PROVIDE THE BEST WARRANTY IN THE INDUSTRY.
BOMAC FORKLIFT BIG CAPACITY SPECIAL FEATURES :
Cummins engine bermuatan turbo dengan sistem bahan bakar common rail, mesin hemat energi dan ramah lingkungan dan memenuhi persyaratan operasional.

Bomac Advance Safety (BAS) berdedikasi untuk membantu dalam menjalankan dan mengembangkan pengendalian Resiko Keselamatan Kerja.

Dilengkapi dengan sistem hidraulik interflow pompa ganda yang bekerja, sehingga dapat menurunkan konsumsi oli dan menambah energi kinerja yang efisien.

Operasi lebih konvergen dan meningkatkan kinerja, sehingga mampu beradaptasi dengan kondisi kerja yang efisien dan mengurangi tingkat kerusakan pada mesin.

Bomac Forklift Big Capacity memiliki design yang compact sehingga menghasilkan kinerja yang stabil saat pengoperasian di medan yang berbatu.

Bomac Forklift Big Capacity mampu beradaptasi dan mampu beroperasi dengan baik di medan yang tidak rata sehingga menghemat waktu pekerjaan.

Bomac Forklift Big Capacity dilengkapi dengan meter function diagram yang akurat sehingga memudahkan operator saat mengoperasikan.

Double turbo hydraulic torque converter, dengan 2 perubahan kecepatan. Sistem transmisi kontrol tuas, dengan 2 kecepatan untuk mempermudah transmisi gigi.
Bomac Forklift Big Capacity menjadi teknologi manufaktur kelas satu, Sehingga sangat cocok untuk meningkatkan profit bisnis anda.

Dilengkapi dengan hydraulic yang tidak mudah bocor dan memiliki mesin yang handal, minim getaran dan irit bahan bakar.

Bomac Forklift Big Capacity minim biaya perawatan, hemat energy bahan bakar sehingga cocok untuk kebutuhan bisnis anda..

Bomac Forklift Big Capacity memberikan jaminan garansi Engine & Hydraulic selama 3 tahun atau 2000 jam masa penggunaan.

BOMAC FORKLIFT BIG CAPACITY PRODUCT :
HATI-HATI BELI FORKLIFT JANGAN YANG ASAL MURAH
Carilah yang : Handal, Kuat, Hydraulic berkualitas tinggi, bergaransi lama, suku cadang terjamin, ada teknisinya.
Forklift harus bisa dipakai terus menerus karena didukung oleh dealer yang bertanggung jawab.
BOMAC CLIENT IN INDONESIA