JUAL WATER TREATMENT, SUS 304/316 LIQUID MIXING TANKS
JUAL WATER TREATMENT, SUS 304/316 LIQUID MIXING TANKS | Kusatsu Water Treatment Industrial Series solusi air bersih untuk skala industri seperti industri Textile, Industri Pulp & Paper, Industri Makanan & Minuman, Industri Bahan Kimia serta indsutri lainnya, Kusatsu Water Treatment System adalah sistem pepengolahan air bersih, seperti mengintegrasikan reverse osmosis system. Ultra filter system, Ozone Generator, Water Softener, Pure Water Plant dan Mineral Water Plant.
DISTRIBUTOR REVERSE SUS 304/316 LIQUID MIXING TANKS | Kusatsu Water Treatment & Reverse Osmosis Industrial bisa menjadi Investasi jangka panjang untuk bisnis industri anda, Kusatsu Water Treatment system Industrial menggunakan material berkualitas dan tkhnologi yang sudah disesuaikan dengan iklim serta kondisi air di indonesia, Kusatsu menggunakan membrane sheet 'TORAY' made in JAPAN untuk hasil pemurnian air yang maksimal untuk kebutuhan bisnis industri anda.
SUS 304/316 LIQUID MIXING TANKS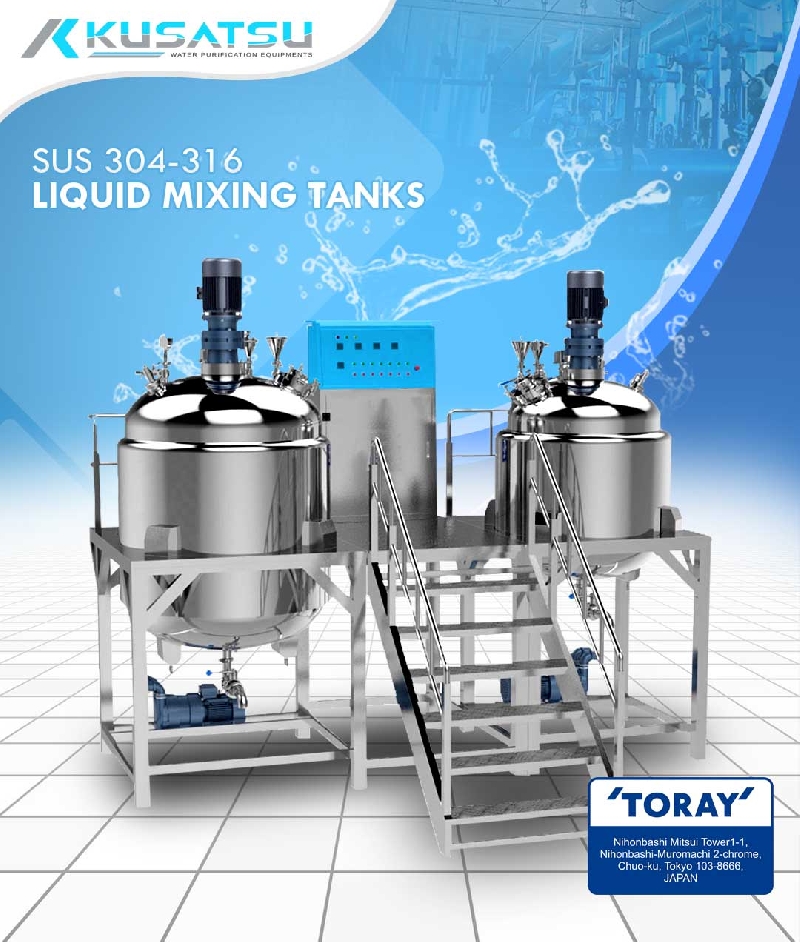 A mixing tank is a container that is used to blend several components together. The material that a mixing tank is made of can range from plastic, glass or hard rubber to steel of all types. In Kusatsu our mixing tank's are stainless 304/316/316L material. Stainless Steel is often used in the creation of a mixing tank due to the ease of clean-up as well as the smooth surface of the product.
Best Price : Call Sales

*Price are including PPN
FEATURES & BENEFITS

- Inner shell – Polyethylene (PE) seamless one-piece tank liner.

- Outer shell – Continuous strands of fiber-glass with high strength epoxy resin.

- Bottom base – FRP reinforced tripod base.

- Opening – 2.5" & 4" precision injected model with threaded opening for 8 " to 36" diameter tanks.

- Opening – 6 "Aluminum flange (anti-corrosion coating) opening for 36" to 63" diameter tanks.

KUSATSU INDUSTRIAL SERIES:
HIGH QUALITY, HEAVY DUTY, HIGH-QUALITY, RELIABLE MACHINERY
PROVIDE THE BEST WARRANTY IN THE INDUSTRY.
SUS 304/316 LIQUID MIXING TANKS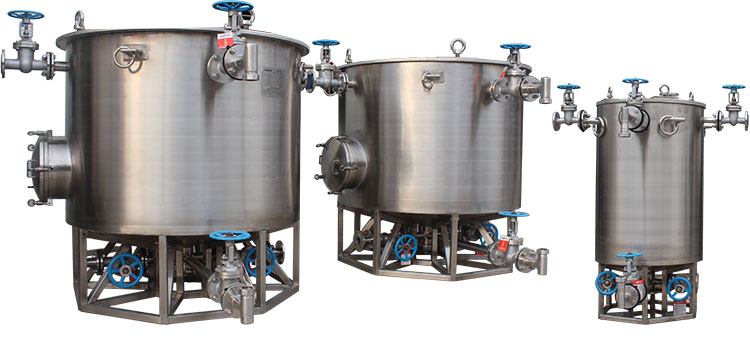 STAINLESS STEEL MIXING TANK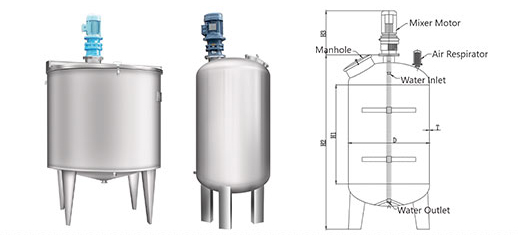 TECHNICAL PARAMETER
| Model | Diameter | Water Capacity | Thickness | Effective Height (mm) | Stirring Power | Inlet / Outlet |
| --- | --- | --- | --- | --- | --- | --- |
| CK-0.3T | ϕ650 | 0.3 m3 | 1.5 mm | 900 mm | 0.75 Kw | 1" |
| CK-0.5T | ϕ700 | 0.5 m3 | 1.5 mm | 1220 mm | 1.1 Kw | 1" |
| CK-1T | ϕ1000 | 1.0 m3 | 1.5 mm | 1220 mm | 1.5 Kw | 1" |
| CK-1.5T | ϕ1200 | 1.5 m3 | 2.0 mm | 1220 mm | 2.2 Kw | 1" |
| CK-2T | ϕ1200 | 2.0 m3 | 2.0 mm | 1500 mm | 2.2 Kw | 1" |
| CK-3T | ϕ1400 | 3.0 m3 | 2.0 mm | 1500 mm | 3.0 Kw | 1" |
| CK-4T | ϕ1500 | 4.0 m3 | 2.0 mm | 2000 mm | 3.0 Kw | 1" |
| CK-5T | ϕ1600 | 5.0m3 | 3.0mm | 2000 mm | 4.0 Kw | 1" |
| CK-6T | ϕ1800 | 6.0m3 | 3.0mm | 2000 mm | 5.5 Kw | 1.5" |
KUSATSU CLIENT IN INDONESIA