Jual Small Vertical Machine Center dengan Kualitas Terbaik, Harga Small Vertical Machine Center, Small Vertical Machine Center Murah - Specially design for mini size parts machining. With space occupied small, but vert rigidity and precision marking. High speed and precisely spindle unit with servo motor driven. X,Y,Z linear guideway, servo driven Supplied with cloak type ATC (10pcs) and concentrated all of functions as vertical machine.

XK7124L/VMC24L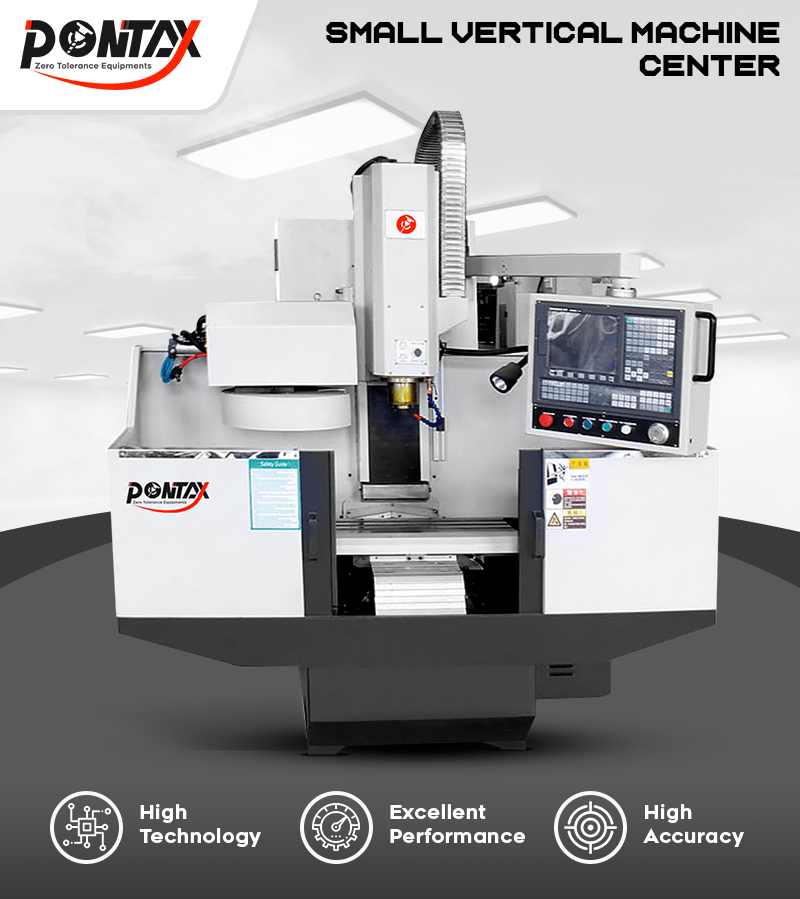 WORKTABLE



Size of worktable (L x W)

:
810 x 240 mm

Max loading weight on worktable
:
100 kg

T slot (width x qty x spaces)

:
16 x 3 x 60 mm

TRAVEL

X/Y/Z-Axis travel

:
380/240/370 (470 Optional)
Distance between spindle nose and table
:
60-430 mm

Distance between spindle center and column

:
309 mm

SPINDLE

Spindle speed (r/min)
:
100-6000 r/min

Spindle taper
:
BT30

Tool clamping way
:
Pneumatically

ATC capacity (optional)
:
10

FEEDING

Feeding speed
:
0-2000 mm/min

Rapid feeding speed: X, Y, Z axis
:
15 mm/min

ACCURACY

Positioning accuracy (mm)
:
0.025 mm

Repeatability accuracy (mm)
:
0.016 mm


MOTOR



Main motor power

:
2.2/3.7 kw

Feeding motor power X/Y/Z Axis

:
1.5/1.5/1.5 kw


TOOLS



Max. loading weight of Tool
:
3.5 kg

N.W (include machine stand)

:
1000/1280 kg


OTHERS



Overall size (L x W x H)

:
1770 x 1650 x 1300 mm
Packing size (L x W x H)

:
1900 x 1620 x 2480 (2580) mm

Loading amount (20")
:
6 Sets /4"GP


WARRANTY



Warranty

:
3 Years

STANDARD ACCESSSORIES

Auto lubricating system
Coolant system
Working lamp
Tool-released and clamped pneumatically
Siemens 808D system
Machine stand made of iron casting
OPTIONAL ACCESSORIES
FANUC, GSK
Heightened column (Z trave:50-5500mm)
900 x 240mm worktable
160mm Parallel vise 160mm
Tool holder
Best Price : Call Sales
PONTAX SMALL VERTICAL MACHINE CENTERPRODUCT:
HIGH QUALITY, HEAVY DUTY, HIGH PRECISION, RELIABLE MACHINERY
PROVIDE THE BEST WARRANTY IN THE INDUSTRY.
PONTAX SMALL VERTICAL MACHINE SPECIAL FEATURES :
Pontax Small vertical Machine Center didesain khusus untuk mesin bagian ukuran mini.


Dengan ukuran yang lebih kecil, tapi tetap sangat rigidity dan precision marking yang akurat.

Dilengkapi dengan unit spindle berkecepatan tinggi dan presisi dengan penggerak motor servo.

Dilengkapi dengan ATC cloak type (10pcs) dan memusatkan semua fungsi sebagai mesin vertikal.
Dilengkapi dengan akurasi high positioning dan speed of motion, yang dapat diterapkan dalam pemrosesan komponen dengan multi threads.

Pontax Small vertical Machine Center dilengkapi dengan penutup lengkap sehingga dapat melindungi serpihan besi dan percikan demi kemanan saat di operasikan.


Pontax Small vertical Machine Center memiliki desain integrasi elektromekanis untuk memastikan struktur yang compact dan penggerak motor yang mudah dioperasikan.

Dengan standar mutu internasional membuktikan eksistensi sebagai cnc machine terbaik sepanjang masa. Tidak perlu diragukan lagi Pontax merupakan pilihan terbaik.

Digunakan dalam industri konversi, yaitu konversi mesin dalam jumlah besar mampu diberbagai layanan bengkel, pabrik, dll.

Pontax Small vertical Machine Center tidak menggunakan terlalu banyak daya listrik, yang tentunya akan menghemat biaya pengeluaran anda.

Pontax Small vertical Machine Center sangat mudah diaplikasikan sehingga sangat cocok untuk keperluan bisnis anda.

Pontax Small vertical Machine Center memberikan Garansi selama 3 tahun.

---

HATI-HATI GUNAKAN SELALU CNC MACHINE KUALITAS TERBAIK
Pontax memiliki pengalaman dalam bidang Industri Manufaktur untuk menghasilkan komponen dalam jumlah besar,
kualitas terjamin dan teknologi berkualitas tinggi untuk solusi usaha dan kebutuhan anda.
PONTAX CLIENT IN INDONESIA