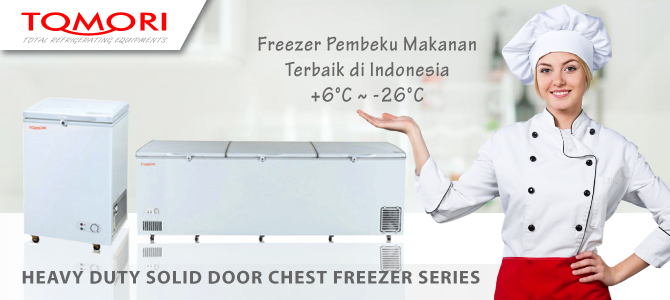 Jual Freezer/ Kulkas | Freezer/ Kulkas Tomori adalah Freezer/ Kulkas murah dengan kualitas terbaik, percayakan bisnis anda dengan Freezer/ Kulkas Tomori dari Indotara, kami menjual Freezer/ Kulkas Murah dengan berbagai Tipe dan kapasitas.
CHEST FREEZER SD-1018, 1018 Liter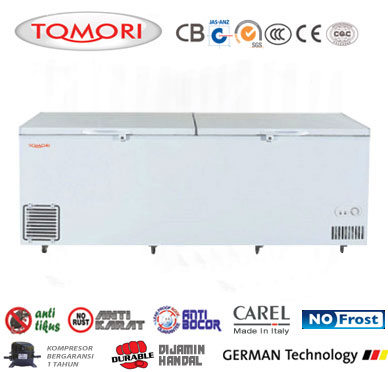 TOMORI SOLID DOOR CHSET FREEZER SPECIAL FEATURES :
GARANSI KOMPRESOR 1 TAHUN & PCB CONTROL 3 TAHUN, ANTI BOCOR, ANTI TIKUS, BODY ANTI KARAT, RODA CASTOR, TROPICALIZED ( SUDAH DISESUAIKAN DENGAN CUACA INDONESIA ).
Aplikasi Solid Door Chest Freezer Tomori : Cocok digunakan untuk mendinginkan aneka makanan maupun bahan2 masakan misalnya daging, ikan, udang, sosis, makanan2 beku, bakso, seafood, nugget, keju, ice cream, dll. Produk2 Tomori sudah terjamin kehandalannya, dan sudah terbukti digunakan oleh perusahaan2 terkenal di dunia dan di Indonesia.

Chest Freezer Tomori adalah freezer yang sangat hygienis karena proses produksi yang canggih dan menggunakan bahan2 berkualitas tinggi. Dengan pengalaman yang sangat matang dalam bidang pendingin, Tomori menjamin setiap produk bergaransi 3 tahun dan menjamin kinerja produk selalu dalam level handal.

Ketersediaan suku cadang dan layanan purna jual dijamin oleh PT. Indotara Persada. Anda bisa menghubungi kantor2 pemasaran kami di Jakarta, Surabaya, Medan dan Bandung. Kami siap melayani anda untuk seluruh wilayah Indonesia.
TOMORI SOLID DOOR CHEST FREEZER SPECIAL FEATURES :
Tomori Freezers with anti-rust and anti-leak body features, make your freezer more durable.

Tomori freezers equipped with security key lock which can secure the freezer at all.

Tomori freezers apply special castor wheel which easier to move the freezer to another place.

Tomori heavy duty compressor are 1 years warranty with low wattage and low vibration.

Tomori freezer apply special thermal controller that use for 0°C ~ +6°C and 0°C ~ -28°C.

Tomori freezer use special thermostat that can used for a very long period and works precisely.

Tomori freezers apply thick cyclopentane foam insulator to achieve a good temperature control.

Tomori freezer apply a thick fine copper tube for trouble-free freezer refrigerant flows.

Tomori freezer designed with special handle bar for luxury and durability. It's also strong & rustproof.

Tomori freezer is the most spacious product in the market today. With special design gain more space.

Tomori freezer use special rubber sealer with magnet that can avoid the vacuum effect when open the door.

Tomori freezer door hinge can hold the door from 0 to 90 degree without drop when you open it.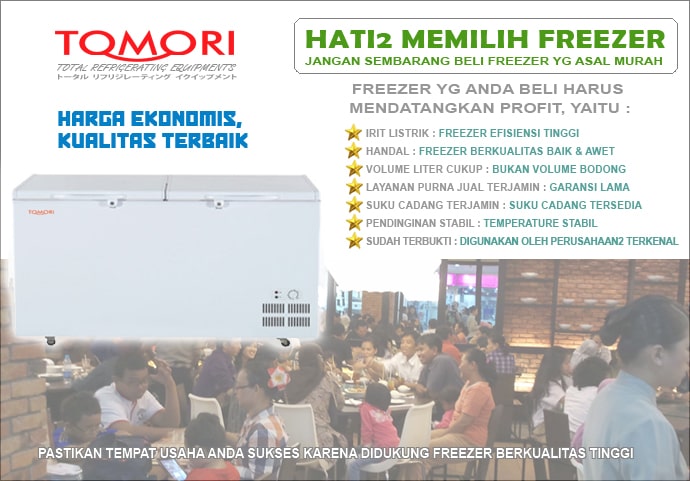 TOMORI CLIENT IN INDONESIA