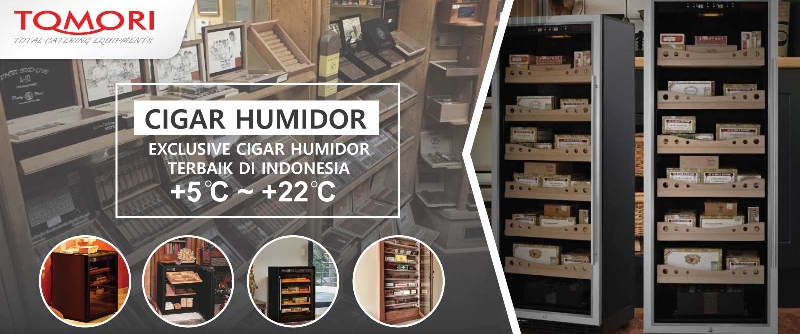 Tomori Cigar Humidor Cigar storage cabinet is the best product of Tomori. Tomori Cigar Humidor is designed with features that are very precise in humidity control and internal cabinet temperature precision and temperature are uniform. Cigar Humidor Tomori with Zanussi compressor (Italy) with 1 year warranty and PCB Control with 3 years warranty to ensure good quality products and reliability. Becareful in choosing cigar humidor products because the stakes are your cigar collection that are priceless. Tomori cigar humidor is designed with a digital controller to ensure reliable performance and humidity control, temperature accuracy and temperature uniformity. Tomori experienced in cooling devices for 30 years, is a certainty for you. Tomori produces the best cigar humidor with continuous R & D and continuous improvement. Cigar Humidor Tomori most widely used by cigars cigar collectors throughout Indonesia.
CIGAR HUMIDOR CX-80CT - 800 PCS CIGAR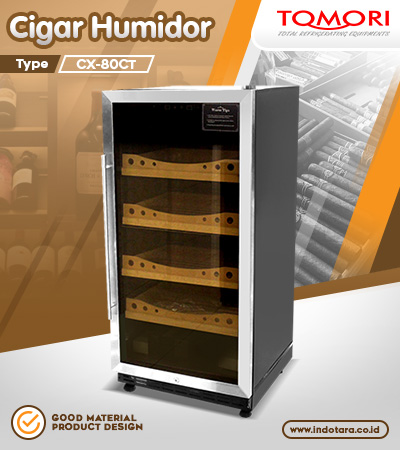 : 5°C - 22°C (Adjustable)
: Activated Carbon Filter
Compressor

: ZANUSSI (Italy - R134A)
SPECIAL FEATURES CIGAR HUMIDOR TOMORI :
Anti-UV Glass Door, LED lighting, Digital Controller, Adjustable Temperature, Precise Temperature, Low Wattage, Luxury Beech Wood Shelf, 1 year warranty & PCB Control with 3 years warranty, Security KeyLock, Celcius-Fahrenheit Selector.
FITUR SPESIAL TOMORI CIGAR HUMIDOR :
Tomori Cigar Humidor dgn lampu LED untuk mereduksi efek dari panas lampu, dan menambah cahaya.

Tomori dgn rak movable khusus tahan lama agar penyimpanan mudah. Berbahan Beech Wood.

Tomori Cigar Humidor dengan kunci pengaman yang akan melindungi cerutu berharga Anda.

Tomori Cigar Humidor dgn frame pintu berengsel ekstra kuat dan juga berdesain mewah.

Tomori Cigar Humidor dgn panel kontrol digital eksklusif yang mudah digunakan siapapun.

Tomori Cigar Humidor dgn filter karbon-aktif untuk mengurangi bau dan agar tetap segar.

Tomori Cigar Humidor dgn pintu kaca anti-UV khusus untuk melindungi cerutu dari sinar ultraviolet.

Tomori Cigar Humidor dgn kompressor Zanussi (Italy). Rendah Getaran & kuat dengan garansi 1 tahun.

Tomori Cigar Humidor dgn stainless steel bar untuk kemewahan dan daya tahan. Kuat & tahan karat.

Tomori Cigar Humidor dgn isolator 50mm busa siklopentana agar kontrol suhu berjalan dgn baik.

Fitur baru Tomori Cigar Humidor dengan nampan air di dalam kabinet agar kelembaban lebih presisi.

Tomori Cigar Humidor dengan electronic smart controller teknologi terbaru untuk sistem kontrol yang tepat.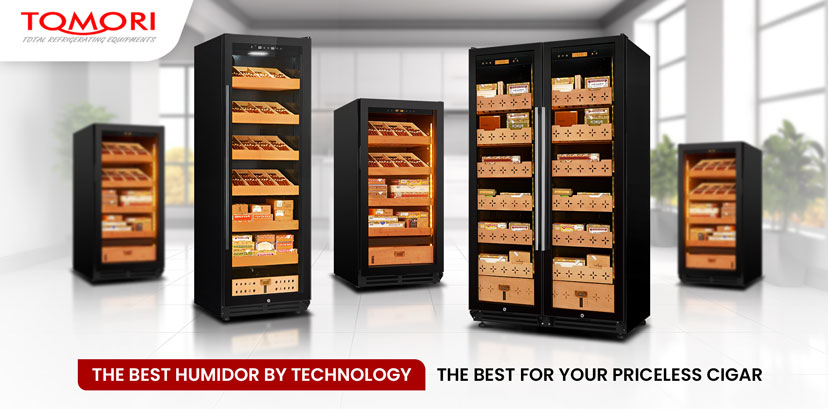 TOMORI CLIENT IN INDONESIA