JUAL WATER SOFTENER, HARGA WATER SOFTENER
JUAL WATER SOFTENER, HARGA WATER SOFTENER - Kusatsu Water Softener adalah alat merubah air yang bersifat keras (Hard Water) menjadi Air Lunak (Soft Water), fungsi dari water softener sendiri adalah menurunkan tingkat konsentrasi kalsium, Magnesium, dan ion lainnya yang mempunyai sifat Hard Water, salah satu efek dari penggunaan Hard Water adalah timbulnya Limescale berupa kerak putih yang biasa dijumpai pada pipa atau peralatan air lainnya, dengan menggunakan alat in air yang dihasilkan akan sangat aman untuk digunakan.
DISTRIBUTOR WATER SOFTENER, PENJERNIH AIR | Kusatsu Water Softener bisa menjadi Investasi jangka panjang untuk anda dan keluarga sehingga terbebas dari dampak yang dapat terjadi karena air yang digunakan memiliki tingkat kesadahan yang tinggi, Kusatsu Water Softener menggunakan membrane sheet 'TORAY' made in JAPAN untuk hasil pemurnian air yang maksimal dan layak konsumsi.
FCV-09-10(T)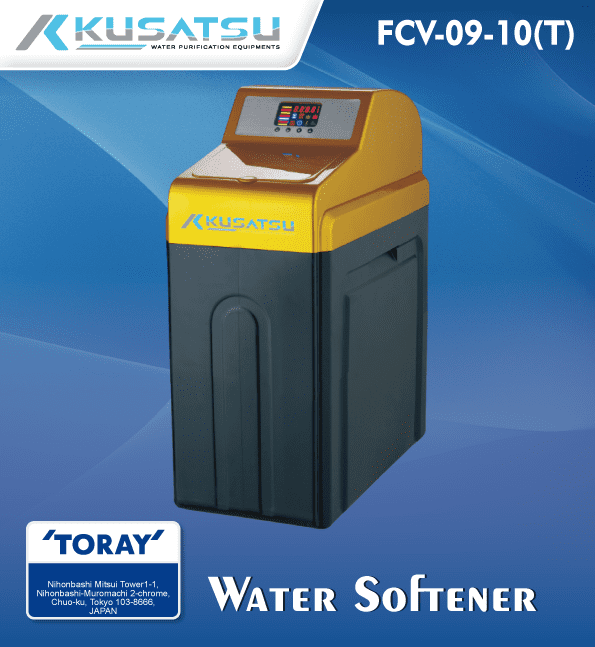 Model
:
FCV-09-10(T)

Generation Cyle

:
3 Days (Programmable)

Default Regeneration

:
2:00 (Programmable)

Regeneration Time

:
Approx 60 Minutes

Inlet Water Quality

:
Standard Municipal Water

Rating Flow

:
≤ 0.5 ton/Hour

Optimal Working

:
0.15-0.30 MPa

Inlet Water Temperature

:
1-45°C

Power Supply

:
100-220V/ 50~60Hz

Resin Volume

:
4 L

Machine Dimension
:
400x220x480

Packing Dimension
:
460x265x535

Unit Weight
:
≤ 15 Kgs

Warranty
:
1 Year Electrical
Best Price : Call Sales

*Price are including PPN
FEATURES & BENEFITS

Smart Regenration For Efficient Operation

Digitally Programmable

Very Easy to use

Robust Water Cabinet

Digital Control Valve

Compact Size

KUSATSU WATER SOFTENER SPECIAL FEATURES :
Features Smart regeneration for efficient operation. the machine's ability to regenerate resins automatically.

It has Digitally programmable features. ability to regulate / program the regeneration process.

Kusatsu Water Softener FCV Series with the latest technology and design makes this product very easy to use.

Water Softener Using Acrylonitrile Butadiene Styrene plastic for body material. strong body body and tough.

Kusatsu Water Softener Uses a digital control valve to regulate water cleanliness.

Kusatsu Water Softener has a compact size, so easy to place anywhere and also look luxurious.


Equipped fastener that serves to tighten the hose so it is not easily dislodged.

Kusatsu water softener FCV series using quality and food grade soft tube polyethylene.

Kusatsu water softener FCV series is equipped with high quality and durable flexible hose.

Not using too much electrical power, which will certainly add to your cost-effective.

Kusatsu FCV series uses a quality adapter so it is not easy to burn and heat

Kusatsu FCV series has an elegant design and luxurious impression so as not to damage your home decor.
KUSATSU CLIENT IN INDONESIA