Jual CNC Tapping machine, Harga CNC Tapping Machine, CNC Tapping Machine Murah - CNC tapping machine remains a machine shop staple. This milling machine has a vertically oriented spindle that approaches a workpiece mounted on their table. In addition, the performance of this engine has increased over the years, enhancing technologies such as high-speed spindles and advanced CNC capabilities (including conversation control programming). Supporting equipment is also available to increase the flexibility and capability of these machines, including spindle speeders, head angles, tool and part probes, fast-changing workholding devices, and rotary indexers to enable four or five axis machining work.
SK6532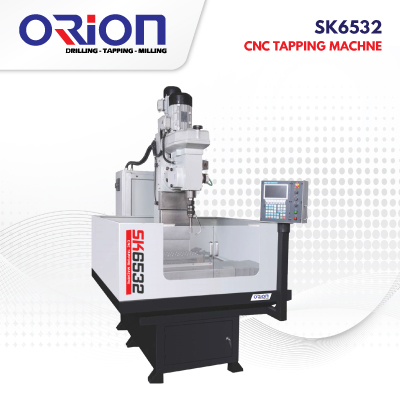 Best Price : Call Sales
Model
:
SK6532

Max. Drilling capacity

:
M32
X-axis travel

:
230 mm

Y-axis travel

:
180 mm

Z-axis travel

:
550 mm

Spindle-axis travel

:
65 mm
Distance between spindle end to table

:
55~670 mm

Distance between spindle center to column surface

:
380 mm

Table size

:
400 x 250 mm

T slot (aide x number x space)

:
14mm x 3 x 80mm

Allowable load

:
50 kg

Motor of Spindle

:
1.5 (6P) /2.2 (4P)

Speed of spindle

:
80. 150. 280 (6P Motor)
120. 220. 420 (4P Motor) r/min

Taper of spindle nose

:
MT3

Motor of X.Y axis

:
7 N.m

Motor of Z axis

:
7 N.m

Rapid feed rate of X.Y axis

:
10 m/min

Auto-feeding thread pitch

:
1.25/1.5/1.75/2.0/2.5/3.0/3.5/19/18/16/14/13/12/11/10/9/8/7TPI mm

Positioning accuracy
:
x. y: 0.03 mm

Repeat ability
:
x. y: 0.02 mm

Power requirement
:
6 kW

Overall Size
:
1.35 x 1.98 x 2.3 cm

N.W
:
1500 kg
Type of cover
:
Semi-enclosed guard
Warranty
:
3 Years (Mechanical) & 1 Years (Electrical)
Feeding system is driven by exchange gears, which is convenient to replace to meet the processing requirement with different screw pitches.
Driving system with protect clutch, has overload protection function to avoid the cracking of taps.
Gear driving with large transmission torque, stable in transmission performance, multiple steps of spindle speeds, and with large thread size.
Window type parameterized CNC system gathers modules of processing of common threads. The CNC system is convenient to operate and program, meanwhile, G-code programing can also be adopted to meet the requirement from different user.
*Price Include Tax
*Price Include Delivery Jabodetabek, Surabaya, Medan & Bandung
ORION MACHINING SYSTEM :
HIGH QUALITY, HEAVY DUTY, HIGHER OUTPUT POWER, EFFICIENCY,
PROVIDE THE BEST WARRANTY IN THE INDUSTRY.
CNC TAPPING MACHINE SPECIAL FEATURES :
Dilengkapi dengan Cutter auto measure device, Cutter center cooling system dan squirt gun sehingga potongan yang dihasilkan lebih maksimal.

CNC tapping machine dilengkapi dengan auto timing lubrication system guna menjaga produktifitas unit dalam pengoperasian.


Dilengkapi dengan two steps speed gearbox yang digunakan untuk memutar spindel mesin maupun melakukan gerakan feeding.

Coollant system untuk menjaga temperatur mesin dalam kondisi yang ideal dengan mekanisme mesin diubah menjadi tenaga gerak.
CNC tapping machine dilengkapi dengan akurasi high positioning dan speed of motion, yang dapat diterapkan dalam pemrosesan komponen dengan multi threads.


CNC tapping machine memberikan siklus yang terdiri dari fast forward - fine forward - fast backward (chip removal), yang meningkatkan efektivitas.

CNC tapping machine memiliki desain integrasi elektromekanis untuk memastikan struktur yang compact dan penggerak motor yang mudah dioperasikan.


Dengan standar mutu internasional membuktikan eksistensi sebagai drilling machine terbaik sepanjang masa. Tidak perlu diragukan lagi Orion merupakan pilihan terbaik.

Digunakan dalam industri konversi, yaitu konversi mesin dalam jumlah besar mampu diberbagai layanan bengkel, pabrik, dll.

CNC tapping machine tidak menggunakan terlalu banyak daya listrik, yang tentunya akan menghemat biaya pengeluaran anda.

Orion CNC tapping machine sangat mudah diaplikasikan sehingga sangat cocok untuk keperluan bisnis anda.

Orion CNC tapping machine memberikan garansi selama satu tahun


HATI-HATI GUNAKAN SELALU MACHINING SYSTEM BERKUALITAS TERBAIK
ORION machining system memiliki pengalaman meningkat selama bertahun-tahun dengan kualitas terbaik.
meningkatkan teknologi seperti spindle berkecepatan tinggi dan kemampuan CNC canggih.

NATIONAL & MULTINATIONAL COMPANY USING ORION DRILLING MACHINE :
PT. Komatsu Indonesia Tbk
Mitsubishi Motors
PT.BUKAKA TEKNIK UTAMA
INDOCEMENT
HOLCIM Indonesia
PT. Gearindo Prakarsa
PT. Cigading Habeam Center
PT. Wijaya Karya
PT. Tjokro Bersaudara
INDOMOBIL
PT TIMAH TBK
Krakatau Steel Group
PT. Murinda Iron Steel
PT. Tokyu Construction
PT. Krakatau Engineering
PT. Halliburton Indonesia
PT. Jagat Baja Prima Utama
PT. Sayap Mas Utama
ASTRA GROUP
PT. EBARA INDONESIA
PT. Bukit Asam Tbk (PTBA)
PT. Bharata Indonesia
PT. Semen Padang
PT. Tokyu Construction
PT. Jaya Teknik Indonesia
PT. Bakrie Construction
PT. Kaltim Prima Coal
ORION CLIENT IN INDONESIA