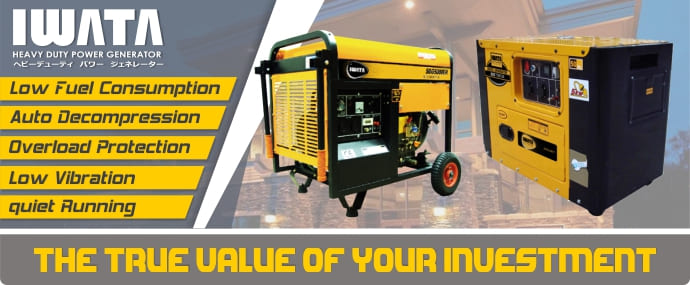 Generator Set IWATA 5KW - IWATA Generator Set is one of the best selling product generator ever. Indotara has long worked with distributors selling generators Iwata to deliver the latest generator technology. This is reflected in the performance and durability of selling products generators longer, more quiet operation and lower exhaust emissions. Iwata expecting the user input on product performance, comfort, safety, services, and partnerships. INDOTARA provide generator set selling products that will be fit what the industry needs, any unit is performed with the thoroughly before leaving the factory by professional technicians.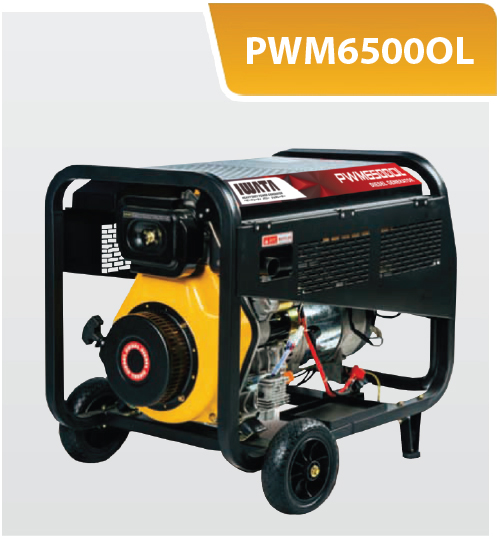 * Price Exclude PPN 11%
Fuel consumption (g/kW h)
: ≤400

Noise (7 meters away) dB (A)
FEATURES AND BENEFITS
AVR gives stable voltage and safe work

Minimal vibration & smooth running

Function better with double large muffler

Various sockets for different market

Universal wheels make movement easily

High quality parts and fittings with long life-span are adopted
IWATA GENSET SPECIAL FEATURES :
IWATA Genset dengan Suku cadang dan perlengkapan berkualitas tinggi dengan umur panjang dan awet.

IWATA Genset with Silent Technology is one of the lowest sound generators in the world and has been proven.

IWATA Genset is equipped with a special fan that is placed near the machine to prevent heating in the machine.

Genset IWATA provides 3-year warranty as a form of guarantee of quality products.

IWATA Genset is equipped with oil warning light feature that is useful as a notification to immediately fill the oil.

Features oil warning light serves as an alarm if there is excessive oil pressure and protect genset for shutdown.

IWATA Genset equipped with wheels with the best quality, simplify the mobilization of generator units.

IWATA Genset is equipped with Fuel Filter, as a diesel fuel filter, ensuring the engine will be much more durable.

IWATA Genset uses Combustion system direct injection combustion system, for maximum power.

Equipped with an Automatic Shutdown feature when low oil states are useful to avoid damage to the machine.

IWATA Genset is equipped with the latest technology is very Minim vibration and not noisy when the generator unit is operated.

Iwata Genset uses heavy duty engine, powerful generator set engine & durable result of Japanese technology research.

IWATA CLIENT IN INDONESIA