JUAL WATER TREATMENT, COMMERCIAL RO WATER TREATMENT SYSTEMS
JUAL WATER TREATMENT, COMMERCIAL RO WATER TREATMENT SYSTEMS | Kusatsu Water Treatment Industrial Series solusi air bersih untuk skala industri seperti industri Textile, Industri Pulp & Paper, Industri Makanan & Minuman, Industri Bahan Kimia serta indsutri lainnya, Kusatsu Water Treatment System adalah sistem pepengolahan air bersih, seperti mengintegrasikan reverse osmosis system. Ultra filter system, Ozone Generator, Water Softener, Pure Water Plant dan Mineral Water Plant.
DISTRIBUTOR WATER COMMERCIAL RO WATER TREATMENT SYSTEMS | Kusatsu Water Treatment & Reverse Osmosis Industrial bisa menjadi Investasi jangka panjang untuk bisnis industri anda, Kusatsu Water Treatment system Industrial menggunakan material berkualitas dan tkhnologi yang sudah disesuaikan dengan iklim serta kondisi air di indonesia, Kusatsu menggunakan membrane sheet 'TORAY' made in JAPAN untuk hasil pemurnian air yang maksimal untuk kebutuhan bisnis industri anda.
COMMERCIAL RO WATER TREATMENT SYSTEM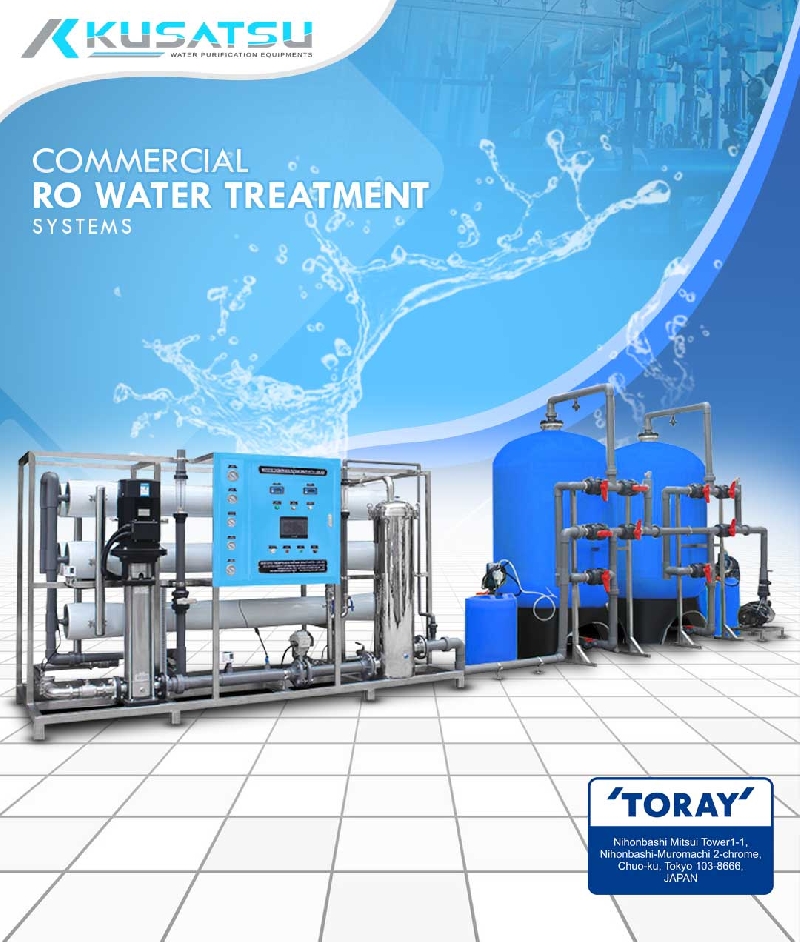 Commercial Reverse Osmosis Water Purification Systems is used to purify water. This system consists of booster pump, FRP pretreatment tanks (sand filter, activated carbon filter), SS304 cartridge filter housing, chemical dosing systems, high pressure pump, FRP membrane pressure vessel, 4040 membranes, control panel and touch screen control. Material and parts brand can be changes as regards to raw water quality and customer demand. From touch screen panel, you can see all system flow diagram and automatic or manual control the system. You manage all system with our new water treatment technologies. Membranes do not allow small particles, virus, bacteria to pass as a result your water becomes very clean and safe.
Best Price : Call Sales

*Price are including PPN
FEATURES & BENEFITS

- Pure Water Production Capacity (L/day, L/Hour, GPD).

- Feed Water TDS and Raw Water Analysis Report (prevent fouling and scaling problem).

- Iron and Manganese must be removed before raw water enter reverse osmosis water filtration membrane.

- TSS (Total Suspended Solid) must remove before commercial water purification system's membrane.

- SDI (Silt Density Index) must be less than 3

- Must be sure your water source does not have oil and grease

- Chlorine must be removed before commercial water treatment system.

- Available electrical power voltage and phase.

- Layout of place for commercial ro reverse osmosis system.

KUSATSU INDUSTRIAL SERIES:
HIGH QUALITY, HEAVY DUTY, HIGH-QUALITY, RELIABLE MACHINERY
PROVIDE THE BEST WARRANTY IN THE INDUSTRY.
COMMERCIAL RO WATER TREATMENT SYSTEMS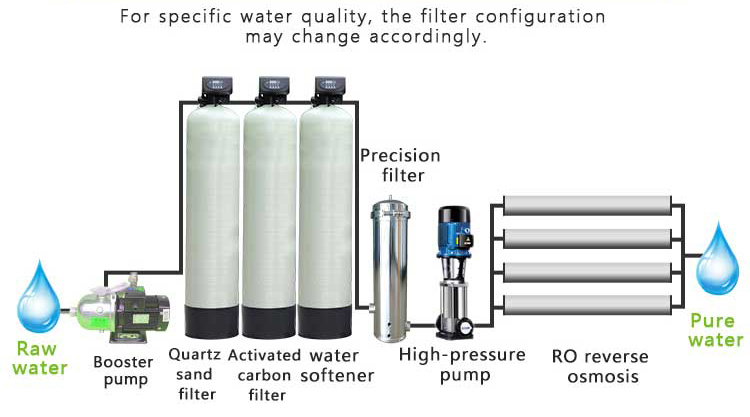 SPECIFICATION
Model
Permeate Flow Rate
Membranes
Liter/Hour

Size



Quantity
CK-RO-100L
100
4021
1
CK-RO-250L
250

4040
1
CK-RO-500L
500

4040
2
CK-RO-1000L
1000
4040
4
CK-RO-2000L
2000
4040
8
Features of Commercial RO Water Treatment System
| Standard Futers | Available Options |
| --- | --- |
| Programmable PLC Control | Automatic Flush |
| Motor Starter | Ozone Generator |
| Raw Water Feeding/Booster Pump | UV Sterilizer |
| Stainless Steel Cartridge Filter Housing | Chemical Dosing |
| FRP Membrane Housing | pH control monitor |
| Mitsibushi Processor Control | ORP Control monitor |
| Low Pressure Switch | Remote Control |
| High Pressure Switch | Pretreatment System |
| Liquid filled pressure gauge | Post Deionization Unit |
| Stainless Steel 304 Frame | CIP Membrane cleaning system |
| Permeate Conductivity Monitor | Touch Screen Control |
| Raw Water Conductivity Monitor | Tank Level Switch |
| Membranes | Customer Logo |
| Control Valves | |
| Stainless Steel/UPVC Piping | |
KUSATSU CLIENT IN INDONESIA