Jual Vertical Machine Center/Linear Way, Harga Vertical Machine Center/Linear Way, Jual Vertical Machine Center/Linear Way Kualitas Terbaik - Precision linear guide-way for X/Y/Z axis, high speed of rapid moving and high efficient cutting; Optional rectangular sliding guide-way for Z axis, better anti-vibrating and stable in cutting; Swing-arm ATC can realize rapid tool change and suitable for the high-efficient machining: Imported original high speed high precision spindle; Whole machine be equipped with imported P4 bearing.

VMC1370L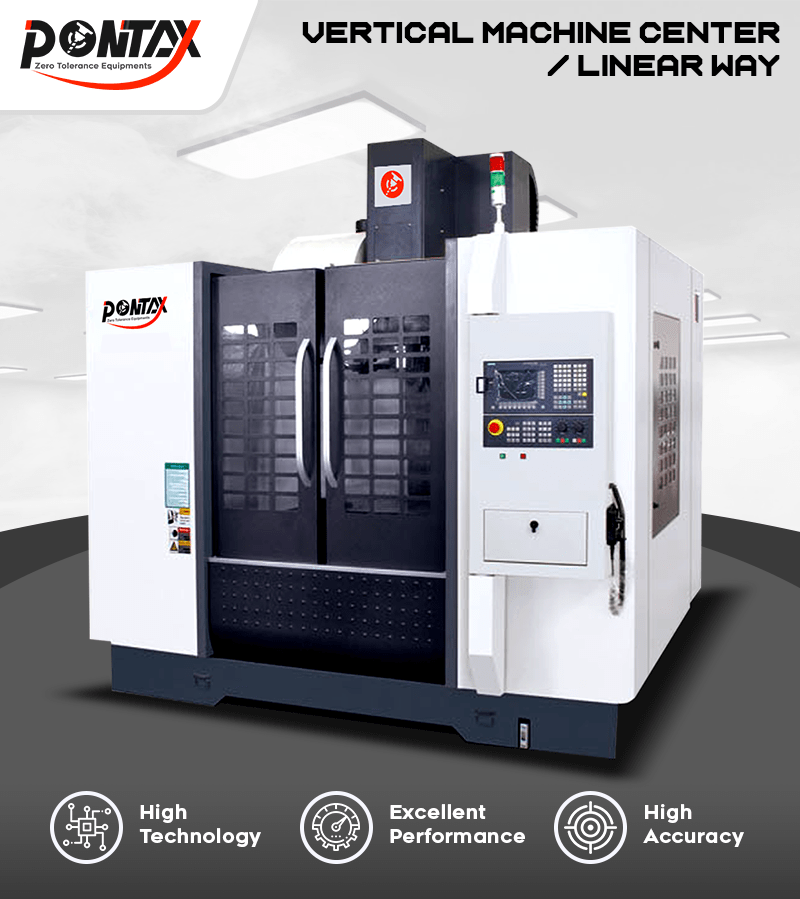 TRAVEL



X/Y/Z Axis Travel

:
1300/700/6500 mm

Distance from spindle nose to worktable

:
150-800 mm

Distance from spindle center to column

:
785 mm

WORKTABLE

T slot (width x No. x space)

:
12 x 3 x 152.5 mm

Worktable size (L.mm x W.mm)
:
700 x 1400 mm

Max. Loading on worktable

:
1000 kg

SPINDLE

Motor power

:
15/18 KW

Spindle speed

:
60~6000 rpm

Spindle taper
:
BT50

Spindle bearing
:
P4

FEEDING

3 Axes fast moving speed (X&Y)
:
24 m/min

3 Axes fast moving speed (Z)

:
24 m/min

Linear guideway X/Y/Z

:
45/45/ Box guideway

Cutting feeding rate

:
1~10000mm

Min. set and moving unit

:
0.001 mm

Pitch of X/Y axis
:
12

Pitch of Z axis
:
12


3-AXIS ACCURACY



Position accuracy (300mm)
:
± 0.005
Repeated position accuracy (300mm)
:
± 0.003

ATC

ATC Type
:
Manipulator

ATC Capacity

:
24

Max. diameter of tool (near x mm) x Weight (kg) x Length (mm)
:
127 x 15 x 300

Time of tools automatic charging (near) (s)
:
3.5 s


OTHERS



Machine weight

:
10000 Kg

Air pressure

:
6 Kg/cm2

Power of cutting coolant pump

:
370 W

Power capacity

:
25 KVA

Overall size (L x W x H)

:
4000 x 3200 x 3300 mm

CNC controller system
:
FANUC, Mitsubishi, Siemens 828D, GSK218M

WARRANTY



Warranty

:
3 Years

STANDARD ACCESSSORIES


FANUC control system
Arm-Type ATC
Automatic lubricating system
Spindle blowing device
Guide-way telescopic cover
Movable hand-wheel
Hand-held air gun
Alarm light
Coolant system
Working light
RS232 interface
Tool box and manual
Level adjusting screws and block


OPTIONAL ACCESSORIES
Spindle oil cooling
Rear flushing
The 4th axis rotary table
Chip conveyor
Spindle centre water
Electric box refrigerator
Best Price : Call Sales
PONTAX VERTICAL MACHINE CENTER / LINEAR WAY PRODUCT:
HIGH QUALITY, HEAVY DUTY, HIGH PRECISION, RELIABLE MACHINERY
PROVIDE THE BEST WARRANTY IN THE INDUSTRY.
PONTAX VERTICAL MACHINE CENTER / LINEAR WAY SPECIAL FEATURES :
Vertical Machine Center / Linear Way dilengkapi dengan 3-koordinat alat ukur untuk memastikan ukuran benda kerja setelah dipotong

Vertical Machine Center / Linear Way dilengkapi dengan unitary machine gap dan basis motor untuk meningkatkan kekakuan transmisi

Vertical Machine Center / Linear Way Roundness accuracy and geometric accuracy, untuk memastikan akurasi gerakan di bawah ruang tiga dimensi.

Memiliki desain integrasi elektromekanis untuk memastikan struktur yang compact dan penggerak motor yang mudah dioperasikan.

Dilengkapi dengan spindle kecepatan yang tinggi, akurasi yang tinggi dan presisi yang tinggi sehingga mendapatkan hasil yang efisien.

Seluruh mesin Pontax Cnc Machine dilengkapi dengan bearing P4 yang diimpor dan memiliki kualitas terbaik di kelasnya.

Coollant system untuk menjaga temperatur mesin dalam kondisi yang ideal dengan mekanisme mesin diubah menjadi tenaga gerak.

Dilengkapi dengan standard aksesoris, FANUC control system, Arm-Type ATC, Automatic lubricating system, untuk meningkatkan kinerja yang tinggi.

Pontax Cnc Machine menggunakan sistem komputer yang telah terbentuk dengan baik hingga menghasilkan hasil yang sesuai dengan cepat dan presisi.

Dengan standar mutu internasional membuktikan eksistensi sebagai cnc machine terbaik sepanjang masa. Tidak perlu diragukan lagi Pontax merupakan pilihan terbaik.

Pontax Cnc Machine digunakan dalam industri konversi, yaitu konversi mesin dalam jumlah besar mampu diberbagai layanan bengkel, pabrik, dll.

Pontax Cnc Machine Center / Linear Way memberikan garansi selama 3 tahun

HATI-HATI GUNAKAN SELALU CNC MACHINE KUALITAS TERBAIK
Pontax memiliki pengalaman dalam bidang Industri Manufaktur untuk menghasilkan komponen dalam jumlah besar,
kualitas terjamin dan teknologi berkualitas tinggi untuk solusi usaha dan kebutuhan anda.
PONTAX CLIENT IN INDONESIA