Jual Horizontal Macine Center, Harga Horizontal Macine Center, Jual Horizontal Macine Center dengan Kualitas Terbaik - A prevalent inverted "T" shaped layout is in the base frame, which is high in rigidity of the integral structure and is not creative of any overturning during the full stroke. The base frame manufacture by 5-sided machines high-precisely machining, finish most work in one chucking. A grouped 60° angular contact ball-bearing is adopted in the lead-screw, which is doubly supported, so as to increase the machining precision. High-frequency hardened slide rails or heavy-load high precision roller guide-ways, which have an excellent property of shock absorption and can bear heavy load cutting. Precision spindle, 6000rpm and with air film protection device, so as to ensure to keep the spindle precision and service long life. CNC rotary table, indexing table, Exchange table for optional.

HMC50 (Linear Rail Way)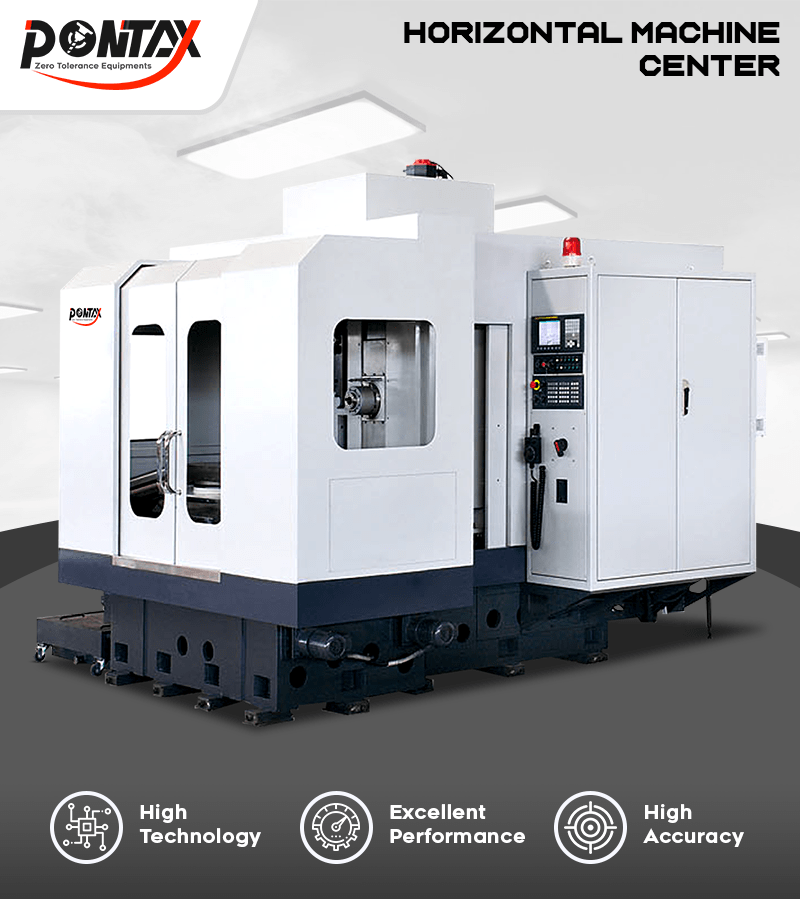 Worktable dimension (LxW) (mm)

:
500 x 500 mm

Number of worktables

:
1/2

Worktable indexing (o)

:
1 x 360/0.001 mm

T shaped slot/number of slot x width of slot x interval (mm)

:
5 x 18 x 100 mm

Maximum load capacity of worktable (kg)
:
500 kg

X axis travel (mm)
:
650 mm

Z axis travel (mm)
:
550 mm

Y axis travel (mm)
:
550 mm

Distance from center of spindle to worktable (mm)
:
120 - 670 mm

Distance from spindle nose to center of worktable (mm)
:
180 - 730 mm

Spindle taper
:
BT40
apus

:
apus
Maximum spindle speed (r.p.m.)
:
8000
Rapid traveling (X, Y and X) (mm/min)
:
15000
Maximum speed of table (r/min)
:
10

ATC type
:
Manipulator

ATC capacity
:
24
Maximum tool dimensions Adjacent tool (diameter x length) (kg)

:
ɸ80 x 300 kg

Maximum tool dimensions Without adjacent tool (diameter x length) (kg)
:
ɸ120 x 320 kg

Maximum tool weight (kg)
:
15 kg

Time of Tool changing (tool to tool) (s)
:
3
G.W. (kg)

:
12000 kg

Position precision (300mm)
:
± 0.005
Repeated position precision (300mm)
:
± 0.003
Warranty

:
3 Years

Best Price : Call Sales
PONTAX HORIZONTAL MACHINE CENTER PRODUCT:
HIGH QUALITY, HEAVY DUTY, HIGH PRECISION, RELIABLE MACHINERY
PROVIDE THE BEST WARRANTY IN THE INDUSTRY.
PONTAX CNC HORIZONTAL MACHINE CENTER SPECIAL FEATURES :
Eksperimen simulasi deformasi bed bubut dilakukan untuk memastikan bahwa mesin memiliki kekakuan lentur yang sangat baik.

Automatic tool changer dipasang secara terpisah, untuk menghindari dampak machining accuracy. Pemilihan tool menggunakan selection using the short path.

Dilengkapi dengan Strengthen the spindle flange thickness and diameter, sehingga memiliki kekuatan yang meningkat

Memiliki desain integrasi elektromekanis untuk memastikan struktur yang compact dan penggerak motor yang mudah dioperasikan.

Dilengkapi dengan spindle kecepatan yang tinggi, akurasi yang tinggi dan presisi yang tinggi sehingga mendapatkan hasil yang efisien.

Seluruh mesin Pontax Cnc Machine dilengkapi dengan bearing P4 yang diimpor dan memiliki kualitas terbaik di kelasnya.

Coollant system untuk menjaga temperatur mesin dalam kondisi yang ideal dengan mekanisme mesin diubah menjadi tenaga gerak.

Dilengkapi dengan standard aksesoris, FANUC control system, Arm-Type ATC, Automatic lubricating system, untuk meningkatkan kinerja yang tinggi.

Pontax Cnc Machine menggunakan sistem komputer yang telah terbentuk dengan baik hingga menghasilkan hasil yang sesuai dengan cepat dan presisi.

Dengan standar mutu internasional membuktikan eksistensi sebagai cnc machine terbaik sepanjang masa. Tidak perlu diragukan lagi Pontax merupakan pilihan terbaik.

Pontax Cnc Machine digunakan dalam industri konversi, yaitu konversi mesin dalam jumlah besar mampu diberbagai layanan bengkel, pabrik, dll.

Pontax Cnc Machine memberikan garansi selama 3 tahun

HATI-HATI GUNAKAN SELALU CNC MACHINE KUALITAS TERBAIK
Pontax memiliki pengalaman dalam bidang Industri Manufaktur untuk menghasilkan komponen dalam jumlah besar,
kualitas terjamin dan teknologi berkualitas tinggi untuk solusi usaha dan kebutuhan anda.
PONTAX CLIENT IN INDONESIA