Jual Gantry Machine Center, Harga Gantry Machine Center, Gantry Machine Center Dengan Kualitas Terbaik - High-quality meehanite casting, the structure by the finite element analysis, in order to achieve the best stability. Suitable for machining large mold, mold base. In all three axis precision level of large diameter screw, and appropriately and the screw pre-stretching, in order to improve the stiffness of the lead screw pair. Using precision grade super heavy rail line application, to ensure high precision and high bearing processing requirements.
(27A SERIES) HB3027A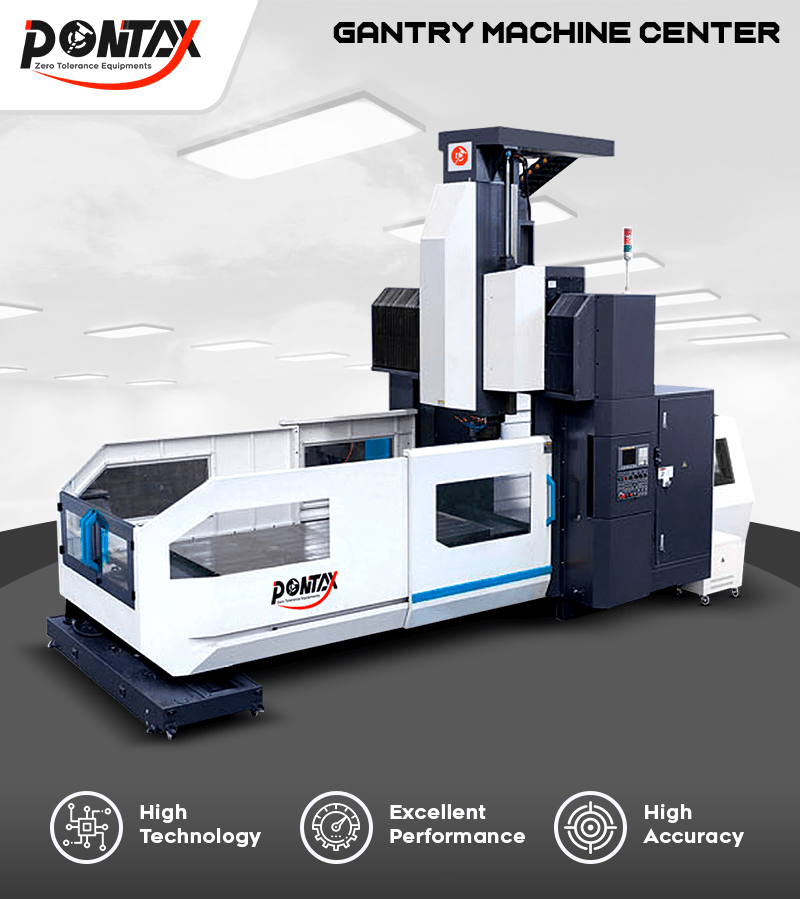 WORKTABLE



Worktable (length x width)

:
3000 x 2300 mm

Max. Load table

:
12000 kg


TRIAXIAL ITINERARY

T-slot (number of slot x slot width x pitch)

:
11-22 x 200 mm
Gantry width

:
2730 mm
Travel for X/Y/Z axis

:
3200/2700/1000 mm
Distance from spindle nose to table surface

:
310-1310 mm
FEEDING SYSTEM

CNC system
:
FANUC 0i MD
Rapid shift of axis of X/Y/Z

:
10/12/10 m/min

Max cutting feed speed

:
7 m/min

X/Y/Z-axis guide specification
:
2-55 (X) / 2-55 (Y) /Z-axis box rail way


ATC



Standard tool quantity
:
BT50/32
The larges diameter cutter knife / length
:
ɸ 125/300
Tool exchanging manner
:
Manipulator
Max tool weight

:
18 mm


PRECISION



Positioning accuracy

:
± 0.005 mm

Accuracy of repeated positioning
:
± 0.003

SPINDLE SYSTEM



Spindle specifications (mode installation diameter)

:
BT50/ ɸ200 mm

The max speed of belt drive milling head

:
4000 mm

Motor Power

:
22/26

OTHER



Requirements for air compressing
:
≥ 6 kg/cm²
Air pressure flux

:
≥ 0.5 m³/min
Integrated weight
:
41000 kg
Overall dimension (length x width x height)
:
7840 x 5150 x 5167 mm
Warranty

:
3 Years

STANDARD ACCESSORIES

• Full closed cover
• Automatic chip cleaner
• Guideway protection
• Automatic lubrication system
• Spindle blowing
• Mobile hand wheel
• Alarm light
• Z axis hydraulic balance system
• Manual air gun
• Automatic cooling system
OPTIONAL ACCESSORIES
• ZF gearbox
• Full-gear spindle 90o milling head
• 24/32/40T Automatic tools changer
• Spindle oil cooling
• Automatic shutting system
• The 4th table
• Universal milling head
Best Price : Call Sales
PONTAX GANTRY MACHINE CENTER PRODUCT:
HIGH QUALITY, HEAVY DUTY, HIGH PRECISION, RELIABLE MACHINERY
PROVIDE THE BEST WARRANTY IN THE INDUSTRY.
PONTAX GANTRY MACHINE CENTER SPECIAL FEATURES :
Pontax Gantry Machine Center dilengkapi dengan Optional 90o milling head realizes five face machining.

Pontax Gantry Machine Center dilengkapi dengan Optional automatic tool checking instrument improves working efficiency.

Pontax Gantry Machine Center dilengkapi dengan Optional hydraulic balance sehingga performa tetap stabil.

Desain integrasi elektromekanis untuk memastikan struktur yang compact dan penggerak yang mudah dioperasikan.

Dilengkapi dengan spindle kecepatan yang tinggi, akurasi yang tinggi dan presisi yang tinggi sehingga mendapatkan hasil yang efIsien.

Seluruh mesin Pontax Cnc Machine dilengkapi dengan bearing P4 yang diimpor dan memiliki kualitas terbaik di kelasnya.

Coollant system untuk menjaga temperatur mesin dalam kondisi yang ideal dengan mekanisme mesin diubah menjadi tenaga gerak.

Dilengkapi dengan standard aksesoris, FANUC control system, ZF gearbox, Automatic lubricating system, untuk meningkatkan kinerja yang tinggi.

Pontax Cnc Machine menggunakan sistem komputer yang telah terbentuk dengan baik hingga menghasilkan hasil yang sesuai dengan cepat dan presisi.

Dengan standar mutu internasional membuktikan eksistensi sebagai cnc machine terbaik sepanjang masa. Tidak perlu diragukan lagi Pontax merupakan pilihan terbaik.

Pontax Cnc Machine digunakan dalam industri konversi, yaitu konversi mesin dalam jumlah besar mampu diberbagai layanan bengkel, pabrik, dll.

Pontax Cnc Machine & Laser Cutting Machine memberikan garansi selama 3 tahun.

HATI-HATI GUNAKAN SELALU CNC MACHINE KUALITAS TERBAIK
Pontax memiliki pengalaman dalam bidang Industri Manufaktur untuk menghasilkan komponen dalam jumlah besar,
kualitas terjamin dan teknologi berkualitas tinggi untuk solusi usaha dan kebutuhan anda.
PONTAX CLIENT IN INDONESIA