Ice Packing Machine
Indotara Industrial Ice Machine Series
Jual Mesin Pembungkus Es - TOMORI fully-automatic ice packing machine FIP-01A series uses newly advanced packing technology. We offer two models, FIP-01A-I and FIP-01A-II to fulfill different ice bagging requirements. Our units can realize the full functions of feeding, weighing, packing, filling, sealing, printing, punching (optional), counting, etc. It can perfectly meet large capacity ice packing demand. Compared to the semi-automatic Ice Packer, this automatic ice packing machine is more efficient, time and labor saving.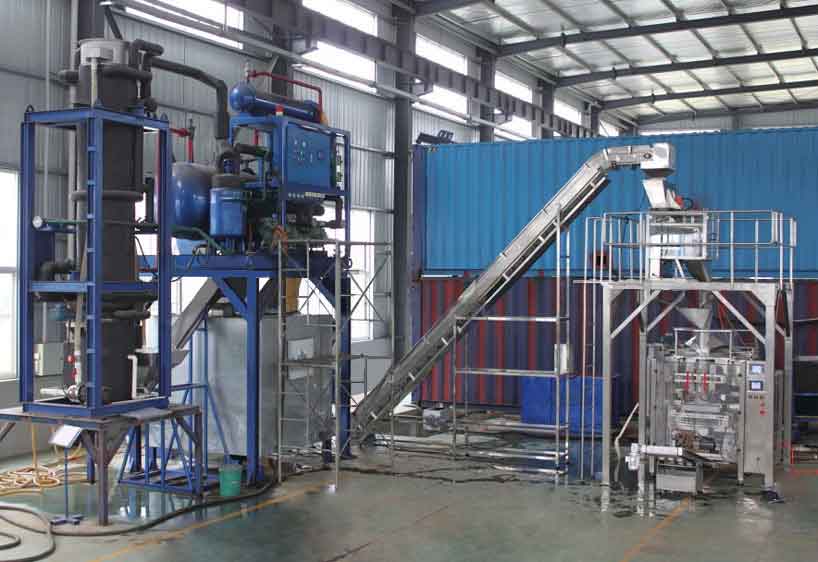 Function and Customization
TOMORI is able to offer clients fully-automatic and semi-automatic Ice Packaging Machines. We have earned a reputation as one of the leading manufacturers of a reliable and adaptable ice packaging machine on the market.
Considering the increasing demand for ice baggers, modern ice industry needs more automated ice handling processes. Focusun follows this trend and has developed efficient packaging machines both in full-automation and semi-automation. With advanced technology of electrical controls and simplistic mechanical design, our ice packers are therefore more reliable, easy to operate and with lower maintenance on spot.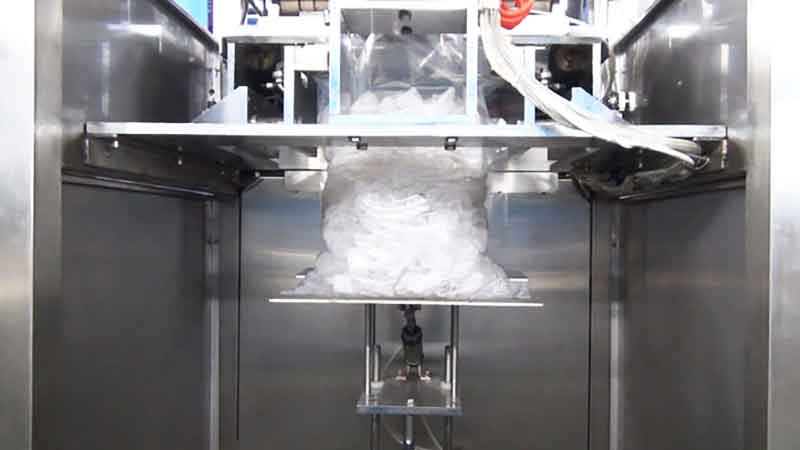 Our fully-automatic Ice Packers also seal, print, punch (optional) and count the ice bags. TOMORI offers two types of fully-automatic Ice Packers and two sizes of semi-automatic Ice Packers to meet your requirements. In addition, the ice bag can be customized and the weighing device can be set to different weights. Our professional team of engineers and project managers will provide professional tailor-made ice Solutions to realize an operable and efficient ice factory for your company.
---
Ice Packing Process
Advanced high-tech design makes FIP-01A series convenient to adjust, operate and maintain. Adjustable ice bag and changeable ice weighing range fulfill every critical requirement. With the help of a servo motor and multiple hoppers, the packing process is more stable and accurate. Our fully-automatic Ice Packaging Machine can save considerable financial and labor cost and improve the whole production process as well.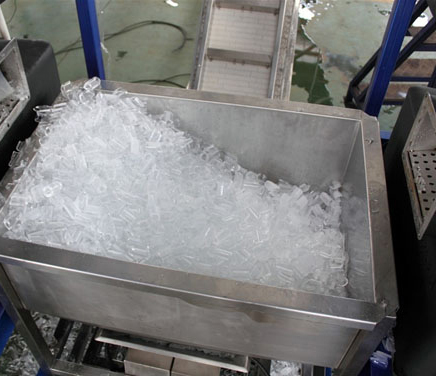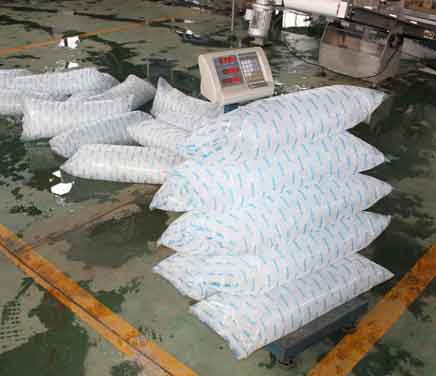 All-in-one unit realizes automatic ice loading, weighing, packaging and sealing functions. Highly automated FIP-01A series meets the demand of large quantity of ice bags, especially for commercial ice plants which distribute and retail ice to the market. The ice bags and the convey system can be customized and we offer various options available for each machine. Our professional team of engineers and project managers provide professional tailor-made Ice Packing Solutions to fulfill your specific requirements entirely.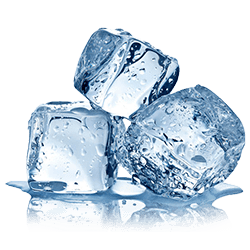 Specifications of Product

Product Details and System Configuration
TOMORI Fully-automatic Ice Packaging Machine FIP-01A series utilizes international brands to ensure reliable performance and conforms to export standards. Equipped with pneumatic sealing (horizontal or vertical), the Packaging Machine runs reliably and efficiently. All contact areas are covered by high quality SUS304, which complies with the food safety requirements. PVC and stainless steel 304 conveyor belt prevent bags from pollution and keep them clean. Its length can be adjusted accordingly.
Technical parameter for seawater flake ice machine
MODEL
CAPACITY
(Kg)
MEASUREMENT
(L×W×H mm)
Metering Capacity
(Kg)
Packing Speed
(bags/min)
Bag type
FIP-01A-I
3000kg/hr
3500×2005×5400
0.5 - 8
6 - 10
Pillow Bag
FIP-01A-II
2000kg/hr
2800×1800×3000
1 - 12
4 - 6
Pillow Bag
Subject
 
Unit
Technical parameter
Power supply
Voltage/Phase/Frequency
380V/3P/50Hz
Weighing accurancy
1% - 2%
Length of conveyor
mm
Customizing available
Power supply
Manufacturer
Schneider
PLC
Siemens
Servo motor
Panasonic
Touch screen
Omron
Cylinder
SMC
Air valve
SMC
The given parameter is subject to be changed without further notice due to technical upgrading and innovation. For more accurate date, please refer to our engineering and sales group.
Industrial Ice Packing Machines Video


TOMORI CLIENT IN INDONESIA




































National & Multinational Company using TOMORI Refrigerating :
Carrefour Indonesia
Supermarket Giant
Unilever Indonesia
Hypermart Supermarket
Rumah Sakit Siloam
RSUD Cengkareng
RSUD Tangerang
RS Grha Kedoya
RS Pondok Indah
RSUD Palembang
RS PIK
RS Medistra
Rumah Sakit Pluit
Departemen Pertanian
Departemen Perikanan & Kelautan
Masjid Istiqlal Jakarta
PT. Pfizer Indonesia
PT. Kimia Farma
PT. Sanbe Farma
PT. Anugerah Pharmindo Lestari
PT. Phytesindo Biotek
PT. Indo Pharma
PT. Merck Indonesia
PT. Novartis Indonesia
Indomaret Minimarket
Alfamart Minimarket
Ranch Market
Supermarket Lion Superindo
Restaurant McDonald
Toko Buah Rejeki
Restaurant Parai Tenggiri
Hotel Ritz Carlton
Hotel Aston
Hotel Novotel
Hotel Furama
Hotel Amaris
Hotel Ciputra
Hotel Ibis
Hotel Grand Kemang
Hotel Royal Ambarukmo
Hotel Santika
Hotel Holiday Inn
Dunkin Donuts
Bread Life
Star Bucks
JCO Donuts
Holland Bakery
Bread Talk
PT. Coca Cola Amatil Indonesia
PT. Sinar Sosro
PT. Aqua Golden Mississipi (Aqua)
PT. Aneka Tuna
Restaurant Solaria
Restaurant May Star
Restaurant Penang
Restaurant Sushi Tei
Restaurant Central
Restaurant Red Bean
Restaurant Ta Wan
Es Teller 77
Restaurant Angke
RM Padang Sederhana
Pizza Hut
Domino Pizza
KFC Indonesia
Hoka Hoka Bento
Rice Bowl
De Cost
RM Sederhana Bintaro
Pelelangan Ikan Muara Baru
Pelelangan Ikan Manado
Pelelangan Ikan Makassar