Jual Drilling And Milling Machine, Harga Drilling And Milling Machine - Our company has achieved laurels for providing CNC Drilling Machine to the clients. Offered range is manufactured by making use of quality-approved components under the observation of highly experience technocrats in accordance to international quality standards. This product is widely used for providing a secured and fixed position of the work piece.

ZXK-32AL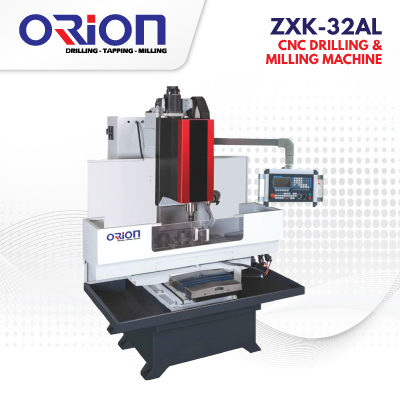 Best Price : Rp.0,-
Model
:
ZXK-32AL
Moving X-axis travel

:
400 mm

Moving Y-axis travel

:
260 mm

Moving Z-axis travel

:
500 mm

Distance between spindle end to table

:
120-620 mm

Distance between spindle center to column surface

:
320 mm

Table Size

:
700 x 290 mm

T slot (aide x number x space)

:
14mm x 3 x 80mm

Allowable load

:
250 kg

Motor of Spindle

:
3.7 kW

Speed of spindle

:
100-6000 r/min

Taper of spindle nose

:
BT30

Spindle column
:
110
Mode of drive

:
Synchronus Belt
Motor of X,Y axis

:
1.2 kW

Motor of Z axis

:
1.2 kW

Rapid feed rate

:
15 m/min

Cutting feed rate

:
5-1500 mm/min

Positioning accuracy
:
0.025 mm

Repeat ability
:
0.015 mm

Power requirement
:
7.5 kW

Overall Size
:
1440 x 1550 x 2150 mm

Packing Size

:
1750 x 1550 x 2460 mm
N.W/G.W
:
1880/2100 kg

Type of screw

:
Ball screw
Type of guide way
:
Line guide

Mode of tool change
:
Pneumatic fast tool change

Material of bed

:
High quality cast iron

Type of lubrication
:
Central lubrication

Type of cover

:
Semi-enclosed guard, Totaly enclosed guard

CNC control system

:
FANUC,MITSUBISHI,
SIEMENSE,KHD,HNC,GSK
Warranty
:
3 Years (Mechanical) & 1 Years (Electrical)
Lamp
Tool box
Coolant system
Operation manual
Leveling screw and block
VS half machine encloser
CNC control system HNC-18M
Auto timing lubrication system
Heat exchanger system for control cabinet


*Price Include Tax
*Price Include Delivery Jabodetabek, Surabaya, Medan & Bandung
ORION MACHINING SYSTEM :
HIGH QUALITY, HEAVY DUTY, HIGHER OUTPUT POWER, EFFICIENCY,
PROVIDE THE BEST WARRANTY IN THE INDUSTRY.
ORION DRILLING & MILLING MACHINE SPECIAL FEATURES :
Dilengkapi dengan Cutter auto measure device, Cutter center cooling system dan squirt gun sehingga potongan yang dihasilkan lebih maksimal.

Orion Drilling & Milling machine dilengkapi dengan auto timing lubrication system guna menjaga produktifitas unit dalam pengoperasian.


Dilengkapi dengan two steps speed gearbox yang digunakan untuk memutar spindel mesin maupun melakukan gerakan feeding.

Coollant system untuk menjaga temperatur mesin dalam kondisi yang ideal dengan mekanisme mesin diubah menjadi tenaga gerak.
Drilling & Milling dilengkapi dengan akurasi high positioning dan speed of motion, yang dapat diterapkan dalam pemrosesan komponen dengan multi threads.


Orion Drilling & Milling machine memberikan siklus yang terdiri dari fast forward - fine forward - fast backward (chip removal), yang meningkatkan efektivitas.

Orion Drilling & Milling machine memiliki desain integrasi elektromekanis untuk memastikan struktur yang compact dan penggerak motor yang mudah dioperasikan.


Dengan standar mutu internasional membuktikan eksistensi sebagai drilling machine terbaik sepanjang masa. Tidak perlu diragukan lagi Orion merupakan pilihan terbaik.

Digunakan dalam industri konversi, yaitu konversi mesin dalam jumlah besar mampu diberbagai layanan bengkel, pabrik, dll.

Orion Drilling & Milling machine tidak menggunakan terlalu banyak daya listrik, yang tentunya akan menghemat biaya pengeluaran anda.

Orion Drilling & Milling machine sangat mudah diaplikasikan sehingga sangat cocok untuk keperluan bisnis anda.

Orion Drilling & Milling machinememberikan garansi selama satu tahun


HATI-HATI GUNAKAN SELALU MACHINING SYSTEM BERKUALITAS TERBAIK
ORION machining system memiliki pengalaman meningkat selama bertahun-tahun dengan kualitas terbaik.
meningkatkan teknologi seperti spindle berkecepatan tinggi dan kemampuan CNC canggih.

NATIONAL & MULTINATIONAL COMPANY USING ORION DRILLING MACHINE :
PT. Komatsu Indonesia Tbk
Mitsubishi Motors
PT.BUKAKA TEKNIK UTAMA
INDOCEMENT
HOLCIM Indonesia
PT. Gearindo Prakarsa
PT. Cigading Habeam Center
PT. Wijaya Karya
PT. Tjokro Bersaudara
INDOMOBIL
PT TIMAH TBK
Krakatau Steel Group
PT. Murinda Iron Steel
PT. Tokyu Construction
PT. Krakatau Engineering
PT. Halliburton Indonesia
PT. Jagat Baja Prima Utama
PT. Sayap Mas Utama
ASTRA GROUP
PT. EBARA INDONESIA
PT. Bukit Asam Tbk (PTBA)
PT. Bharata Indonesia
PT. Semen Padang
PT. Tokyu Construction
PT. Jaya Teknik Indonesia
PT. Bakrie Construction
PT. Kaltim Prima Coal
ORION CLIENT IN INDONESIA