Jual Orion Shape Cutter, Harga Orion Shape Cutter, Orion Shape Cutter Murah - ORION brand industrial bench drill, drilling and milling machine, tapping machine, drilling attack dual-use machine, vertical drilling machine, mesin bor radial |dengan kapasitas produksi 50.000 unit pertahun, dengan 8 seri dan lebih dari 70 jenis. teknologi canggih, peralatan produksi dan peralatan pengujian lengkap, kualitas produk yang stabil dan dapat diandalkan, layanan purna jual yang kuat, produk dan layanan telah mendapatkan pujian dari pengguna. Semangat budaya perusahaan untuk tetap berpacu dengan waktu, tahun demi tahun berjanji untuk mempertahankan dan memenangkan penghargaan, "kepercayaan pengguna", "peradaban yang canggih", AAA menjadi nilai leibih perusahaan yang menghargai Gelar produk tersebut secara ketat sesuai dengan standar nasional dan standar produksi dan pemeriksaan perusahaan, perusahaan telah lulus ISO9001: 2008 sertifikasi sistem mutu internasional.

J3GD-400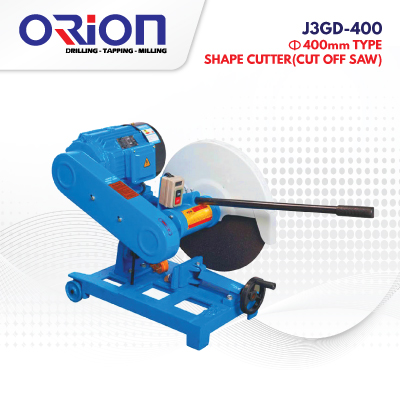 Best Price : Call Sales
Model
:
J3GD-400
Motor
:
3(4HP) kW

Spindle no-load speed

:
2280 r/min

Emery wheel no-load line speed

:
48 m/s

Emery wheel safety line speed

:
60 m/s

Fiber strengthen grinding flat

:
Φ400xΦ32x3.2 or
Φ400xΦ25.4x3.2 mm

Cutting abillity Steel tube

:
Φ135x6

Cutting ability Angle iron

100x10

Cutting abillity Channel steel

:
126x53

Cutting abillity Round-bar steel

:
Φ50
Tongs rotary angle

:
±45o

Dimension of base

:
530 x 310 mm

G.W/N.W

:
75/65 kg

Packing dimension

:
72x44x58 cm

Warranty
:
3 Years (Mechanical) & 1 Years (Electrical)
Both the body and base use high quality cast iron, strong and everlasting.

The handle can match for special switch, safety and reliable.

There are wheels on base which can moving easily and using both fasten the base enable working working more reliable.

Using high quality fiber strengthen grinding flat, safety and reliable.
ORION MACHINING SYSTEM :
HIGH QUALITY, HEAVY DUTY, HIGHER OUTPUT POWER, EFFICIENCY,
PROVIDE THE BEST WARRANTY IN THE INDUSTRY.
SHAPE CUTTER (CUT OFF SAW) SPECIAL FEATURES :
1 Phase Manufactured using ultra precise machinery and design adapted to IEC, standardized NEMA and consumer needs.

Equipped with aluminum NSK made in JAPAN bearings that have a mild friction force. So that it does not inhibit the motor rotation.

Is a static copper coil that is located around the main shaft. So that it can generate a magnetic field around the rotor.

Equipped with wire windings on the rotor, the more windings, the greater the rotation produced so that it reaches the maximum limit.
Made from high-quality silicon steel. Its main function is to carry an alternating magnetic field which results in hysteresis and current losses.

Motor housing functions to protect all components. In addition, it functions to protect us as users from a very high rotor rotation.

Used in industries for power conversion, namely the conversion of large amounts of electrical power to mechanics capable in various services in homes, offices, businesses, factories, etc.

By IEC standards Fujita motors prove the existence of the best electric motor of all time. There is no doubt that Fujita is the best choice.
Fujita electric motor Does not use too much electric power, which will certainly save your expenses.

Nearly more than 90% of the mechanical energy used in this industry is provided by a three-phase induction motor.

With Design Roofing, the solution for housing with a single or double roof design, small string inverter is safe and reliable.

Fujita electric motor also guarantees 1 year NSK made in JAPAN bearings.


HATI-HATI GUNAKAN SELALU MACHINING SYSTEM BERKUALITAS TERBAIK
ORION machining system memiliki pengalaman meningkat selama bertahun-tahun dengan kualitas terbaik.
meningkatkan teknologi seperti spindle berkecepatan tinggi dan kemampuan CNC canggih.

NATIONAL & MULTINATIONAL COMPANY USING ORION DRILLING MACHINE :
PT. Komatsu Indonesia Tbk
Mitsubishi Motors
PT.BUKAKA TEKNIK UTAMA
INDOCEMENT
HOLCIM Indonesia
PT. Gearindo Prakarsa
PT. Cigading Habeam Center
PT. Wijaya Karya
PT. Tjokro Bersaudara
INDOMOBIL
PT TIMAH TBK
Krakatau Steel Group
PT. Murinda Iron Steel
PT. Tokyu Construction
PT. Krakatau Engineering
PT. Halliburton Indonesia
PT. Jagat Baja Prima Utama
PT. Sayap Mas Utama
ASTRA GROUP
PT. EBARA INDONESIA
PT. Bukit Asam Tbk (PTBA)
PT. Bharata Indonesia
PT. Semen Padang
PT. Tokyu Construction
PT. Jaya Teknik Indonesia
PT. Bakrie Construction
PT. Kaltim Prima Coal
ORION CLIENT IN INDONESIA