Jual Bench Strong Drilling Machine, Harga Bench Strong Drilling Machine, Bench Strong Drilling Machine Murah - ORION brand industrial bench drilling, drilling and milling machines, tapping machines, dual-use drilling attack machines, vertical drilling machines, radial drilling machines | with a production capacity of 50,000 units per year, with 8 series and more than 70 types. advanced technology, production equipment and complete testing equipment, stable and reliable product quality, strong after-sales service, products and services have won praise from users. The spirit of corporate culture to keep pace with time, year after year promises to maintain and win awards, "user trust", "sophisticated civilization", AAA is the value of companies that value the title of the product in strict accordance with national and production standards and company inspection, the company has passed ISO9001: 2008 international quality system certification.
Z5032G/Z5032GP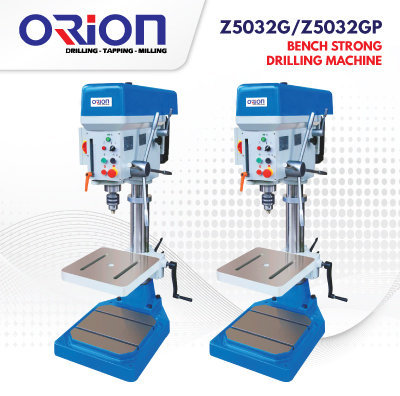 Best Price : Call Sales
| | | |
| --- | --- | --- |
| Model | : | Z5032G/Z5032GP |
| Max. Drilling capacity | : | Φ31.75 |
| Max. Tapping capacity | : | M24/m20 |
| Distance spindle axis to column generating line | : | 265 mm |
| Spindle travel | : | 150 mm |
| Max. Distance spindle nose to table | : | 820 mm |
| Max. Distance spinde nose to base | : | 1235 mm |
| Diameter of column | : | 100 mm |
| Spindle speeds range | : | 280~1875 r/min |
| Spindle taper | | MT3 |
| Dimension of worktable surface | : | 300x400 /390/390mm |
| Motor | : | 1.5(6P) |
| Net weight | : | 310 kg |
| Packing dimension | : | 1040x640x2050 mm |
| Warranty | : | 3 Years (Mechanical) & 1 Years (Electrical) |
Workktable up/down mechanism
Quil orientation mechanism
LED light
Control front panel
Belt adjust mechanism
*Price Include Tax
*Price Include Delivery Jabodetabek, Surabaya, Medan & Bandung
ORION MACHINING SYSTEM :
HIGH QUALITY, HEAVY DUTY, HIGHER OUTPUT POWER, EFFICIENCY,
PROVIDE THE BEST WARRANTY IN THE INDUSTRY.
BENCH STRONG DRILLING MACHINE SPECIAL FEATURES :
Bench strong drilling machine dilengkapi dengan lampu leed, agar pengerjaan dimalam hari atau ditempat minim penerangan , masih tetap mampu beroperasi.


Bench strong drilling machine dilengkapi dengan control panel untuk pengoperasian, sehingga memudahkan operator untuk melakukan pekerjaan.


Bench strong drilling machine dilengkapi dengan bench adjust mechanisme yang kuat, handal dan tahan lama sebagai transmisi penggerak mesin.

Bagian poros dibuat oleh material permukaan baja berkualitas tinggi khusus dibuat oleh peralatan kelas satu, kekuatan tinggi dan daya tahan lebih lama.

Dilengkapi dengan akurasi high positioning dan speed of motion, yang dapat diterapkan dalam pemrosesan komponen dengan multi threads


Bench strong drilling machine adalah mesin yang dapat disesuaikan adalah mesin yang aman dan andal, semua bagian mudah dioperasikan dan digant

Memiliki desain integrasi elektromekanis untuk memastikan struktur yang kompak dan penggerak motor yang mudah dioperasikan.


Dengan standar kualitas internasional membuktikan sebagai mesin bor terbaik sepanjang masa. Orion adalah pilihan terbaik.

Digunakan dalam industri konversi, yaitu konversi mesin bubut dalam jumlah besar yang dapat dilakukan di berbagai bengkel, pabrik, dll.

Bench strong drilling machine tidak menggunakan terlalu banyak daya listrik, yang tentunya akan menghemat pengeluaran Anda.

Bench strong drilling machine sangat mudah diaplisakian sehingga sangat cocok untuk bisnis anda.


Bench strong drilling machine memberikan jaminan garansi selama satu tahun.


HATI-HATI GUNAKAN SELALU MACHINING SYSTEM BERKUALITAS TERBAIK
ORION machining system memiliki pengalaman meningkat selama bertahun-tahun dengan kualitas terbaik.
meningkatkan teknologi seperti spindle berkecepatan tinggi dan kemampuan CNC canggih.

NATIONAL & MULTINATIONAL COMPANY USING ORION DRILLING MACHINE :
PT. Komatsu Indonesia Tbk
Mitsubishi Motors
PT.BUKAKA TEKNIK UTAMA
INDOCEMENT
HOLCIM Indonesia
PT. Gearindo Prakarsa
PT. Cigading Habeam Center
PT. Wijaya Karya
PT. Tjokro Bersaudara
INDOMOBIL
PT TIMAH TBK
Krakatau Steel Group
PT. Murinda Iron Steel
PT. Tokyu Construction
PT. Krakatau Engineering
PT. Halliburton Indonesia
PT. Jagat Baja Prima Utama
PT. Sayap Mas Utama
ASTRA GROUP
PT. EBARA INDONESIA
PT. Bukit Asam Tbk (PTBA)
PT. Bharata Indonesia
PT. Semen Padang
PT. Tokyu Construction
PT. Jaya Teknik Indonesia
PT. Bakrie Construction
PT. Kaltim Prima Coal
ORION CLIENT IN INDONESIA