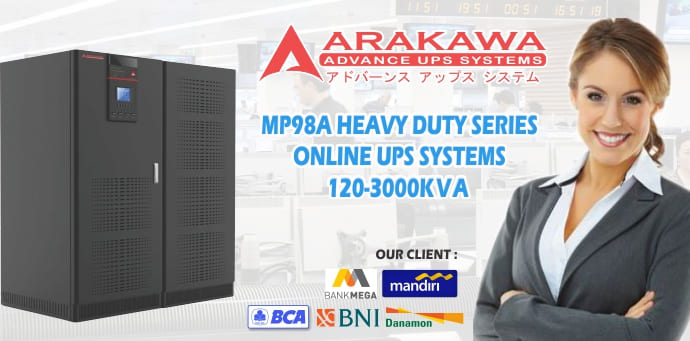 Jual UPS, Jual UPS Murah, Distributor UPS
Jual UPS, Jual UPS Murah, Distributor UPS - Jual UPS dengan Harga Terbaik, MP98A Series UPS is online high frequency UPS, featuring high performance, which is deal for file server, enterprise server, central server, microcomputer, concentrator, telecommunication system, data center, medical facilities. MP98A series UPS provides high quality power protection, reliable power guarantee for your loads, Customization are available for special requirement.
Feature and Advantages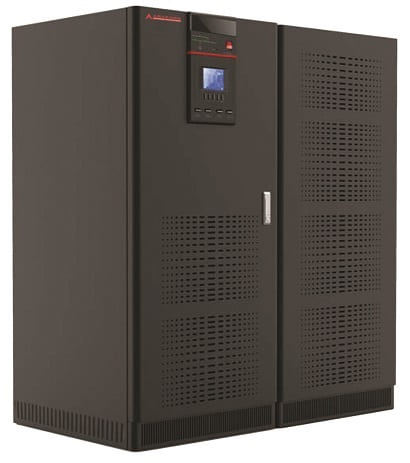 Addressing A Variety Of Needs
Jual UPS, Jual UPS Murah, Distributor UPS - The Low frequency UPS MP98A Series reliable, scalable and user-friendly solution to ensure availability of networks.The Low frequency UPS MP98A Series offers protection to your invesment and lower cost of ownership through its digital architecture and range of options which you can customize specifically for your needs.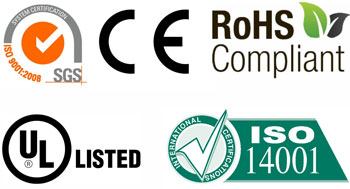 Information Technology
Data Centers
Servers (LAN, WAN, MAN, ERP, E-mail, Web and Others)
Networking
Telecommunication
Mobile (2G, 2.5G, 3G)
Paging
Fixed (Including WLL)
Industrial Automation
Process (Including instrumentation)
Motion (Digital Drivers and Robotic)
Transport Automation
Airport automation and flight booking
Others including railways and road
Transport automation and ticket booking
Banking, Insurance and Financial Service
Software Development Houses
Software Technology Parks (STP)
Building Automation
Acces Control
Security System
Fire Alarm System
Emergency Lighting
Other Critical Applications
Medical Diagnostics
Magneto Ressonant Imaging
CT Scanning
CathLab
Satelite
Uplinking
Earth Station
Loaded With Features
We loaded studled the emerging needs of our customers and have engineered what we have leared into the new, upgraded Low frequency UPS MP98A Series. Not it offers you more value and power per square meter. You will find that The Low frequency UPS MP98A Series offers unique features that address thee needs of your business today and is designed to handle the needs that are expected in future.
UPS Features to Protect your Network
Fully Digital, Twin DSP Controlled
Handle Leading Power Factor Loads Without
KW de-rating under
On-Line Double Conversion
IGBT-based PWM Inverter
Wide input voltage tolerance (+15/-15%)
Wide input frequency tolerance (45Hz - 65Hz)
High Overload Capability of static bypass (14 times for 10 milisecond and 10 times for 100 miliseconds)
Capability to handle :
High crest factor loads
100% non-linear loads
100% unbalanced loads
Built-in maintenance bypass (Single and 1+N models)
Wrap-around maintenance bypass (Optional)
Front access for spares replacement and preventive maintenance
Easy Dual Bus configuration architecture
Provision to use any type of battery: Wet cells (Tubular Plant), Valve Regulated Lead Acid (VRLA)/ Maintenance Free and Nickel Cadmium
Adjustable frequency synchronosation window up to 9% in the static bypass
Provision of automatic battery circuit breaker instead of using conventional isolator in the DC path
Field protocols ModBus / Jbus
Network Protocols SNMP
Overload Capability of The UPS
110% full-load for 60 minutes
125% full-load for 10 minutes
150% full-load for 1 minutes
Easy Scalabillity (Parallel 1+N Configuration Up to 6 modules paralleling) without centralised Main Static Switch (MSS)
Bypass Switch
Compact Footprint

Built Investment Protection :
Temperature-compensated battery charging (Optional)
Automatic Battery Testing
Field Settability of end-cell voltage of the battery
Selectable time for boost charging duration of the battery (15 Step with each step of 1 hour)
Protection againts deep discharge of battery
Battery circuit breaker instead of using AC isolator
Short-circuit proof inverter
Back-feed protection
D-level lightning protection
With 3 Auxiliary power supply to ensure redudancy under ani condition
Standard dry contacts
Choice between 6 or 12-pulse rectifier
Choice of array of input harmonic filter options
Compabiity with ARAKAWA AF, the active harmonic filter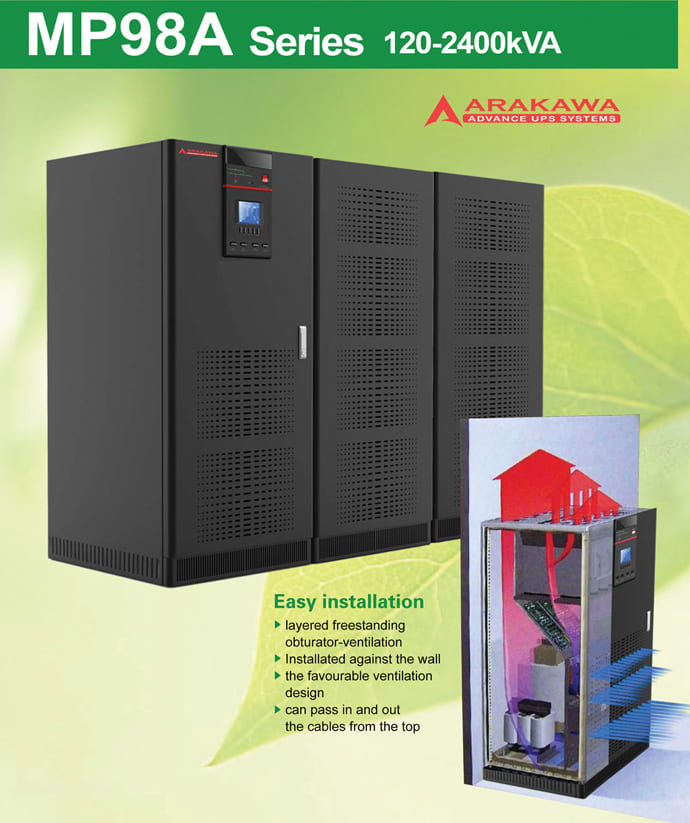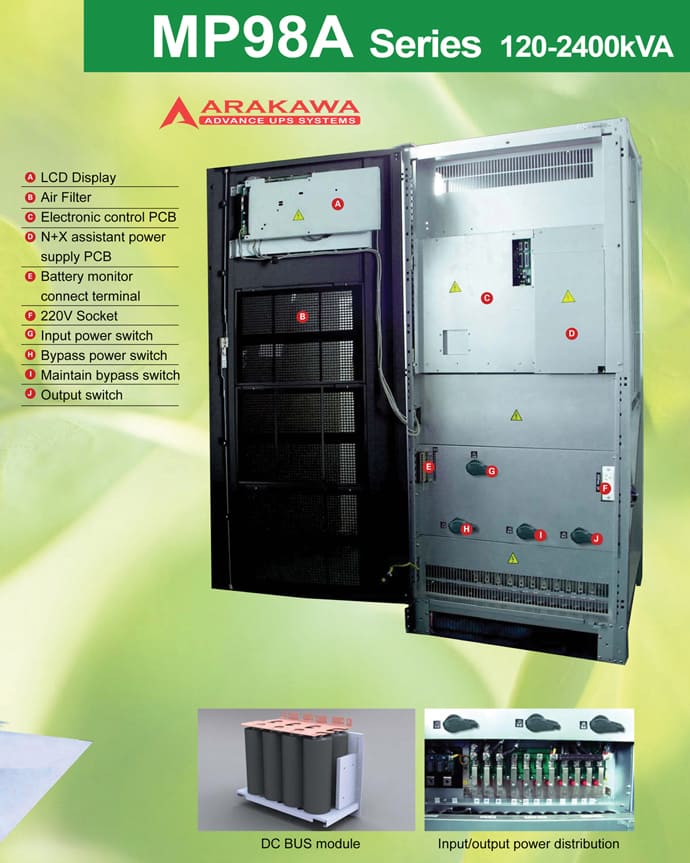 Power Communication Options
When choosing the best system to protect your mission critical applications, an important consideration would be the software and communication options. As part of our commitment to provide the best solution for you, we offer a wide range of sophisticated software and communication options for UPS MP98A Series
The most extensive list of optional communication solution for M98A UPS Systems
Control through Building Management Systems via Modbus and Jbus Protocols
Web-enabled Monitoring and Management Through SNMP protocols
Network Management Systems ready (HP OpenView, CA Unicenter, Novell Managewise, etc.
Software Solutions : Site Monitor Software, Facility wide monitoring (SiteScan) & Shitdown software for your computer equipment
Simultaneous monitoring via different protocols
Power Quality Monitoring solutions
Selected Power Options
Input Current Harmonic (THDi) Reduction
12-pulse rectifier version
Wide range of additional solution to reduce the THDi to less than 5%.
Most of them are without any additional system footprint.
Output Isolation Transformer
Compatible with Liebert AF, the Active Harmonic Filter
Wide range of solutions Specially designed for handling current harmonic on bypass at different stages
Available for rectifier and / or bypass supply
Protection Degree (IP) For MP98A Enclosure
Process (Including instrumentation)
Motion (Digital Drivers and Robotic)
Transport Automation
To address stressed environmental conditions UPS with higher than IP20 degree of protection
Can be made available for most of the kVA ratings of the MP98A
TVSS
This is a Transient Voltage Surge Suppressor
This offers protection from damaging transient and electrical line noises
This is normally connected at the bypass path of ARAKAWA
ARAKAWA or inside the Static Transfer Switch as an optional item
DC Ground Fault Indication
This provides indication of occurence of battery ground fault problems
Top Cable Entry
This is available for a wide range of our MP98A ratings
Power Walk-in for 1+N System
The module power walk-in is standard.
This option can be for the module restart delay after the mains return.
This is very useful for applications with motor generator at the input
LBS
This ensures the synchronisation of outputs of two independent
UPS systems to form Dual Bus Architecture for High availabilityof Critical Bus
STS, Static Transfer Switch
This allows critical load to be transferred betwen two independent
synchronisation AC power sources without any risk of load disturbances
This allows automatic transfer of load between the two sources
Selected Configurations
ARAKAWA UPS MP98A can be scaled up to as high as 6 modules using any of the following configurations to achieve either scalability or redudancy of desired percentage
1+N configuration without any kind of centralised static switch
Some more configurations are explained further in this brochure
For other configurations, please contact our nearest sales office
1+N Configuration with Distributed bypass System
Up to six modules in parallel
Increase the system reliability
Increase the availability of quality power following the load demand even if it was not forecasted or planned at the load beginning of the project: ease of techno-economic expandability.
Increase the maintainability.
The total load is less than or equal to the rating of the single UPS (depending on the desired redundancy level) and is shared between all modules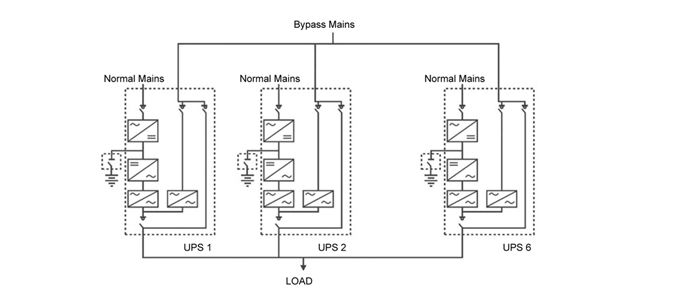 Hot Stand-by Configuration
Feed one (Priority) or two (Priority and Normal) load banks depending on the application need
Increase the reliability of the priority load
Increase the maintainability
Easy connection
Can be implemented in the existing installation regardless of the UPS Size, the generation of (devices or technology or philosophy of control) and the manufacturer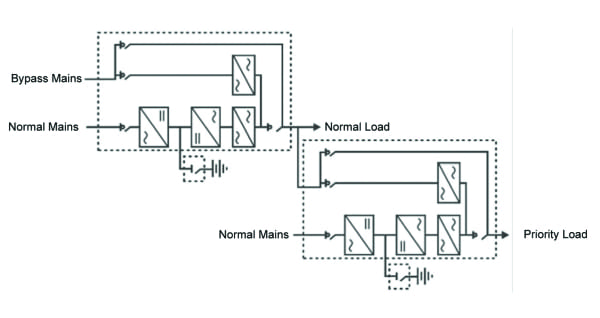 Dual Bus System with STS, STS2 or Hiswitch2
Provide supply to the loads from two independent power sources
The two may be different in terms of power rating and redundancy
The two BUS outputs are in synchronism between them
Automatic transfer of the load between the two sources in case of fault using STS
Increase dramatically the maintanability and reliability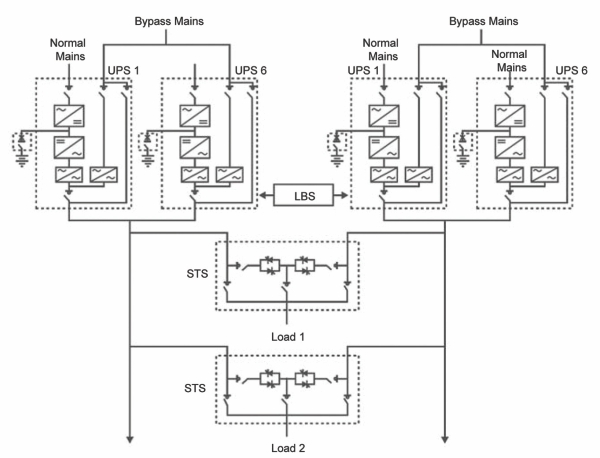 ARAKAWA UPS PRODUCTS :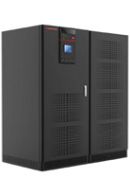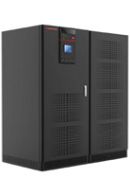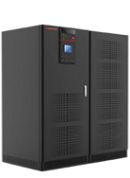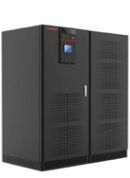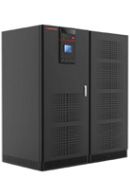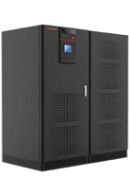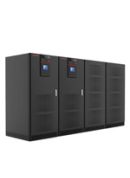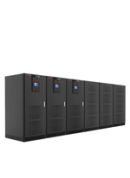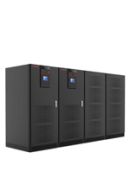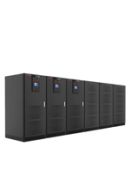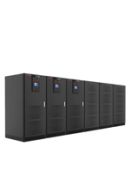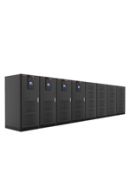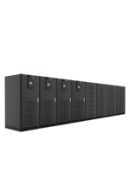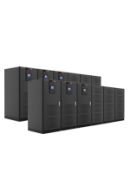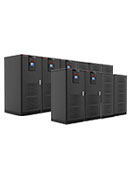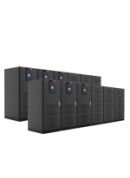 KEY FEATURES
UPS online Arakawa dengan teknologi tanpa switching sehingga bisa transfer load dgn mulus.

UPS online Arakawa dilengkapi dengan fungsi Automatic Voltage Regulator (AVR Stabilizer).

UPS online Arakawa dilengkapi dengan temperature controller untuk keamanan operasi.

UPS online Arakawa dengan display digital untuk memudahkan pemakaian & setting.

UPS online Arakawa mempunyai kemampuan menahan overload sampai 150% load.

UPS online Arakawa dengan battery AGM VRLA terbaik type high rate khusus untuk UPS.

UPS online Arakawa dengan teknologi online sehingga tanpa jeda (zero transfer time).

UPS online Arakawa dilengkapi dengan USB sebagai port komunikasi (fungsi optional).

UPS online Arakawa bisa dipesan dengan backup time yang custom sesuai kebutuhan anda.

UPS online Arakawa dengan inverter yang menghasilkan gelombang listrik pure sinewave.

Jika listrik PLN tiba2 drop/ over voltage, maka UPS akan langsung mengambil alih (Automatic Bypass).

UPS online Arakawa dengan PF correction mampu mengurangi harmonic pollution.

UPS online Arakawa dengan sistem alarm otomatis jika ada kegentingan operasi.

UPS online Arakawa mempunyai fungsi yg bisa self testing bila terjadi error & recovery.

UPS Arakawa memiliki range voltage & frekuensi yang besar sehingga sangat genset friendly.

Intelligent Charging system mempersingkat charging dan merawat umur batere.
ARAKAWA SOLUTION
UPS Arakawa sangat cocok digunakan di rumah, toko, kantor, pabrik, rumah sakit, data center, supermarket, pabrik, POM Bensin, alat Telekomunikasi, bandara, perbankan, pelabuhan, dll. Bisa membackup sesuai berapa menit atau jam yang anda butuhkan.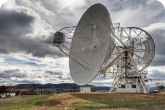 Broadcast & Telecom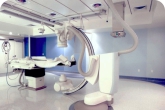 Hospital / Medical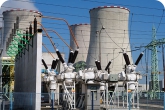 Power & Petrochemical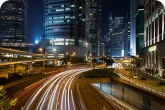 Public Service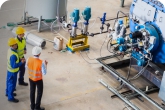 Industrial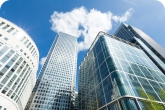 Commercials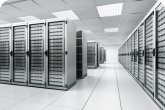 Data Center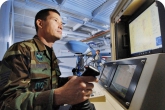 Military & Defense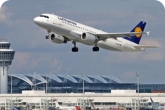 Airport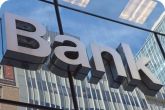 Banking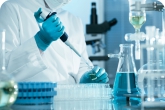 Laboratory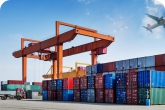 Container Port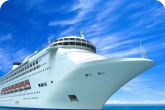 Vessel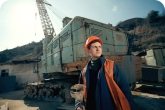 Mining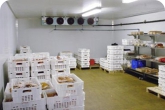 Cold Storage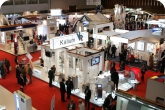 Exhibition Center
ARAKAWA CLIENT IN INDONESIA