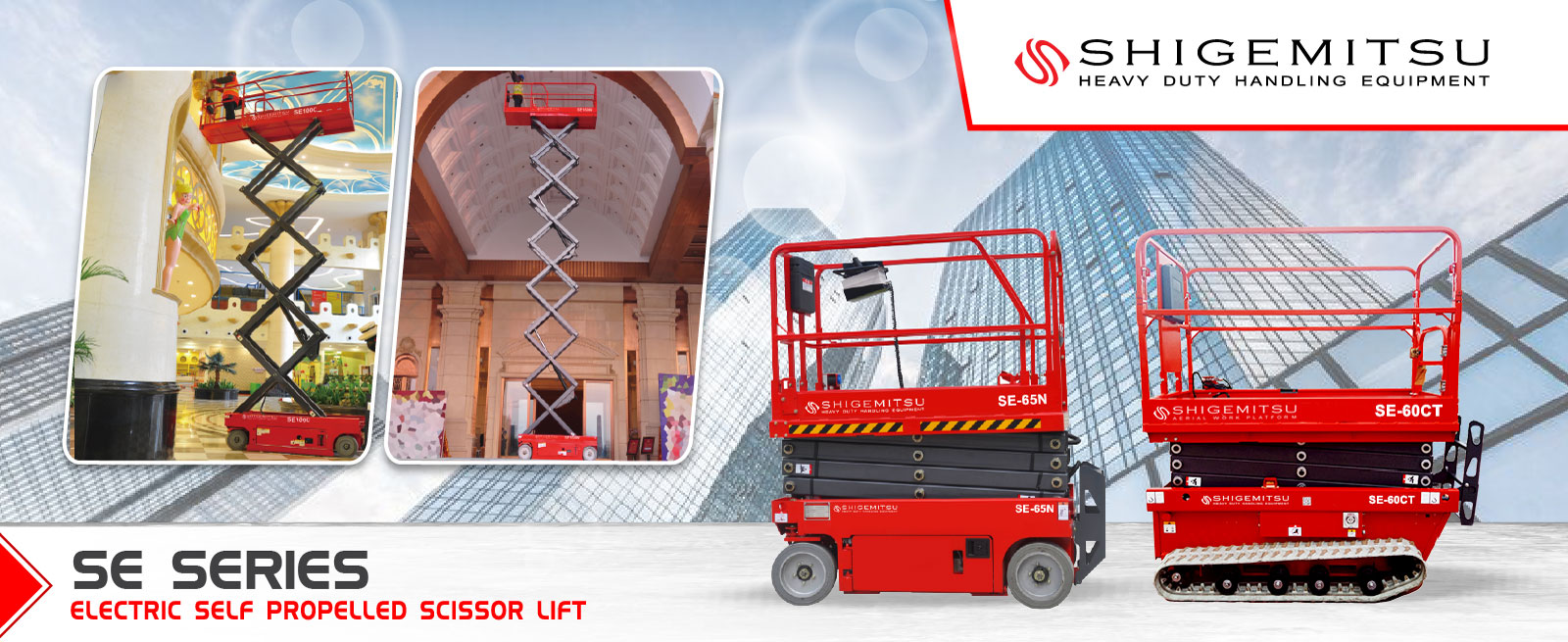 Jual Tangga Elektrik, Electric Self Propelled Scissor Lift, Jual Aerial Work Platform - Shigemitsu SE-Series Electric Self-propelled Scissor Lift memberi Anda mobilitas pengoprasian yang fleksibel. Platform dengan ukuran yang lebar yang dapat membawa lebih banyak pekerja dan perangkat. dapat dioperasikan di dalam atau di luar ruangan, dapat dengan mudah digunakan. Selain itu Shigemitsu menyediakan pengguna dengan kedua penggerak hidraulik (HD) dan Electric Drive (ED) mode berjalan, untuk kebutuhan pelanggan
SE-65N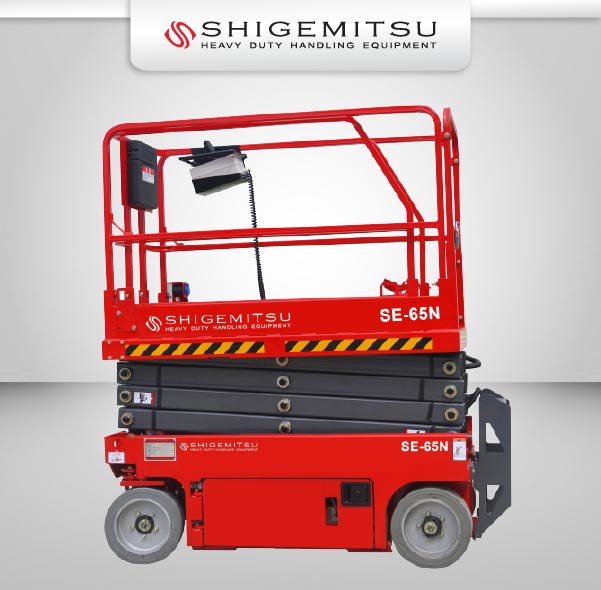 Best Price : Call Sales
| | | |
| --- | --- | --- |
| Working height max H1 | : | 6.5m |
| Platform height max H2 | : | 4.5m |
| (2) Outreach | : | 0.9m |
| Lifting Capacity | : | 270Kg |
| Weight ANSI/CSA Standard | : | 1164Kg |
| Weight CE/AUS Standard | : | 1235Kg |
| Platform Size (3)x(5)x(6) (LxWxH) | : | 1.64 x 0.75 x 1.1 |
| (4) Length of Platform Extended | : | 2.54m |
| (7) Skriting Board Height | : | 0.15m |
| Stowed Size (LxW) (8) x (9) | : | 1.85 x 0.77 |
| Stowed Height (10) | : | 2.04 Fix Platform |
| (10) Height | : | 2.38m |
| Length machine with platform extended (13) | : | 2.75m |
| Height machine with platform folded (11) | : | 1.69m |
| Hydraulic tank capacity | : | 15L |
| Gradeability | : | 30% |
| Wheelbase (12) | : | 1.32m |
| Ground Clearance | : | 0.06m |
| Pothole protection Board Ground Clearance (Down) | : | 0.02 m |
| Inside Rotation Radius | : | 0 |
| Outside Turning Rotation | : | 1.56m |
| Load number max | : | 2 |
| Raised Time | : | 11/8.5m |
| Traction speed | : | 3.8Km/h |
| Safe speed | : | 0.7Km/h |
| Vertical Tilt° ANSI CSA | : | 3 |
| Vertical Tilt° CE/AUS | : | 2 |
| Lateral Tilt° ANSI CSA | : | 2 |
| Lateral Tilt° CE/AUS | : | 1.5 |
| Warranty | : | 3 Years |
Power Source 4 x 6V ; 225Ah
Hydraulic Drive / Electric Drive
Horn
Motion alarm
Platform swing gate
Air line to platform
Dual flashing beacon
Platform work light
Foldable platform
Key-type lock sliding door
Anti-collision system
Top limit protection auto-stop device
*Price Include Tax
*Price Include Delivery Jabodetabek, Surabaya, Medan & Bandung
• SE-N Dimension

In the rising mode, the machine is designed to operate on a solid flat surface.

Climbing ability is suitable for driving on the slope, the slope classification reference operation manual.




Weight according to the options and standards vary from country to country.

The metric system height is 2 meters higher than platform height, the imperial height is 6 feet than platform height.


INDOTARA AERIAL WORK PLATFORM :
HIGH QUALITY, HEAVY DUTY,UNSURPASSED PRECICION CRANE QUALITY, FULL-CANTILEVER DESIGN
PROVIDE THE BEST WARANTY IN THE INDUSTRY.
SHIGEMITSU AERIAL WORK PLATFORM SPECIAL FEATURES :
Shigemitsu Aerial Work Platform memberikan jaminan 3 tahun untuk garansi Hydraulic dan 1 tahun garansi electric.


Platform yang didesain luas sehingga memudahkan pekerja melakukan pekerjaannya lebih efisien.


Model Compact dapat dilalui dengan ketinggian penuh sehingga sangat ideal untuk dan mudah dioperasikan.


Dilengkapi dengan Emergency Stop Button untuk menghentikan sistem secara cepat saat keadaan darurat.

Shigemitsu Aerial Work Platform dilengkapi dengan Overload Sensor yang aktif apabila berat atau muatan peralatan pekerja melebihi kapasitas.

Shigemitsu Aerial Work Platform dilengkapi dengan Sebuah Tilt Sensor yang dapat mengukur kemiringan di dua sumbu pada Platform.

Pentingnya keamanan saat bekerja Shigemitsu Aerial Work Platform sudah diuji dan dilengkapi dengan Emergency lowering system.


Platform dan sasis memiliki sistem control, operasi lebih mudah. kontrol proporsional mengangkat-menurunkan dan sistem mengemudi.
Sistem rem Auto brake system merupakan sistem pengereman pada mobil agar tidak terjadi penguncian roda ketika terjadi pengereman mendadak/keras.

Shigemitsu Aerial Work Platform dilengkapi dengan Safety Bracket yang berfungsi menahan pekerja saat di atas platform.

Shigemitsu Aerial Work Platform dilengkapi dengan Charger Protection, Yang mendeteksi apabilia pengisian daya telah mencapai 100%.

Shigemitsu Work Platform Dilengkapi dengan fitur diagnosa sistem yang mendeteksi kerusakan-kerusakan kecil pada sistem.

SE SERIES (
ELECTRIC SELF-PROPELLED SCISSOR LIFT
)
HATI-HATI BELI AERIAL WORK PLATFORM JANGAN YANG ASAL MURAH
Carilah yang : Handal, Kuat, Hydraulic berkualitas tinggi, bergaransi lama, suku cadang terjamin, ada teknisinya.
Aerial Work Platform harus bisa dipakai terus menerus karena didukung oleh dealer yang bertanggung jawab.
SHIGEMITSU CLIENT IN INDONESIA



































National & Multinational Company using Shigemitsu :
PT. TIMAH Tbk
PT. Bukaka Teknik Utama
PT. Bharata Indonesia
Wilmar Group
PT. Gaya Motor ( Astra Group)
PT. Sucaco ( Supreme Cable)
PT. Kimia Pharma
PT. DHL Global Forwarding
PT. Ebara Indonesia
PT. Kencana Gemilang (Miyako)
PT. San Miquel (Anker Bir)
PT. Nisshin Kuwahara Ind.
PT. Komatsu Indonesia Tbk
PT. Indofood Sukses Makmur
PT. Delta Jakarta (Anker Bir)
PT. Bangunan Jaya (BJ Home)
PT. Tetsu Sarana Persada
Khong Guan Biscuits
PT. Duta Abadi (King Koil)
PT. Sugar Labinta
PT. Tjiwi Kimia
PT. Sharp Yasonta
PT. Sayap Mas Utama
Departemen Kelautan & Perikanan
PT. Halliburton Indonesia
PT. HOLCIM Indonesia
PT. Astra Graphia Tbk
PT. Panasonic Manufacturing
Bersaudara Group
PT. INCO
PT. Argo Pantes Tbk
PALYJA
PT. Perfetty Van Melle
PT. Sayap Mas Utama
PT. Brantas Abipriya
PT. Bangunan Jaya
PT. Bukaka Teknik Utama
PT. Newmont Nusa Tenggara
PT. Tjahaya Sakti Motor (BMW)
PT. Calf Indonesia
PT. Garuda Food
PT. Foseco Indonesia
PT. Bhinneka Tatamulya Industry
PT. ASCO
PT. Dawee Electronic Indonesia
PT. Aneka Tuna Indonesia
PT. Brantas Abipriya
PT. Bangunan Jaya
PT. Indobharat Rayon
PT. Sanbe Farma
PT. UPS Cardig International
PT. Elnusa Tbk
PT. Bakrie Sumatera Plantation Tbk
PT. Indah Kiat Pulp & Paper
PT. Coca Cola Bottling Indonesia
PT. Charoen Pokphand Indonesia
PT. Panasonic Manufacturing Ind.
PT. Lotte Logistic
PT. Solusi Bangun Sarana
PT. Framed Recindomas
PT. Indonesia Brand Design
PT. Multi Indocitra
PT. Mero Sekawan Jaya
PT. Niramas Utama
PT. Kewalram Indonesia
PT. Pacific Prestress Indonesia
PT. Putra Baja Deli
PT. Bukit Asam Tbk (PTBA)
PT. Carrefour Indonesia
PT. Asahimas Flat Glass Tbk
PT. Matahari Putra Prima
Orang Tua Group