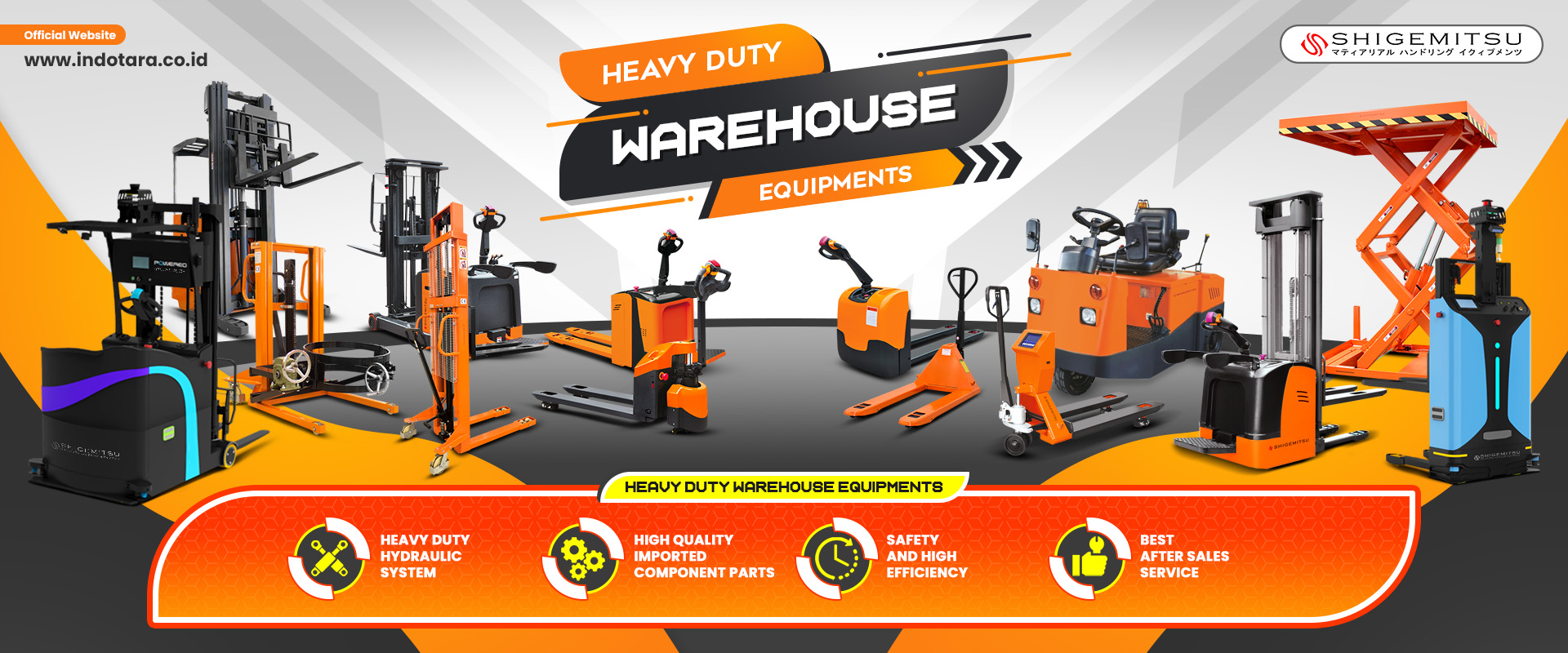 Jual Counterbalanced Electric Stacker, Hand Stacker, dengan Harga Murah
Jual Hand Pallet & Hand Stacker - Shigemitsu is one of best company in material handling equipment especially hand pallet truck & manual stacker.

Since decades it's develop special technology on heavy duty product to fulfill customer's need on durable products. Shigemitsu is the name of premium line of Heavy Duty Hand Pallet & Manual Stacker with 3 Years Warranty & 60.000 cycles. Shigemitsu Special hydraulic pump will allow you to enjoy real "strong" performance.

Jual Hand Pallet electric, Hand Stacker, dengan Harga Murah.

COUNTERBALANCED ELECTRIC STACKER PRODUCTS :

HATI-HATI BELI COUNTERBALANCED ELECTRIC STACKER JANGAN YANG ASAL MURAH
Carilah yang : tahan lama, plat tebal, hydraulix berkualitas tinggi, bergaransi lama, suku cadang terjamin,
ada teknisinya, Sebuah hand pallet harus bisa dipakai teru menerus karena didukung oleh penjual yang bertanggung jawab.

SHIGEMITSU CLIENT IN INDONESIA



































National & Multinational Company using Shigemitsu :
PT. TIMAH Tbk
PT. Bukaka Teknik Utama
PT. Bharata Indonesia
Wilmar Group
PT. Gaya Motor ( Astra Group)
PT. Sucaco ( Supreme Cable)
PT. Kimia Pharma
PT. DHL Global Forwarding
PT. Ebara Indonesia
PT. Kencana Gemilang (Miyako)
PT. San Miquel (Anker Bir)
PT. Nisshin Kuwahara Ind.
PT. Komatsu Indonesia Tbk
PT. Indofood Sukses Makmur
PT. Delta Jakarta (Anker Bir)
PT. Bangunan Jaya (BJ Home)
PT. Tetsu Sarana Persada
Khong Guan Biscuits
PT. Duta Abadi (King Koil)
PT. Sugar Labinta
PT. Tjiwi Kimia
PT. Sharp Yasonta
PT. Sayap Mas Utama
Departemen Kelautan & Perikanan
PT. Halliburton Indonesia
PT. HOLCIM Indonesia
PT. Astra Graphia Tbk
PT. Panasonic Manufacturing
Bersaudara Group
PT. INCO
PT. Argo Pantes Tbk
PALYJA
PT. Perfetty Van Melle
PT. Sayap Mas Utama
PT. Brantas Abipriya
PT. Bangunan Jaya
PT. Bukaka Teknik Utama
PT. Newmont Nusa Tenggara
PT. Tjahaya Sakti Motor (BMW)
PT. Calf Indonesia
PT. Garuda Food
PT. Foseco Indonesia
PT. Bhinneka Tatamulya Industry
PT. ASCO
PT. Dawee Electronic Indonesia
PT. Aneka Tuna Indonesia
PT. Brantas Abipriya
PT. Bangunan Jaya
PT. Indobharat Rayon
PT. Sanbe Farma
PT. UPS Cardig International
PT. Elnusa Tbk
PT. Bakrie Sumatera Plantation Tbk
PT. Indah Kiat Pulp & Paper
PT. Coca Cola Bottling Indonesia
PT. Charoen Pokphand Indonesia
PT. Panasonic Manufacturing Ind.
PT. Lotte Logistic
PT. Solusi Bangun Sarana
PT. Framed Recindomas
PT. Indonesia Brand Design
PT. Multi Indocitra
PT. Mero Sekawan Jaya
PT. Niramas Utama
PT. Kewalram Indonesia
PT. Pacific Prestress Indonesia
PT. Putra Baja Deli
PT. Bukit Asam Tbk (PTBA)
PT. Carrefour Indonesia
PT. Asahimas Flat Glass Tbk
PT. Matahari Putra Prima
Orang Tua Group