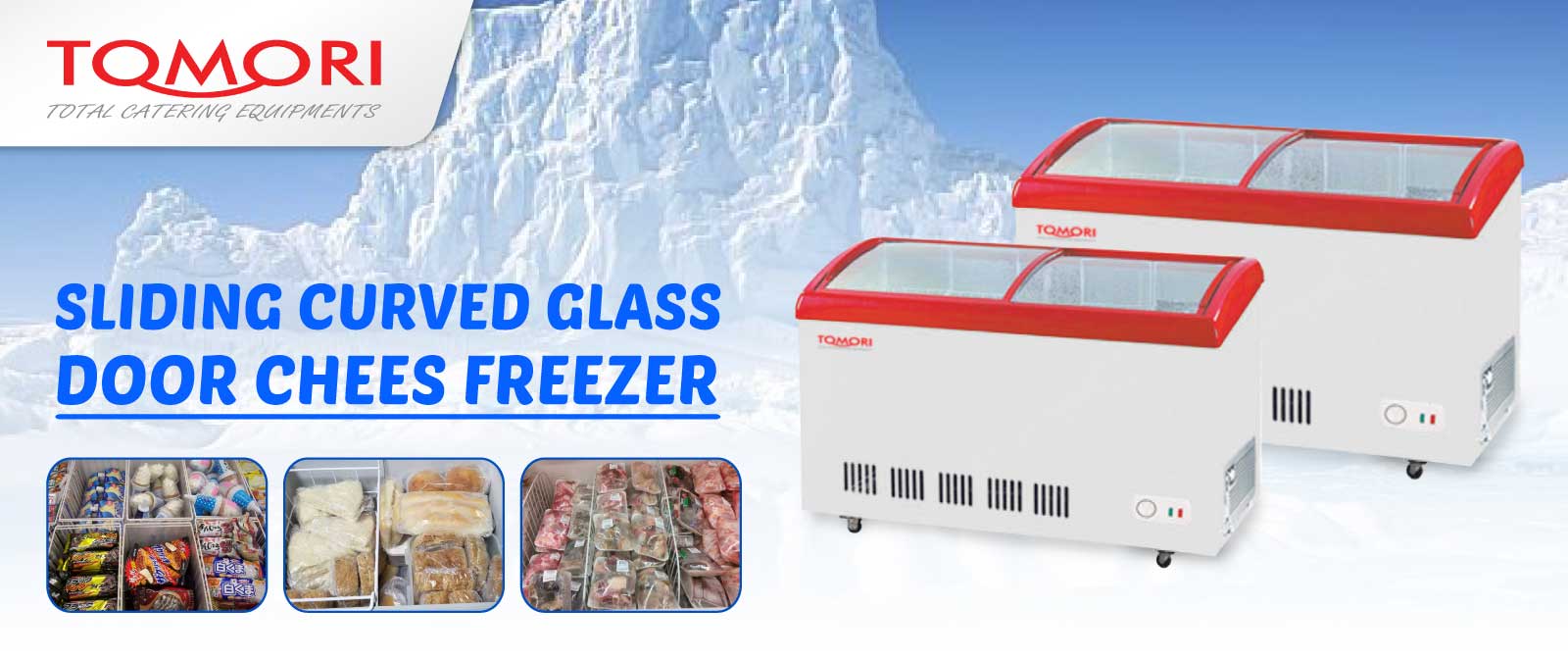 SELL SLIDING CURVED GLASS DOOR CHEST FREEZER, GLASS DOOR CHEST FREEZER | Suitable for cooling food and ingredients such as meat, fish, shrimp, sausage, frozen foods, meatballs, seafood, nuggets, cheeses, ice cream, etc. Produk2 Tomori has guaranteed reliability, and has been proven to be used by famous companies in the world and in Indonesia. Chart Freezer Tomori is a hygienic freezer because of its sophisticated production process and uses high quality materials. With a very mature experience in the field of cooling, Tomori guarantee every product Guarantee 1 Year Compressor & PCB Control 3 Years and ensure product performance is always in a reliable level. The availability of spare parts and after sales service is guaranteed by PT. Indotara Persada. You can contact our marketing offices in Jakarta, Surabaya, Medan and Bandung. We are ready to serve you for the entire territory of Indonesia.
CG-258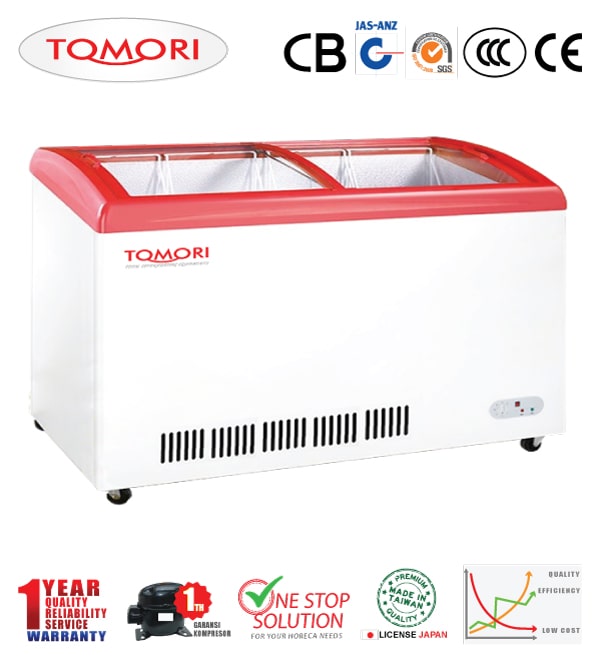 TECHNICAL SPECIFICATIONS

Model
:

CG-258



Capacity

:
258 L

Dimension

:
1094 x 598 x 830mm

Compressor Power

:
225 W

Net Weight

:
50 Kgs

Temperature

:
≤-18 ºC

Refrigerant

:
R134a

Compressor Quantity

:
1

Basket Quantity

:
4

Door Quantity

:
2

Certification
:
CE
Made in
:
Taiwan
Warranty
:
1 Year
*Price Exclude PPn 11%

SPESIAL FITUR TOMORI GN STAINLESS STEEL KITCHEN REFRIGERATING :
GARANSI 1 TAHUN, AUTOMATIC TEMPERATUR CONTROL THERMOSTAT, MUDAH DIBERSIHKAN, BODY ANTI KARAT, STAINLESS STEEL FOOD GRADE DENGAN KUALITAS TERBAIK UNTUK BISNIS.
SLIDING CURVED GLASS DOOR CHEST FREEZER SPECIAL FEATURES :
Tomori Freezers dengan fitur Bodi anti karat dan anti bocor, membuat freezer anda jadi lebih awet.

Tomori freezers dengan kunci pengaman untuk melindungi freezer dengan sangat aman.

Tomori heavy duty compressor bergaransi 1 tahun. Minim getaran dan tidak berisik.

Tomori freezer dengan pengatur suhu dual temperature 0°C ~+6°C dan 0°C ~ -28°C.

Tomori freezer dengan thermostat handal yang bekerja dengan jangka panjang dan presisi.

Tomori freezers dengan lapisan isolator tebal cyclopenthane untuk mencapai suhu optimal.

Tomori freezer dengan pipa tembaga berkualitas tinggi, sangat kuat serta menjadikan freezer awet.

Banyak digunakan untuk mendinginkan berbagai macam makanan dan juga sangat mudah digunkan.


TOMORI

CLIENT IN INDONESIA




































National & Multi National company that using TOMORI Refrigerating (Freezer & Kulkas) :
Carrefour Indonesia
Supermarket Giant
Unilever Indonesia
Hypermart Supermarket
Rumah Sakit Siloam
RSUD Cengkareng
RSUD Tangerang
RS Grha Kedoya
RS Pondok Indah
RSUD Palembang
RS PIK
RS Medistra
Rumah Sakit Pluit
Departemen Pertanian
Departemen Perikanan & Kelautan
Masjid Istiqlal Jakarta
PT. Pfizer Indonesia
PT. Kimia Farma
PT. Sanbe Farma
PT. Anugerah Pharmindo Lestari
PT. Phytesindo Biotek
PT. Indo Pharma
PT. Merck Indonesia
PT. Novartis Indonesia
Indomaret Minimarket
Alfamart Minimarket
Ranch Market
Supermarket Lion Superindo
Restaurant McDonald
Toko Buah Rejeki
Restaurant Parai Tenggiri
Hotel Ritz Carlton
Hotel Aston
Hotel Novotel
Hotel Furama
Hotel Amaris
Hotel Ciputra
Hotel Ibis
Hotel Grand Kemang
Hotel Royal Ambarukmo
Hotel Santika
Hotel Holiday Inn
Dunkin Donuts
Bread Life
Star Bucks
JCO Donuts
Holland Bakery
Bread Talk
PT. Coca Cola Amatil Indonesia
PT. Sinar Sosro
PT. Aqua Golden Mississipi (Aqua)
PT. Aneka Tuna
Restaurant Solaria
Restaurant May Star
Restaurant Penang
Restaurant Sushi Tei
Restaurant Central
Restaurant Red Bean
Restaurant Ta Wan
Es Teller 77
Restaurant Angke
RM Padang Sederhana
Pizza Hut
Domino Pizza
KFC Indonesia
Hoka Hoka Bento
Rice Bowl
De Cost
RM Sederhana Bintaro
Pelelangan Ikan Muara Baru
Pelelangan Ikan Manado
Pelelangan Ikan Makassar