Industrial Tube Ice Machines
Indotara Industrial Machines Series
Jual Mesin Industri Ice Flake - TOMORI is the world best refrigerating systems for more than 30 years high quality story, has grown into a well-known brand which has a full range of freezer, kitchen refrigerator and ice maker machines. The development of the company focus on product quality attention to product development, has a number of product patents. And get ISO-9001, CE, UL, NSF and other certification authority.
Tomori is preciously proud of the invention of the first global food type tube ice machine. Years of rich manufacturing experience perfects our manufacturing technology.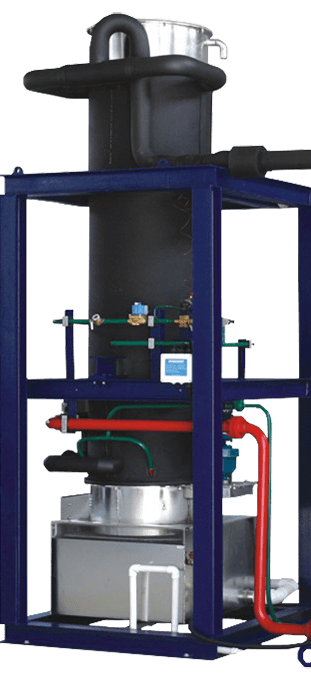 Tube Ice
Tube Ice is a kind of regular hollow cylindrical transparent ice. It's external diameter can be divided into three specifications such as Φ22mm, Φ29mm and Φ35mm, ranging from 25~50mm long. The inner hold diameter, typically Φ5~10mm can be adjusted according to ice-making cycle time. It has a good air permeability and long storage life.

Pure Germany Technology and years research experience in refrigeration.
Original Pre-PurifyTM patented technology makes ice crystal.
All equipment in made of 3D simulation assembly, compact structure, which makes it humanized to operate and maintain.
Evaporator adopts SUS304, PE, and alumunium material.
PLC system controls the ice making process automatically.



Tube Ice Making Process
Tomori tube ice directly formed by freezing fresh water has feature of tasteless, sanitary, transparent and completely conforms to food standard. It can be directly eaten or used to freeze drinks, mix wines, cool foodstuffs, make ice pastries and keep fresh, etc.

The tube ice is formed in a vertical shell-and-tube vessel by water passing down inside the tubes which are cooled by the circulation of refrigerant on the other surface.
As the ice falls from the tubes it is cut by the rotating ice cutter to a desired size. The ice tubes are about 50mm length and 35mm in external diameter.
When the ice reaches the desired thickness, the water flow stop automatically. The refrigerant is removed to surge drum and hot gas is circulated arround the tubes causing the ice tubes to melt and slide down.
---
Technical parameter for small capacity tube ice machine
| | | | | | | |
| --- | --- | --- | --- | --- | --- | --- |
| Model | Daily Cap. | Refrigerant | Power Consumption | Installed Power | Operating Weight | Dimension (LxWxH) |
| TMT-10 | 1.0T | R22/R404A | 4.5kw | 6.0kw | 890kg | 1400×800×1800mm |
| TMT-15 | 1.5T | R22/R404A | 5.23kw | 7.0kw | 890kg | 1500×800×1800mm |
| TMT-20 | 2.0T | R22/R404A | 8.26kw | 10.0kw | 1100kg | 1600×800×2000mm |
| TMT-25 | 2.5T | R22/R404A | 9.74kw | 12.0kw | 1100kg | 1600×800×2000mm |
| TMT-30 | 3.0T | R22/R404A | 11.01kw | 13.5kw | 1250kg | 1700×920×2000mm |
| TMT-35 | 3.5T | R22/R404A | 12.83kw | 16.0kw | 1250kg | 1800×920×2200mm |
| TMT-50 | 5.0T | R22/R404A | 15.81kw | 20.0kw | 1650kg | 1700×1200×2200mm |
| TMT-60 | 6.0T | R22/R404A | 18.42kw | 28.0kw | 1650kg | 1800×1250×2200mm |
| TMT-80 | 8.0T | R22/R404A | 24.55kw | 30.0kw | 1650kg | 2000×1450×2200mm |
---
Technical parameter for seawater flake ice machine
Model
Daily Cap.
Refrigerant
Power
Operating WeightOperating Weight
Dimension (LxWxH)Dimension (LxWxH)
Consumption
Installed
TMT-100
10T
R22/R404A
34.95kw
45kw
1560 kg (unit)
2296kg (evaporator)
670kg (cooling tower)

1800×1500×1600mm
1180×1180×3500mm
Φ2000×2410mm
TMT-150
15T
R22/R404A
48.4kw
60kw
1890kg (unit)
2685kg (evaporator)
1120kg (cooling tower)

2000×1800×1600mm
1250×1250×4200mm
Φ2175×2565mm
TMT-200
20T
R22/R404A
68.5kw
85kw
2260kg (unit)
3650kg (evaporator)
1120kg (cooling tower)

2200×2000×1800mm
1350×1350×4600mm
Φ2175×2565mm
TMT-250
25T
R22/R404A
85.3kw
105kw
2680kg (unit)
4260kg (evaporator)
1300kg (cooling tower)

2400×2200×2000mm
1450×1450×4800mm
Φ2650×2645mm
TMT-300
30T
R22/R404A
105kw
130kw
3280kg (unit)
4860kg (evaporator)
1630kg (cooling tower)

2800×2200×2000mm
1450×1450×5200mm
Φ3050×2780mm
TMT-350
35T
R22/R404A
116kw
140kw
3860kg (unit)
5650kg (evaporator)
2730kg (cooling tower)

3500×2200×2000mm
1500×1500×5500mm
Φ3770×3490mm
TMT-400
40T
R22/R404A
139.6kw
170kw
4250kg (unit)
5890kg (evaporator)
2730kg (cooling tower)

3600×2200×2000mm
1500×1500×5800mm
Φ3770×3490mm
TMT-500
50T
R22/R404A
177kw
220kw
4560kg (unit)
6500kg (evaporator)
3770kg (cooling tower)

4300×2200×2000mm
1800×1800×6000mm
Φ3770×3690mm
Standard condition: Dry ball temperature is 33° and inlet water temperature is 20°C.
The given parameter is subject to be changed without further notice due to technical upgrading and innovation. For more accurate date, please refer to our engineering and sales group.

Industrial Tube Ice Machines Video


TOMORI CLIENT IN INDONESIA




































National & Multinational Company using TOMORI Refrigerating :
Carrefour Indonesia
Supermarket Giant
Unilever Indonesia
Hypermart Supermarket
Rumah Sakit Siloam
RSUD Cengkareng
RSUD Tangerang
RS Grha Kedoya
RS Pondok Indah
RSUD Palembang
RS PIK
RS Medistra
Rumah Sakit Pluit
Departemen Pertanian
Departemen Perikanan & Kelautan
Masjid Istiqlal Jakarta
PT. Pfizer Indonesia
PT. Kimia Farma
PT. Sanbe Farma
PT. Anugerah Pharmindo Lestari
PT. Phytesindo Biotek
PT. Indo Pharma
PT. Merck Indonesia
PT. Novartis Indonesia
Indomaret Minimarket
Alfamart Minimarket
Ranch Market
Supermarket Lion Superindo
Restaurant McDonald
Toko Buah Rejeki
Restaurant Parai Tenggiri
Hotel Ritz Carlton
Hotel Aston
Hotel Novotel
Hotel Furama
Hotel Amaris
Hotel Ciputra
Hotel Ibis
Hotel Grand Kemang
Hotel Royal Ambarukmo
Hotel Santika
Hotel Holiday Inn
Dunkin Donuts
Bread Life
Star Bucks
JCO Donuts
Holland Bakery
Bread Talk
PT. Coca Cola Amatil Indonesia
PT. Sinar Sosro
PT. Aqua Golden Mississipi (Aqua)
PT. Aneka Tuna
Restaurant Solaria
Restaurant May Star
Restaurant Penang
Restaurant Sushi Tei
Restaurant Central
Restaurant Red Bean
Restaurant Ta Wan
Es Teller 77
Restaurant Angke
RM Padang Sederhana
Pizza Hut
Domino Pizza
KFC Indonesia
Hoka Hoka Bento
Rice Bowl
De Cost
RM Sederhana Bintaro
Pelelangan Ikan Muara Baru
Pelelangan Ikan Manado
Pelelangan Ikan Makassar