Jual Double Girder Crane, Harga Double Girder Crane, Podem Double Girder Crane Murah - Double girder bridge cranes find application when greater capacities are requested and with high operation requirements. In equal conditions double girder bridge cranes offer higher lifting heights.

The main Podem crane kits features are reliability, safety and attractive cost effectiveness intended to crane manufacturers or crane service providers. Podemcrane is clearly the biggest hoist manufacturer in Central and Eastern Europe and has remained one of the most progressive companies in the industry. We are designing reliable products reflecting our customers individual needs. We have experienced engineers who make sure our production is efficient and well controlled. Product testing and quality control remain of great importance. Our production factory spreads on a territory of 30.000 sq.m.

All our products meet the European Union health and safety requirements in compliance with Machinery Directive 2006/42/E
JUAL DOUBLE GIRDER CRANE - 10 TON
Prices
---
*Price Include Tax
Specification
Model
MT5253
Capacity
10 (Pure Capacity)
Lifting height
13 m

Hoisting Speed
4/1.3 m/min
Hoist Motor
8 Kw*max.
Traversing Speed
20/6 m/min
Traversing Motor
1 x 0.55 Kw*Max
Control Voltage
48 VAC
Power Supply
380 VAC , 50 Hz
Wire rope
Ø12 mm (Reeving : 4/1)
FEM/ISO Class
2 m
Rail Gauge
1000 mm
Body Frame Group
MT525
Motor Cooler
Built-In heavy duty cooler fan
Load Limiter Protector
Over-load limiter with 2 reaction threshold
Country of Origin
Bulgaria, European Union
Warranty
Electrical 1 Year; Mechanical 3 Years
---
Description
Double Girder Crane
Podem produces double rail trolleys with capacity from 2 to 50 t and various other characteristics. Non standard double rail trolleys on request.

Hoist Type
Capacity (Ton)
Hook Travel (m)
Dimension (mm)
Weight (kg)
Qty
kW
Amp
CT
speed*
(m/min)
C1

Sc

S1

H1

a

b

d

e

e1

e2

f

g

sp

h

q

r

s

u(V1)

u(V2)

Pp

фf
MT5253
10

13

670
1000

477

543

279

265

575

50

75

40

173

160

30

1195

336

-117

166

516

561

995

25

750

1
0,37/1.1
3.2/3
20/6
All dimensions are referred to "Standard Products", for all other products please contact Podem for GA drawing.
* Dimension "d" is reffered to standard cross travel speeds.
* Dimension Sc is variable dipending of the project.
* Dual speed or ready for inverter.

---
Electric Wire Rope Hoists
Features
Podem's wire rope hoist range provides solutions for cranes and replacement applications. There are two series M and MT from 0.8 to 50 t, covering the light, medium and heavy operation modes. A wide range of lifting speeds and lifting heights is available.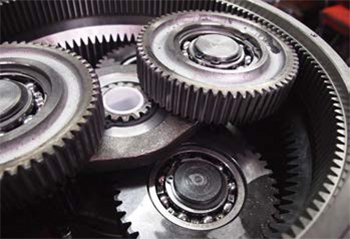 Lifting reducer
Planetary gearboxes (2 or 3 stages) developed specially for lifting mechanism offers high reliability and compact size, many options for lifting speeds and low noise level (79-82dB). Lubricated for life for minimum maintenance.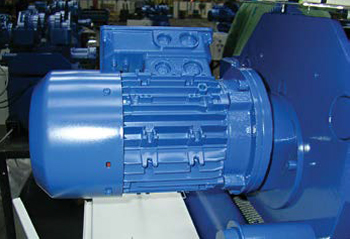 Self breaking lifting motor
3 phase asynchronous electric motors with cylindrical rotor and build-in DC disc brake are available for single or dual speed option. Single polarity motor allows inverter control for smooth acceleration and deceleration of lifting speed.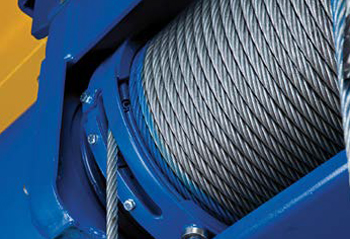 Wire rope guide
The rope guide consists of three parts: the guide ring, pressure spring and rollers. The pressure spring ensures that the rope sits correctly into the drum groove whilst the guide ring always maintains the rope in the correct position.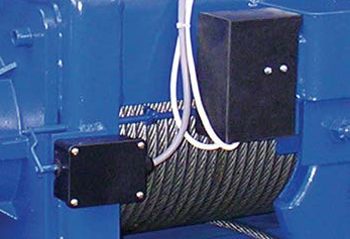 Over-load limiter
Dynamometric pin overload limiter. It is optional with many extra features: Load spectrum/ measuring device, lifting calculation etc. All hoists are endowed with overload limiter are with 2 reaction thresholds.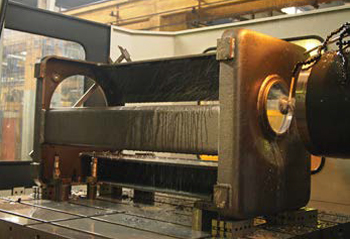 The Body
Stable construction provides reliable and precise operation of the whole mechanism. Precision body component assembling and high quality and controlled welding. Processing of the body on one place.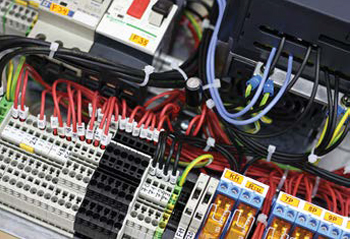 Control panel
Every hoist is equipped with high quality full-set control panel. Any special requirement (wireless push button, inverters) can be included under request.
INDOTARA HOIST CRANE CLIENT IN INDONESIA