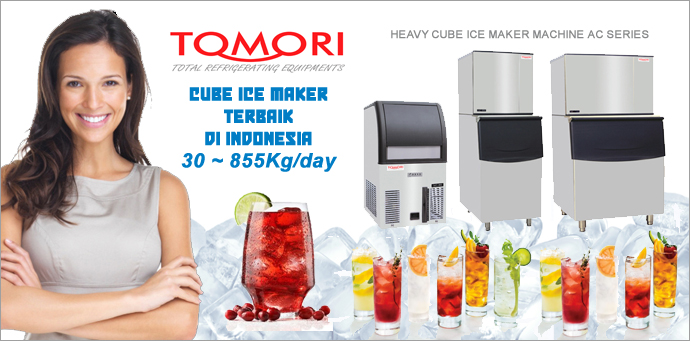 Jual Ice Maker Machine | Ice Maker Machine Tomori adalah Ice Maker Machine murah dengan kualitas terbaik, percayakan bisnis anda dengan Ice Maker Machine Tomori dari Indotara, kami menjualIce Maker Machine Murah dengan berbagai Tipe dan kapasitas.
ICE MAKER AC-1050, 296 Kg/ Day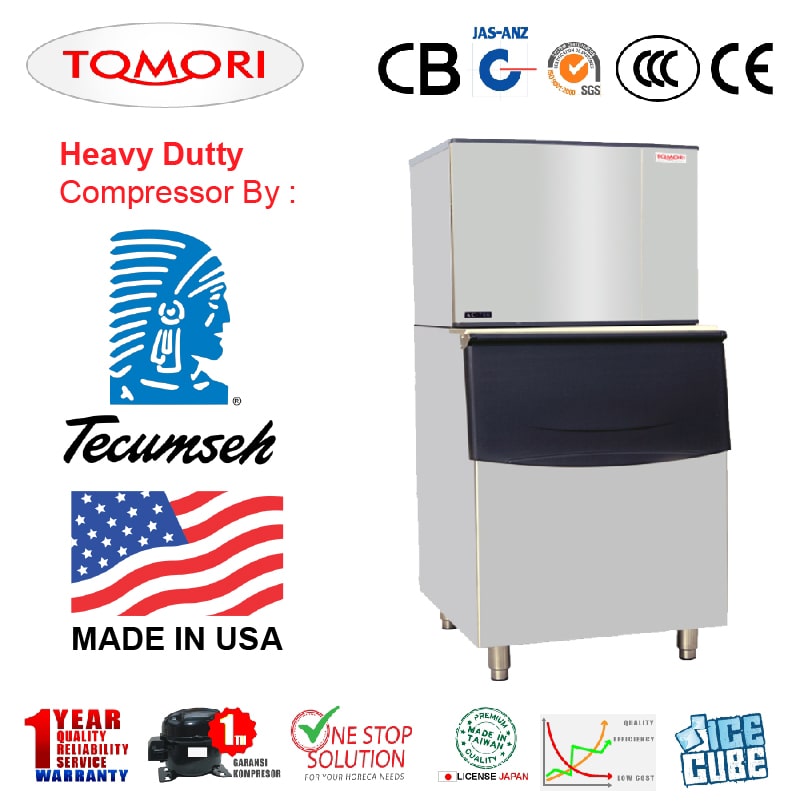 Best Price : Rp. 54.479.000,- (Include Ppn)
* Tidak cocok untuk pabrik es.
* Cocok untuk Kantin, Bar, Pub, Coffee Shop, Restaurant, Cafe.
* Hasil es tergantung dengan suhu air dan suhu lingkungan sekitarnya.
: M (±10 Gram ; ±23 x23x23)
: Smart Micro Processor PCB
: Dust Blocker Air Filter
** Spesifikasi diatas berdasarkan asumsi suhu ruang 27°C dan suhu air 10°C. Kondisi suhu berbeda akan membuat hasil produksi berbeda.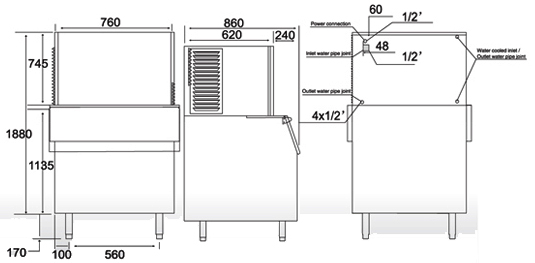 FITUR SPESIAL TOMORI ICE MAKER MACHINE :
DAYA WATT RENDAH, ANTI BOCOR, FULL OTOMATIS, CETAKAN ES STAINLESS STEEL SS304, PERAWATAN MUDAH, FILTER UDARA, ANTI KARAT, GARANSI KOMPRESOR 1 TAHUN & PCB CONTROL 3 TAHUN.
Mesin pembuat es batu (Cube, es kubus) Tomori AC series adalah mesin es higienis dengan produktivitas tinggi. Mesin es batu (cube) Tomori mampu memproduksi es dengan cepat dan hasil es berkualitas yg tidak mudah cair. Dengan pengalaman 30 tahun dalam industri pendingin, Tomori menghasilkan mesin2 es bermutu yang sangat mengerti kebutuhan dunia bisnis.

Bisnis yang membutuhkan es memerlukan mesin produksi es batu yg handal dan mampu memproduksi es dengan biaya yang rendah. Serta mesin es batu (cube) harus minim perawatan, bergaransi lama, after sales terjamin, dan suku cadang yg terjamin pula. Bukan hanya mesin es batu yg asal murah saja.

TOMORI ICE MAKER MACHINE SPECIAL FEATURES :
Tomori Cube Ice Maker are made from SUS304 high grade stainless steel for food grade ice maker.

Tomori Cube Ice Maker are designed and applied integrated hygienic technology.

Tomori cube ice machine with precision temperature controller for the best ice quality output.

Tomori heavy duty compressor 1 year warranty. Minimal vibration and noise.

Tomori Cube Ice Maker use Blue HDPE for ice bin material. Durable food grade Ice bin.

Tomori Cube Ice Maker is an investment guarantee, rapid capital return and certainly profit.

Tomori Cube Ice Maker produce high quality ice that clear and not easy to liquefied.

Tomori ice lolly machine produced with high quality copper pipe and extra thick.

Tomori Cube Ice Maker use EBM PAPST water pump (Germany) for lifetime performance.

Tomori Cube Ice Maker apply dust blocker air filter for condensor section to reduce the dust.

Tomori Cube Ice Maker use well-known brand compressor for durable ice maker system.

Tomori Cube Ice Maker apply Smart Micro Processor Controller for smart & efficient ice maker.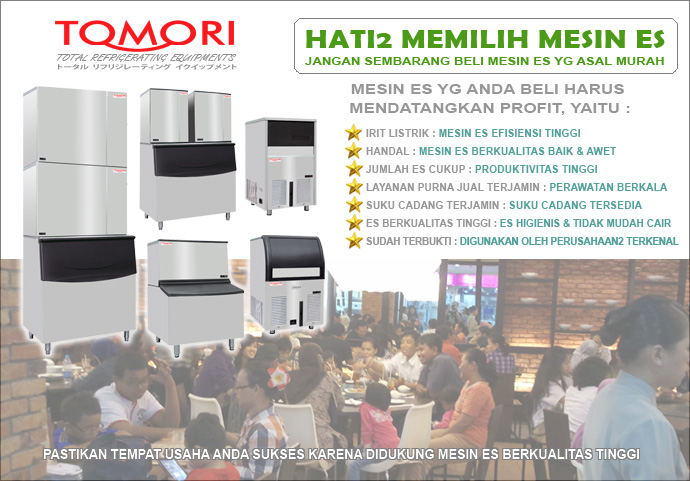 TOMORI CLIENT IN INDONESIA