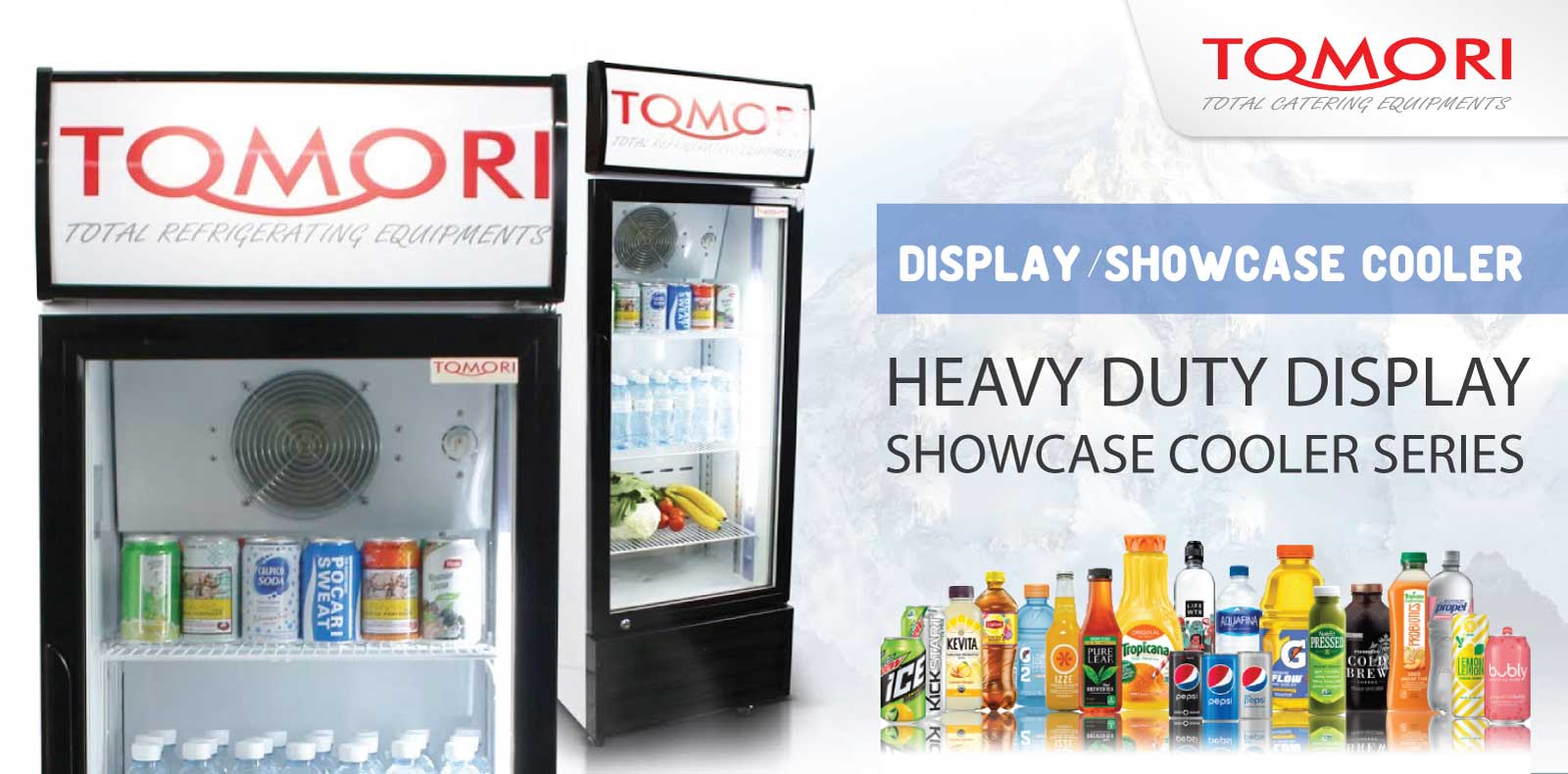 Jual Showcase Cooler | Showcase Cooler Tomori adalah Showcase Cooler murah dengan kualitas terbaik, percayakan bisnis anda dengan Showcase Cooler Tomori dari Indotara, kami menjual Showcase Cooler Murah dengan berbagai Tipe dan kapasitas.
SHOWCASE COOLER LGS600W, 600L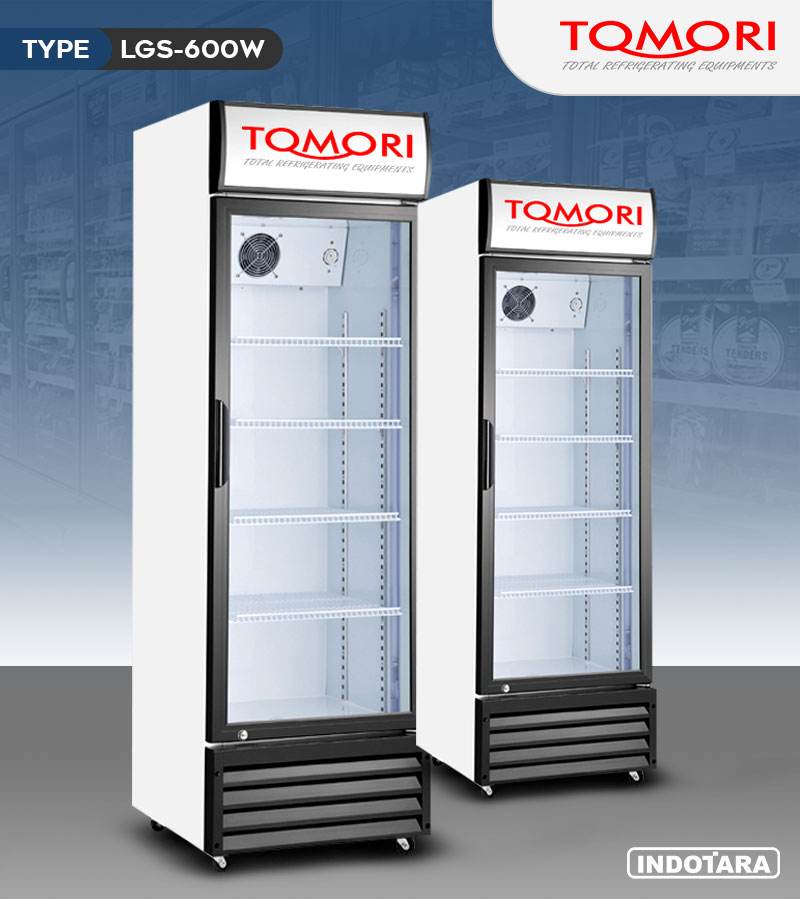 Best Price : Rp. 10.831.000,-
* Harga sudah termasuk PPN

FITUR KHUSUS TOMORI DISPLAY/ SHOWCASE COOLER :
GARANSI KOMPRESOR 1 TAHUN & PCB CONTROL 3 TAHUN, ANTI BOCOR, ANTI TIKUS, BODY ANTI KARAT, RODA CASTOR, TROPICALIZED ( SUDAH DISESUAIKAN DENGAN CUACA INDONESIA ).
FITUR PRODUK & KEUNGGULAN DISPLAY/ SHOWCASE COOLER TOMORI
Aplikasi Display/Showcase Cooler Tomori : cocok digunakan untuk mendinginkan minuman kaleng, minuman botol, minuman boxed, yakult, bir, makanan2 siap saji, makanan kering, aneka softdrink, produk2 susu, susu soya, dll. Produk2 Tomori sudah terjamin kehandalannya, dan sudah terbukti digunakan oleh perusahaan2 terkenal di dunia dan di Indonesia.

Showcase cooler Tomori adalah produk yang sangat hygienis karena proses produksi yang canggih dan menggunakan material2 berkualitas tinggi. Dengan pengalaman yang sangat matang dalam bidang pendingin, Tomori menjamin setiap produk bergaransi Kompressor 1 Tahun & PCB Control 3 Tahun dan menjamin kinerja produk selalu dalam level handal. Ketersediaan suku cadang dan layanan purna jual dijamin oleh PT. Indotara Persada. Anda bisa menghubungi kantor2 pemasaran kami di Jakarta, Surabaya, Medan dan Bandung. Kami siap melayani anda untuk seluruh wilayah Indonesia.
TOMORI DISPLAY/ SHOWCASE COOLER SPECIAL FEATURES :
Tomori Showcase with vertical lights inside showcase that product you are easily visible.

Tomori Showcase with safety lock for protect freezer with very safe.

Tomori Showcase with castor wheels can easily moved to wherever you want.

Tomori heavy duty compressor warranty 1 year. minimal vibration and less noise.

Tomori Showcase with Carel temperature regulator made in Italy is controller that extra reliable.

Tomori Showcase with fan cooling system cooling without frost. Cooling evenly.

Tomori Showcase with thick insulating layer cyclopentane for optimal temperature.

Tomori Showcase with quality copper pipe to guarantee work flow of refrigerant.

Tomori designed Showcase with double layer glass door for maximum cooling result.

Tomori freezer is The most relieved freezer well designed and experienced.

Tomori Showcase with magnetic door seals special anti-vacuum when the door was opened.

Tomori Showcase with anti-dew glass system. So the inside product can be seen clearly.

Tomori Showcase with auto close door feature for more convenience use and keep door closed.

Tomori designed Showcase with automatic evaporation system for water drop free. Easier in maintenance.

Tomori apply digital defrost timer system to optimize the defrosting cycle & trouble free.

Tomori designed Showcase with strong fan cooling system for fast and uniform cooling performance.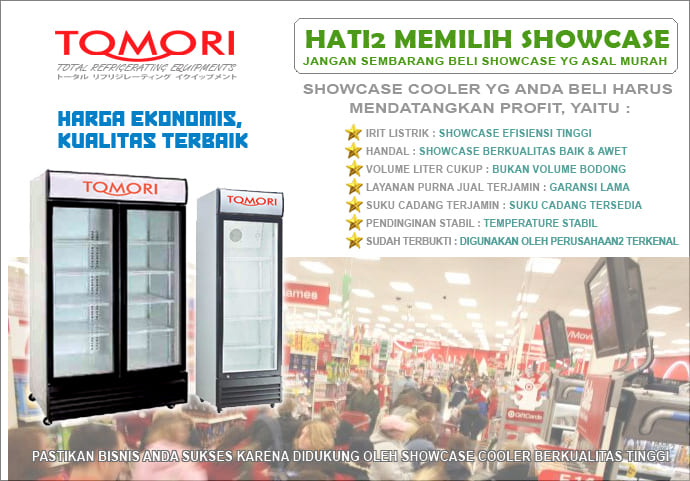 TOMORI CLIENT IN INDONESIA