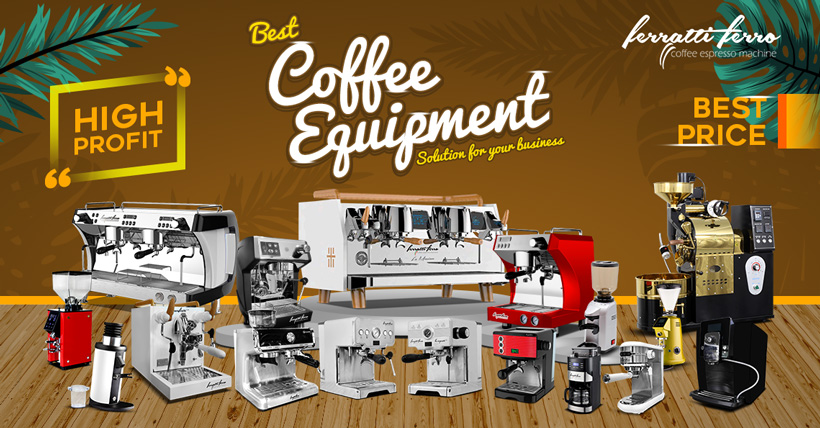 JUAL MESIN KOPI, COFFEE MAKER, MESIN ESPRESSO
Jual Mesin Kopi, Coffee Maker, Mesin Espresso | Indotara menjual mesin kopi berkualitas terbaik, alat ini berfungsi sebagai alat pembuat kopi olahan minuman kopi dari biji kopi, coffee maker ferratti ferro bisa digunakan untuk membuat berbagai minuman kopi seperti kopi espresso dll.
Mesin kopi ferratti ferro dengan desain yg elegan dan fungsi utamanya sebagai pembuat minuman kopi, sangat mudah dioperasikan, dengan berbagai fitur yang disematkan pada mesin kopi ini menjadikan mesin kopi ini sebagai salah satu mesin kopi terbaik di Indonesia. mesin kopi ferratti ferro sangat praktis dan cocok untuk dijadikan penunjang bisnis minuman kopi anda seperti cafe, restoran adan hotel, selain perawatan yang mudah, PT. Indotara persada sebagai distributor tunggal mesin kopi ini, memberikan garansi produk, jaminan after sales dengan ketersedian spare parts yang lengkap dan Tekhnisi yang handal.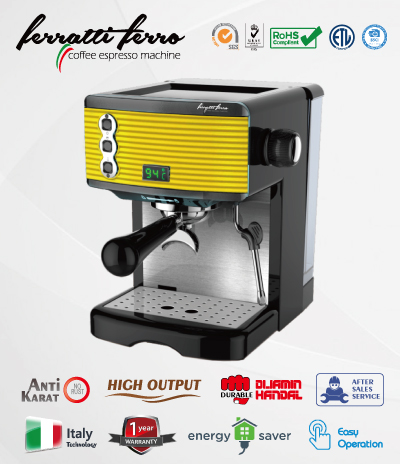 Best Price : Rp. 1.399.000,-

*Price Exclude PPn 11%
TECHNICAL SPECIFICATION

Model

:

FCM-3601
FERRATTI FERRO COFFEE MACHINE SPECIAL FEATURES :
1 YEARS WARRANTY MOTOR, WARRANTY, BODY RUST, AFTER SALES SERVICE.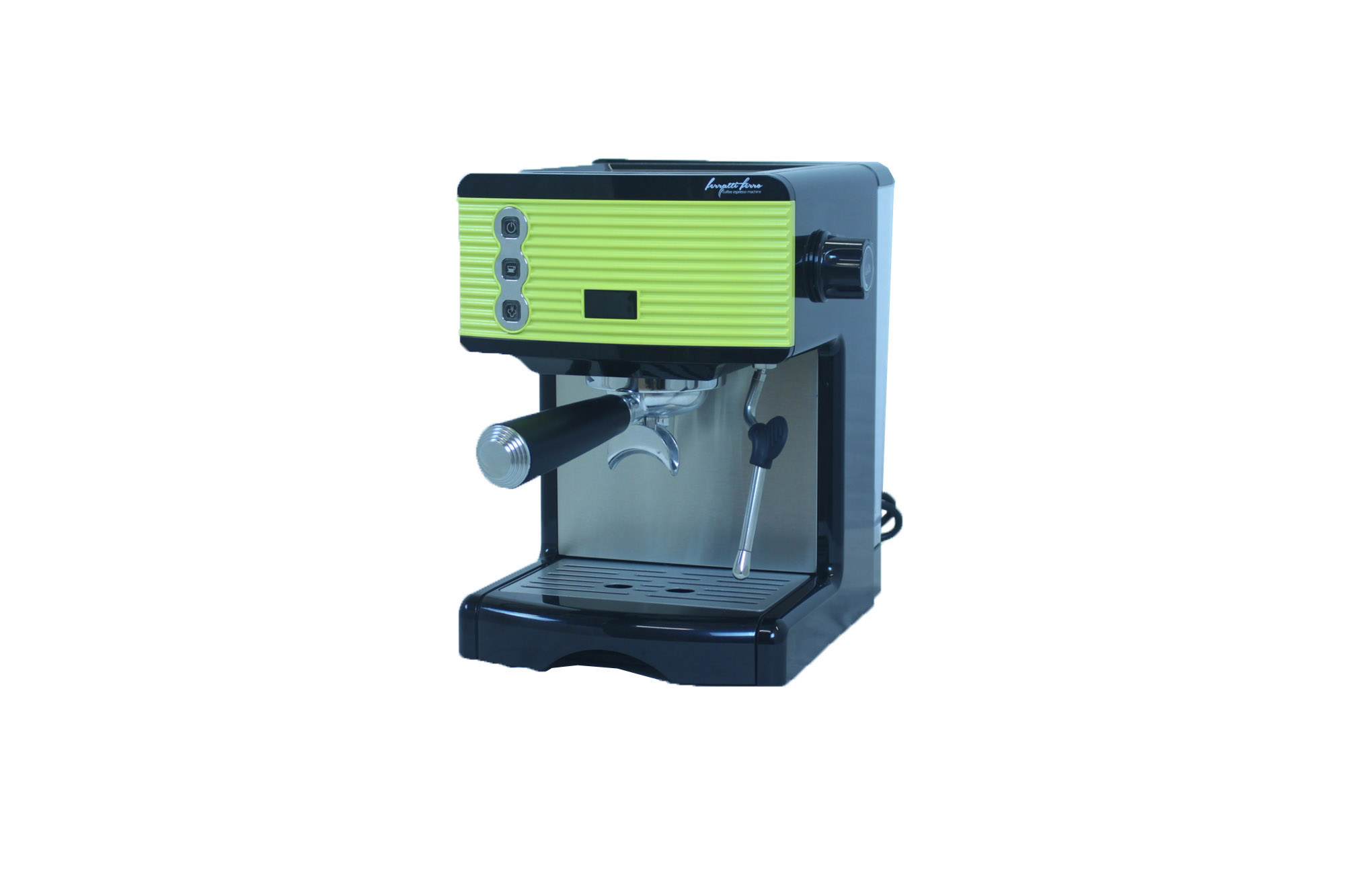 FERRATTI FERRO ESPRESSO MACHINE SPECIAL FEATURES :
Ferratti Ferro uses quality plastic materials and is very decorative so it gives the impression of luxury when placed in the room.

Ferratti Ferro steaming nozzle for cappuccino or latte with maximum results.

Espresso Ferratti Ferro machine is equipped with an electronic switch to control the temperature.

Ferratti Ferro Coffee Machine using Italy ULKA Pump top quality with pressure up to 15 bar.
In addition to easy to operate Ferratti Ferro Coffee Machine products are also very easy to clean.

Ferratti Ferro Espresso Machine with Thermoblock heating tube to prevent aluminum oxidation and more protected.


Ferratti Ferro Coffee Machine has a removable water reservoir with a capacity of 1.7 Liter.

Ferratti Ferro Coffee Machine is equipped with heating elements for a more perfect coffee.
Ferratti Ferro features Professional Stainles Steel Porta-Filter Holder and filters with a diameter of 58mm.

Ferratti Ferro Espresso Machine uses Pre-Infusion System to ensure perfect Crema and Extraction.

Ferratti Ferro Equipped Stainless Steel Steam and water tube for cappuccino and hot water.

Ferratti Ferro With a glass placement feature or drip tray that can be removed easily to be cleaned.
Ferratti Ferro coffee machine is designed with a compact and elegant form durable, strong and durable.

Ferratti Ferro Coffee Machine is the most efficient coffee machine, helping you to save electricity.

Ferratti ferro Coffee Machine is a specially designed coffee machine for easy operation.

Ferratti Ferro Coffee Machine provides 1 year warranty for Pump & Heater with excellent after sales service.

HATI-HATI DENGAN MESIN KOPI TIRUAN,
FERRATTI FERRO ORIGINAL HANYA ADA DI INDOTARA PERSADA
Carilah yang : Tahan lama, Berkualitas tinggi, Garansi lama, Suku cadang yang terjamin, Ada teknisinya. Karena Mesin Kopi Ferratti Ferro didukung oleh penjual yang bertanggung jawab.
FERRATTI FERRO CLIENT IN INDONESIA