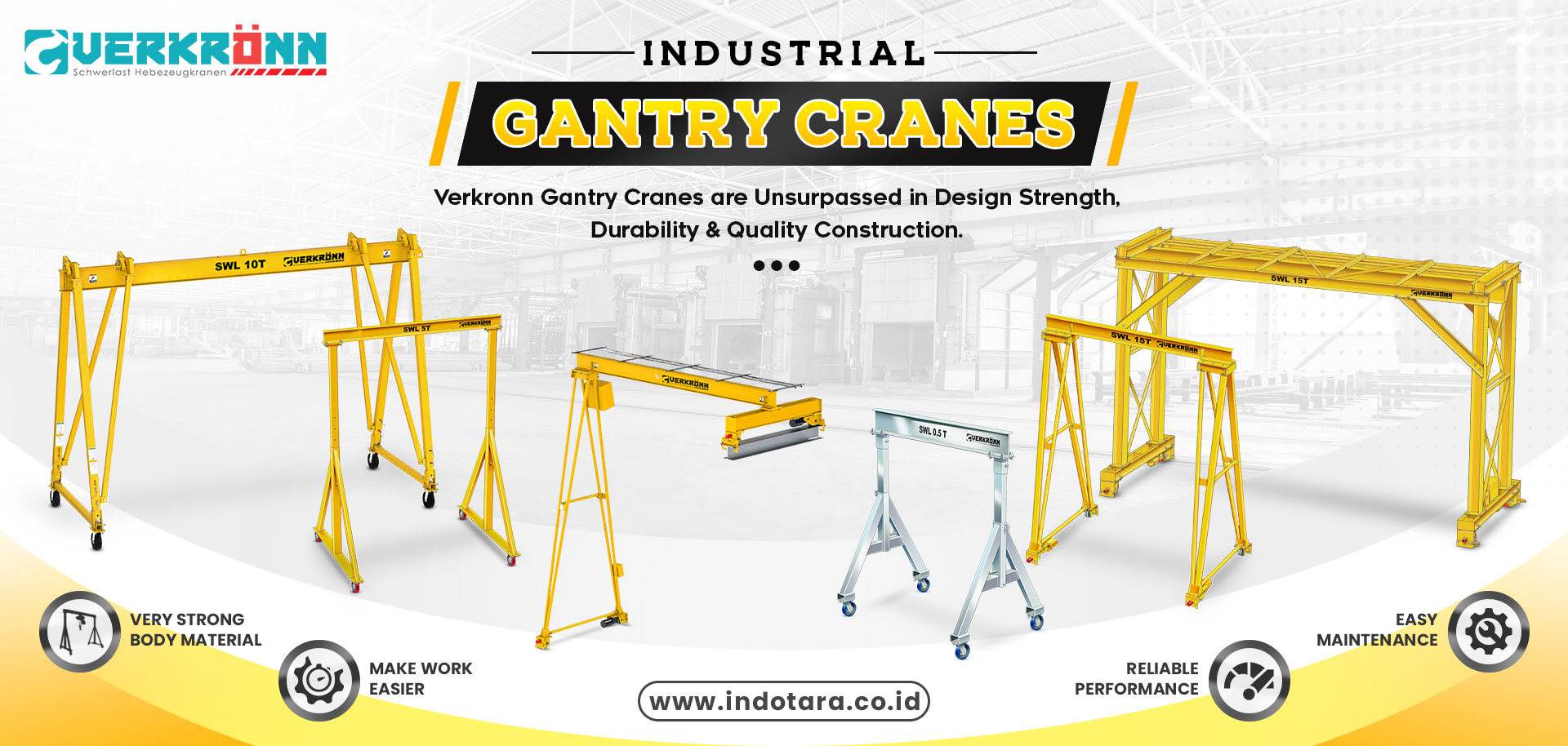 Industrial Mini Portal Crane
Industrial Mini Portal Crane - Mini Portal Crane saat ini memang sangat dibutuhkan dalam berbagai industri, Mini Portal Crane terbukti dapat meningkatkan efektifitas kinerja perusahaan yang akhirnya akan mendatangkan profit untuk masa yang akan datang. Implementasi Crane harus memperhatikan berbagai aspek, yang paling penting adalah pengalaman vendor penyedia Crane. Vendor harus berpengalaman, mengerti kebutuhan anda, pelayanan purna jual, dan teknisi yang handal.

PT. Indotara Persada telah berpengalaman dalam implementasi Mini Portal Crane diberbagai perusahaan nasional dan multi nasional. Pengalaman bertahun - tahun membuat Indotara menjadi mitra utama bagi setiap perusahaan yang ingin mengimplementasikan Mini Portal Crane Indotara memiliki berbagai tipe Crane yang dapat disesuaikan dengan kebutuhan perusahaan anda.
INDUSTRIAL TRIPOD - MUD FEET (FOR SOFT GROUND)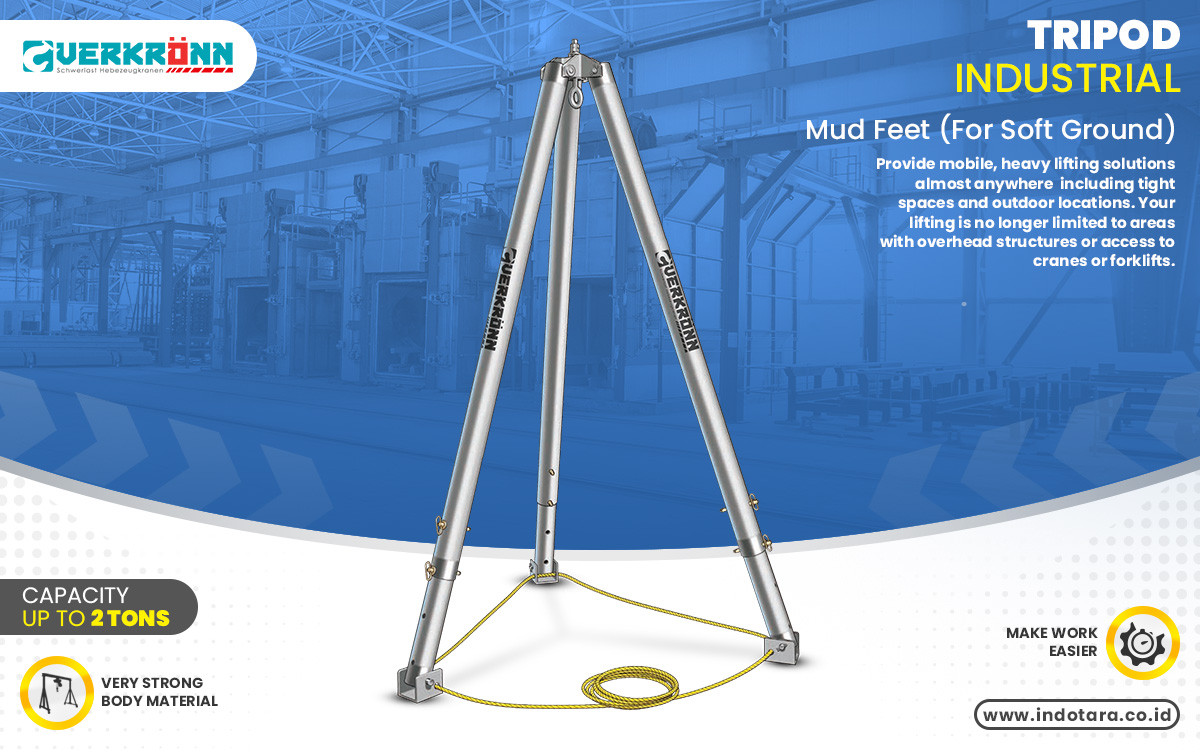 Best Price : Call Sales
VERKRONN INDUSTRIAL TRIPOD:
ARE UNSURPASSED IN DESIGN STRENGTH, DURABILITY & QUALITY CONSTRUCTION
PROVIDE THE BEST WARRANTY IN THE INDUSTRY.
Type

Tripod Steel Series

Capacity

1-Ton or 2-Ton
Standard Capacity

Up to 10 Tons

Heights Under Eyebolt
From 5'-2" To 13'-9"
*Longer custom spans available

DIMENSION PRODUCT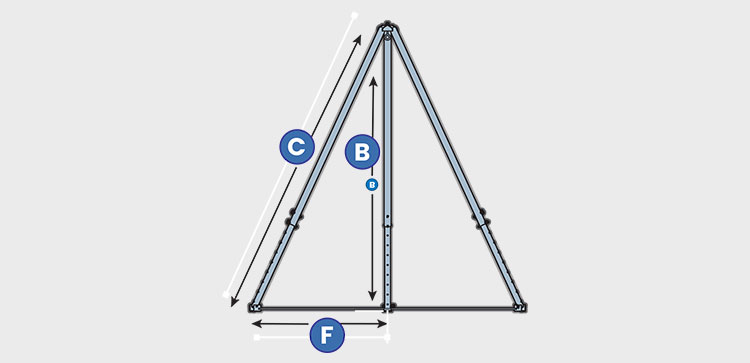 Mud Feet (For Soft Ground)
Model

A

B

C

F


Capacity

Height: Eyebolt to Floor
Overall Height

Distance Between Legs
Net WT (LBS.)


Min.

Max.
Min.
Max.
Min.
Max.


VPC-TR10 H14 S
1-TON Adjustable
8'7"
13'9"
10'0"
16'2"
9'3
14'6"
220
VPC-TR10 H9 S
1-TON Aluminium Adjustable

5'2"
8'7"
6'0"
10'0"
5'10"
9'2"
60
VPC-TR10 H12 S
6'10"
11'2"
8'0"
13'0"
7'7"
11'9"
70
VPC-TR10 H14 S
8'7"
13'9"
10'2"
16'2"
9'3"
14'6"
140
VPC-TR20 H14 S
2-TON Steel Adjustable
8'7"
13'9"
10'0"
16'2"
9'3"
14'6"
220
VPC-TR20 H12 S
2-TON Aluminium Adjustable
6'10"
11'2"
8'0"
13'0"
7'7"
11'9"
120
VPC-TR20 H12 S
8'7"
13'9"
10'2"
16'2"
9'3"
14'6"
140
MOBILE LIFT SOLUTIONS THAT CAN GO ANYWHERE
VERKRONN TRIPOD FEATURES
Adjustable Height

Swivling Eyebolt



Aluminum flat feet

Steel mud feet

INDOTARA HOIST CRANE CLIENT IN INDONESIA