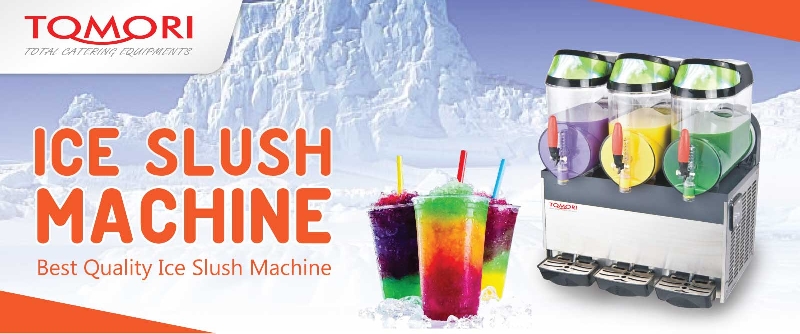 Jual Mesin Es Slush | Mesin Es Slush Tomori adalah mesin es Slush murah dengan kualitas terbaik, percayakan bisnis es slush anda dengan Mesin es slush Tomori dari Indotara, kami menjual Mesin Es Slush Murah dengan berbagai Tipe dan kapasitas.
TSM-3S ( 3 DISPENSER x 12 Liter )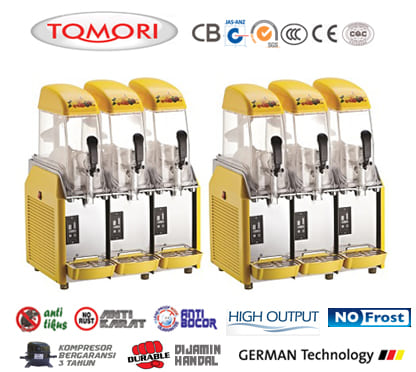 Best Price : Rp. 26.385.000,-
Special Features:
1 Year compressor & 3 Years PCB Control warranty, leakproof, anti-mice, body rust, castor wheels, Tropicalized
(already adjusted with Indonesia climate).
*Price Include Tax

Mesin Ice Slush Tomori adalah grade mesin "high output" dengan kemampuan membuat slush dalam waktu yang singkat dengan konsumsi listrik yang sangat irit. Grade mesin Ice Slush Tomori berbeda dengan mesin2 Ice Slush pada umumnya di pasaran, karena Ice Slush Tomori dengan spesifikasi teknis yang jauh lebih baik, penggunaan material yang bermutu, serta tingkat higienis yang baik pula. Diproduksi dengan standard yang ketat, sehingga paling banyak digunakan oleh perusahaan2 terkenal seperti Mc Donald, KFC, Sizzler, A&W, Wendy's, dll.

Operasional yang low cost serta biaya maintenance yang rendah harus jadi pertimbangan anda dalam mengoperasikan mesin Ice Slush. Mesin Ice Slush harus mempunyai profitabilitas yang tinggi, bukan karena harga beli yang murah saja yang menjadi pertimbangan anda. Tomori berpengalaman selama 30 tahun dalam produk2 pendingin minuman, menghasilkan produk2 mesin Ice Slush terbaik di dunia. Pembuatan Slush secara cepat serta kestabilan pendinginan menjamin kualitas slush yang baik hingga terjual ke konsumen anda, Ice Slush yang berkualitas adalah jaminan dalam bisnis anda.
TOMORI ICE SLUSH MACHINE SPECIAL FEATURES :
Tomori slush machine can do cooling process quickly, so it can instantly create fresh slush ice.

Tomori slush machine machine very hygienic (food grade) with a full 304 stainless steel.

Tomori slush machine has a cooling system that is cooling the juice fastly and stable.

Tomori heavy duty compressor 1 year warranty. Minimal vibration and noise.

Tomori slush machine manufactured with high quality copper pipe and extra thick.

Tomori slush machine use special handle bar that strong and easy to use.

Tomori slush machine design is very easy to clean and easy to maintain.

Tomori slush machine apply the full stainless steel SUS304 body and the frame also.

Tomori ice slush machine are the most efficient ice slush machine that help you to save the cost.

Tomori Ice slush Machine apply CFC Free refrigerant for environment protection and safe our ozone.

Tomori Ice slush Machine are working with precise temperature for ice slush quality output results.

Tomori ice slush machine apply Smart Micro Processor Controller for smart & efficient ice maker.