Jual Crane Forklift , Harga Crane Forklift, Crane Forklift Murah - BOMAC forklift Crane Multi-purpose heavy duty forklift with crane arm. Kapasitas forklift dari 13,5 ton menjadi 50 ton. Kapasitas angkat crane dari 4 ton hingga 50 ton. Panjang lengan crane dari 4 meter hingga 25 meter. Dapat dibuat khusus sesuai dengan kebutuhan Anda.
BCF 120-450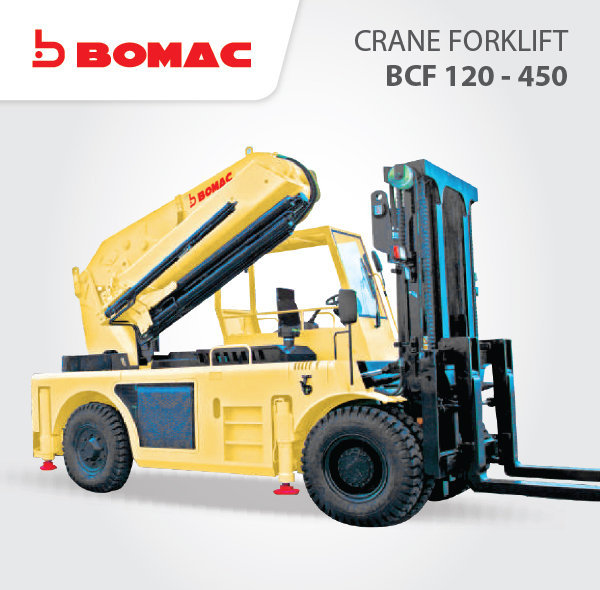 Best Price : Call Sales
Dimension

Overall Length
:
7600 mm
Overall width
:
2250 mm
Overall height
:
3188 mm
Standard lifting height
:
3000 mm
Load Center
:
600 mm
Wheel Base
:
3250 mm
Front wheel Tread
:
1677 mm
Rear Wheel Tread
:

2013 mm
Weight Parameter

Weight
:
22000 kg
Rated Load
:
12000 kg
Driving Parameter

Rated Power/Rotational Speed
:
110/2200 kW/r/min
Max. Travelling speed(with / without load)
:
23/26 km/h
Min. Outside Turning Radius
:

6500 mm
Mast Ground Clearance
:
225 mm
Out-trigger Ground Clearance
:
320 mm
Wheel quantity Front/Rear
:
4/2
Front Tyre Size
:
10.00-20-18PR
Rear Tyre Size
:
10.00-20-18PR
Gradeablity (With Load/without load)
:
15 %
Max. Hook Traction under full load
:
70 kN
Lifting Operation

Rated Lifting Capacity(Crane)
:
12000 kg
Max. Rated lifting torque
:
45000 Kg.m
Horizontal out-trigger
:
1580 mm
Vertical out-trigger
:
4320 mm
Basic Crane
:
5550 mm
Longest Crane
:
14830 mm
Basic boom
:
7000 mm
Crane extended
:
15500 mm
Boom frame min./max. Upward angle
:
10/59 °
Mast Front/Rear tilt angle
:
6/12 °
Working Speed

Max .Swinging speed (unloaded/loaded)
:
1/1 r/min
Max. Lifting speed (loaded/unloaded)
:
250/260 mm/s
Max decline speed (loaded/unloaded)
:
400/250 mm/s
Lift upward(unloaded/loaded)
:
40/50 s

Lift downward(unloaded/loaded)
:
40/50 s

Warranty
:
-
Engine
Transmission
Driving Axle
Hydraulic system
Mast
Fork carrier
Tyres
Cab
*Price Include Tax
*Price Include Delivery Jabodetabek, Surabaya, Medan & Bandung
• Lifting Operation

BOMAC CRANE FORKLIFT :
HIGH QUALITY, HEAVY DUTY, HIGH-QUALITY HYDRAULIC, RELIABLE MACHINERY
PROVIDE THE BEST WARRANTY IN THE INDUSTRY.
BOMAC CRANE FORKLIFT SPECIAL FEATURES :
Dilengkapi dengan forklift bertingkat tinggi, kekuatan lebih tinggi, Fork dengan penyesuaian jarak hidrolik yang aman dan nyaman untuk dioperasikan.

Attachment dipasang di tiang bagian depan dan dibagian belakang kendaraan, memiliki fungsi lipat teleskopik yang aman dan nyaman untuk dioperasikan.


Dilengkapi dengan ban yang heavy duty, poros kemudi belakang dapat berayun di sekitar tengah dan memiliki traksi dan kinerja lalu lintas yang sempurna.

Memiliki desain kabin yang aman dengan teknologi. Pengemudi dapat mengoperasikan forklift dimanapun. sehingga aman dan dapat diandalkan.
Dilengkapi dengan engine Cummins atau Yuchai turbocharger dengan mesin diesel
kekuatan tinggi, hemat energi dan ramah lingkungan,

Dilengkapi dengan Zhongnan transmisi gearbox hidrolik, CVT, dan Start-up netral dipasang pada transmisi sehingga membuat start-up seluruh mesin lebih aman.

Dilengkapi dengan sistem hidraulik interflow pompa ganda yang bekerja sehingga dapat menurunkan konsumsi oli dan energi.

Gandar belakang mengadopsi daya tipe silinder hidrolik horizontal struktur kemudi, dan bisa mengurangi resistensi kemudi dan kerusakan ban.
Bomac Crane Forklift menjadi teknologi manufaktur kelas satu, Sehingga sangat cocok untuk meningkatkan profit bisnis anda.

Dilengkapi dengan hydraulic yang tidak mudah bocor dan memiliki mesin yang handal, minim getaran dan irit bahan bakar.

Bomac Crane Forklift minim biaya perawatan, hemat energy bahan bakar sehingga cocok untuk kebutuhan bisnis anda.


Through covenant and beautiful man machine interaction operation interface, operator can control truck real time working state

BOMAC CRANE FORKLIFT PRODUCT :
HATI-HATI BELI CRANE FORKLIFT JANGAN YANG ASAL MURAH
Carilah yang : Handal, Kuat, Hydraulic berkualitas tinggi, bergaransi lama, suku cadang terjamin, ada teknisinya.
Crane Forklift harus bisa dipakai terus menerus karena didukung oleh dealer yang bertanggung jawab.
BOMAC CLIENT IN INDONESIA