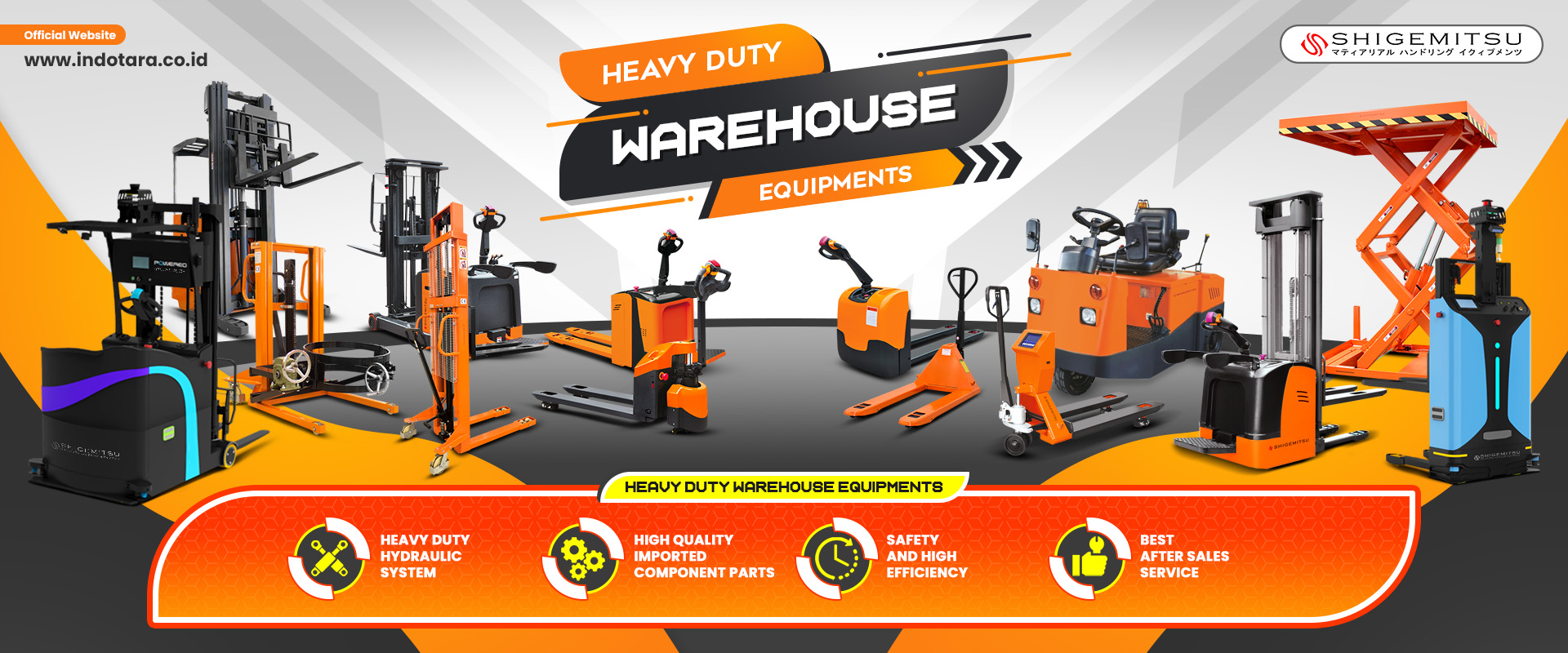 Jual Electric Pallet Truck, Electric Pallet Truck, dengan Harga Murah
Jual Electric Pallet Truck - Shigemitsu is one of best company in material handling equipment especially hand pallet truck & manual stacker.

Since decades it's develop special technology on heavy duty product to fulfill customer's need on durable products. Shigemitsu is the name of premium line of Heavy Duty Hand Pallet & Manual Stacker with 3 Years Warranty & 60.000 cycles. Shigemitsu Special hydraulic pump will allow you to enjoy real "strong" performance.
MP25T-MP30T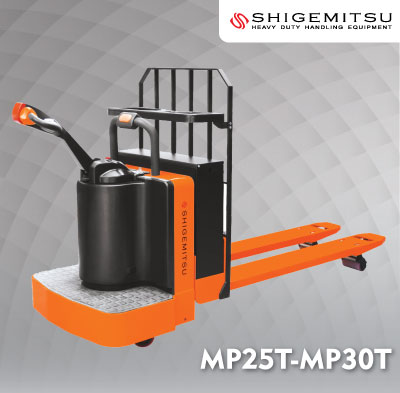 MODEL

MP25T

MP30T

Load Capacity/ rated load
:
2500/5500 kg
3000/6600 Kg

Load center distance
:
600/24 mm
600/24 mm

Load distance, center of drive axle to fork
:
933/36.8 mm
933/36.8 mm

Tyre size, front
:
Φ250x80/ Φ10x3.2 mm
Φ250x80/ Φ10x3.2 mm

Tyre size, rear
:
Φ82x173/ Φ3.2x6.8 mm
Φ82x173/ Φ3.2x6.8 mm

Additional wheels (dimensions)
:
Φ127x57/ Φ5x2.3 mm
Φ127x57/ Φ5x2.3 mm

Wheels, number front rear (x=driven wheels)
:
1X+2/2
1X+2/2
Height of tiller in drive position min./ max.
:
1041/1374(41/54.1) mm
1041/1374(41/54.1) mm

Overall length
:
2143/84.4 mm
2143/84.4 mm

Length to face of forks
:
923/36.3 mm
923/36.3 mm

Overall width
:
936/36.9 mm
936/36.9 mm

Fork dimension
:
55x230x1220 mm
55x230x1220 mm

:
2.2x9.1x48 mm
2.2x9.1x48 mm

Width overall forks
:
685/27 mm
685/27 mm

Aisle width for pallets 1000x1200 crossways
:
2343/92.2 mm
2343/92.2 mm

Aisle width for pallets 800x1200 lengthways
:
2343/92.2 mm
2343/92.2 mm

Turning radius
:
1860/73.2 Km/h
1860/73.2 Km/h

Travel speed, laden/ unladen
:
7.5/8 V/Ah
6/6.5 V/Ah

Battery voltage, nominal capacity K5
:
24/300 Kg
24/300 Kg

Battery weight
:
300/660mm
300/660
:
810x212x665/
31.9x8.3x26.2 mm

810x212x665/
31.9x8.3x26.2
Service weight (with battery)

:
860/1896 Kg
860/1896
AC power to platform
Pothole Guards
Overload sensor with alarm
Price list
* Harga diatas sudah termasuk PPn
* Gratis ongkir untuk Jabodetabek, Surabaya, Medan & Bandung
Dimension MP25T-MP30T
ELECTRIC PALLET TRUCK FEATURES :
Menggunakan Motor AC dengan kecepatan yang dapat disesuaikan, sangat awet, bebas perawatan dengan kinerja yang sangat baik.

Menggunakan Baterai dengan Kapasitas besar (300-700Ah), daya yang besar untuk Drive Motor dan memastikan waktu kerja yang lama.

Shigemitsu Warehouse Equipment Menggunakan German FREI Tiller Head yang dilengkapi dengan tombol batas kecepatan maksimal.

Shigemitsu Warehouse Equipment dilengkapi dengan Emergency power disconnector, dapat mematikan mesin dalam keadaan darurat.
Memiliki Lebar dan panjang garpu yang telah disesuaikan agar mampu digunakan untuk mengangkat beban-beban yang berat.

Teknologi CANbus menyederhanakan Kompleksitas Wiring, jalur Wiring menjadi jelas dan Rapi serta mudah untuk diperbaiki.


Desain Tampilan Multifungsi yang memudahkan operator dalam menggunakan dan mengoperasikan Electric Pallet Truck.

Dilengkapi dengan dengan pressure relief valve yang berfungsi untuk melindungi Pallet truck agar tidak terjadi kelebihan Muatan.

HATI-HATI BELI ELECTRIC PALLET TRUCK JANGAN YANG ASAL MURAH
Carilah yang : Tahan lama, Pelat tebal, Hydarulic berkualitas tinggi, Garansi lama, suku cadang terjamin, ada teknisinya. Sebuah Hand Pallet harus bisa dipakai terus menerus karena didukung oleh penjual yang bertanggung jawab.
SHIGEMITSU CLIENT IN INDONESIA