Tentang Indotara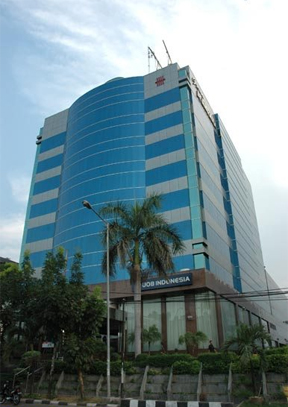 Starting the business from 2004, PT. Indotara Persada is a company that focusing on the business of high-quality products to support the industry and business in Indonesia. We are always committed to offer best value product with highest quality & services. The development of industry and business in Indonesia is very good so demand for products supporting business and industry is also increasing rapidly and become one of the pillars supporting the development Indotara. With mature experience in the business products industry and business needs, Indotara provide the best services with the primary objective :
Helps you improve productivity.
Helps minimize the cost of your investment.
Helps minimize your operational costs.
Improve your working conditions.
Improve safety.
Provide solutions and total satisfaction for you.
Indotara are the exclusive distributor of world leading hoist manufacturer : LG Hoist & Samsung Hoist which is two strong brand in hoist crane industry. We are confident to serve our customer with the best product with best value. By working closely with vendors, Indotara continue to deliver sustainable and committed to supply the best service for all customers. Indotara hoist crane center is an integrated hoist crane construction fabricator which is apply CAD, CNC plasma cutting, laser alignment system, GMAW welding, Automatic welder, and operated by highly skilled engineer.
By continuosly research & development on crane structure, we always upgrade our knowledge to produce high performance crane with shortest production time, low cost & high quality. To achieve those, we continuously upgrade our tools, equipments & training which precision & speed increased significantly.
Indotara has an integrated facility workshop & warehouse area of ​​6500m2 for crane hoist production facilities and logistics facilities of our products. Indotara have experienced engineering team for the design, production, installation & maintenance crane hoist. In addition Indotara has a solid ME (Mechanical & Electrical) team to assist customers in the after sales service.
---
Sertifikasi
Indotara juga telah memperkokoh komitmen meningkatkan pelayanan pelanggan melalui prestasi untuk sistem manajemen dengan mendapatkan sertifikasi International for Standarization (ISO) 9001:2015 dan OHSAS 18001:2007. Sertifikasi tersebut merupakan suatu keberhasilan penilaian untuk Indotara dalam memenuhi kepuasan pelanggan terkait produk, kualitas, kinerja, sistem manajemen mutu, sistem manajemen kesehatan dan keselamatan kerja (K3).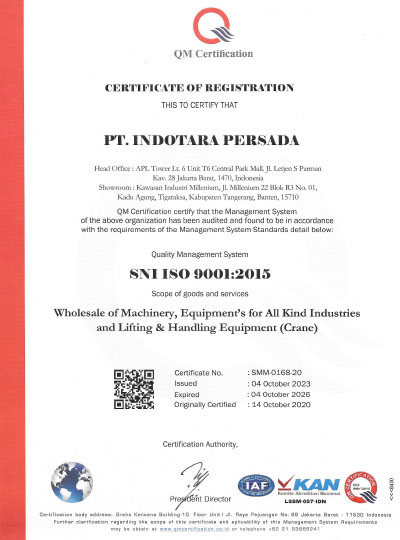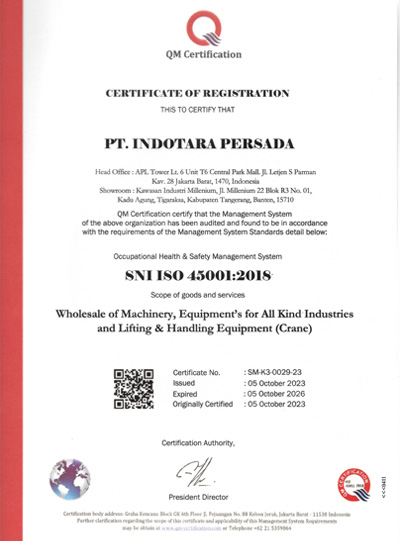 ---
Visi & Misi Indotara
Excellent growth company through best managed company
---
Winning organization through best people.
Total customer satisfaction culture.
Expansion & diversification.
Welfare of the team/social value.
---
10 Budaya Kerja Indotara
Komitmen
Kepedulian
Integritas
Efisiensi & Efektivitas
Budaya Keunggulan
Kerjasama Tim
Sistematis
Konsistensi
Pengutamaan Pelanggan
Partisipasi Aktif
---