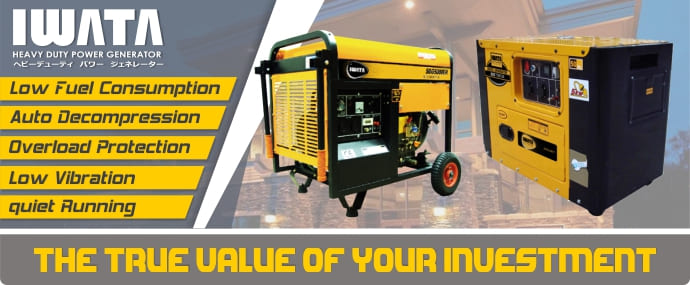 Generator Set IWATA 5KW - IWATA Generator Set is one of the best selling product generator ever. Indotara has long worked with distributors selling generators Iwata to deliver the latest generator technology. This is reflected in the performance and durability of selling products generators longer, more quiet operation and lower exhaust emissions. Iwata expecting the user input on product performance, comfort, safety, services, and partnerships. INDOTARA provide generator set selling products that will be fit what the industry needs, any unit is performed with the thoroughly before leaving the factory by professional technicians.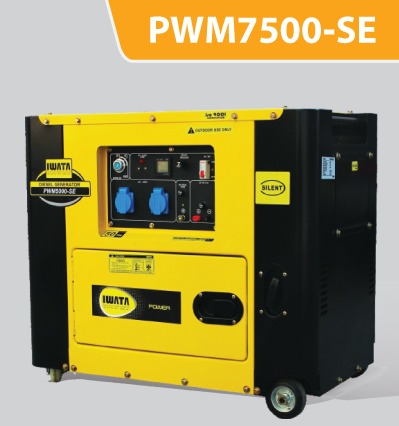 * Price Exclude PPN 11%
: 2-pole, Single Alternator
: Single Cylinder, Vertical
4-Stroke, Air-cooled, Diesel
FEATURES AND BENEFITS
Low Fuel Consumption & Auto decompression

Low Vibration & Quiet Running

Low Oil Shut Down Automatically

12 Volt D.C. Auxuiliary Charging (Car/Boat Batteries)

Air Circuit Breakers for Overload Protection

Wide Application : Tools and Appliance Like Disk Sanders, Space Heaters, Even Water Heaters.
IWATA GENSET SPECIAL FEATURES :
IWATA Genset is equipped with digital Display panel, facilitate monitoring generator set for Maintenance & Service.

IWATA Genset with Silent Technology is one of the lowest sound generators in the world and has been proven.

IWATA Genset is equipped with a special fan that is placed near the machine to prevent heating in the machine.

Genset IWATA provides 3-year warranty as a form of guarantee of quality products.

Equipped with Heavy Duty Canopy Silent Box with powder coating finishing assurance of resistance to various weather.

IWATA is a very economical generator, with ATS connectors designed to make it easier for users to use.

IWATA Generator Set is equipped with 2 AC Output Socket which makes it easier for usage applications.

IWATA Genset is equipped with oil warning light feature that is useful as a notification to immediately fill the oil.

Features oil warning light serves as an alarm if there is excessive oil pressure and protect genset for shutdown.

IWATA Genset equipped with wheels with the best quality, simplify the mobilization of generator units.

IWATA Genset is equipped with Fuel Filter, as a diesel fuel filter, ensuring the engine will be much more durable.

IWATA Genset equipped with Electric Starter which serves as an automatic starter when will menghidupakan generator.

IWATA Genset uses Combustion system direct injection combustion system, for maximum power.

Equipped with an Automatic Shutdown feature when low oil states are useful to avoid damage to the machine.

IWATA Genset is equipped with the latest technology is very Minim vibration and not noisy when the generator unit is operated.

Iwata Genset uses heavy duty engine, powerful generator set engine & durable result of Japanese technology research.

IWATA CLIENT IN INDONESIA